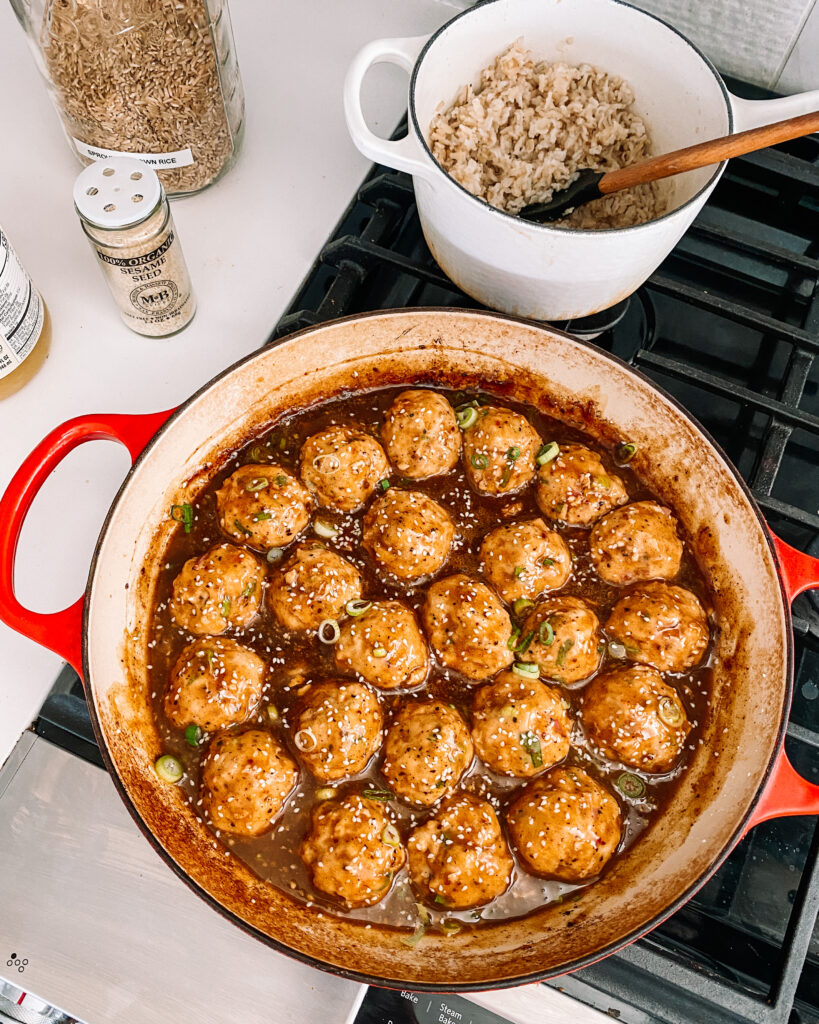 I can remember back in high school we'd leave at lunch time to go get teriyaki and it was quite literally the highlight of my day lol. SO this dish is extra special because I finally have a healthy teriyaki meatball recipe and I KNOW you guys will love it! Sometimes if I ever get bored with recipes I'll search good old Pinterest and turn some unhealthy inspo into a more nutrient-dense meal with better ingredients, so this is the product of that! Gluten-free, refined sugar-free and soy-free!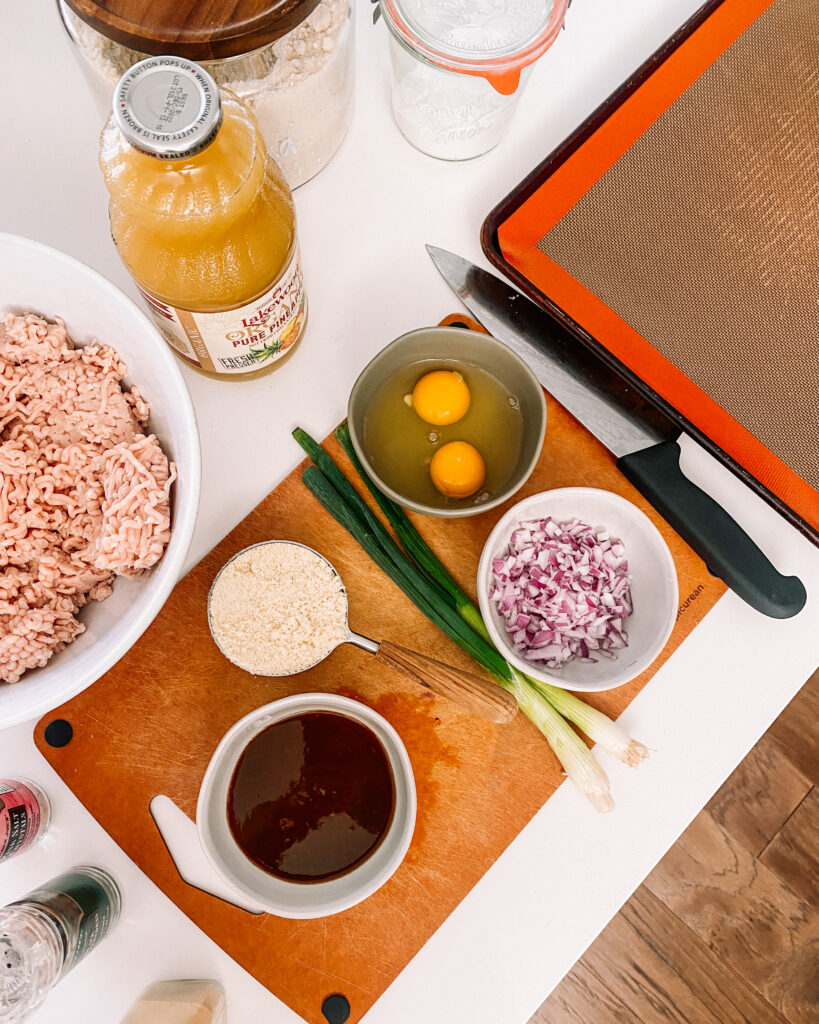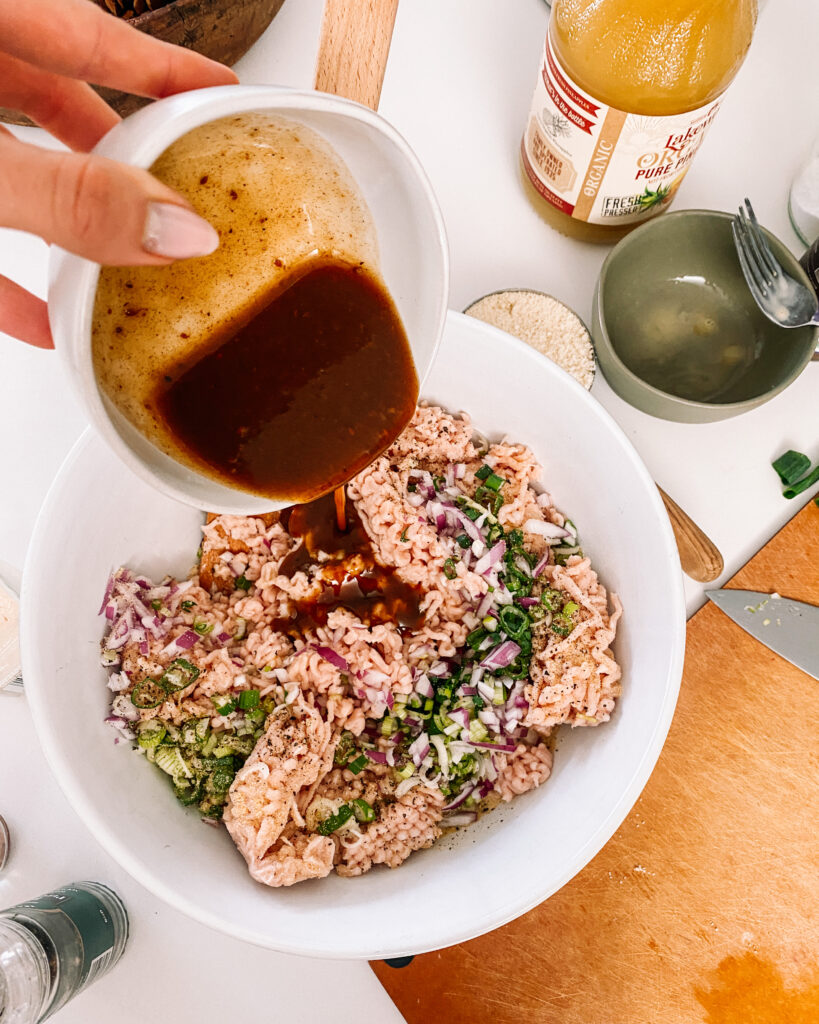 It was actually super easy to make. I prepped all the ingredients to have them laid out in front of me, then I mixed the ground chicken with red onion, green onion, almond flour, 2 eggs, teriyaki sauce and seasonings. The mixture shouldn't be dry after mixing thoroughly. Make sure to have your baking sheet prepped with parchment paper before you begin to roll into meatballs.
The trick is to continue to wet your hands each time you form a ball to prevent the meat from sticking to your hands. Be gentle, cause they may fall apart easily depending on which meat you choose to use. Place on the baking sheet side-by-side until all are rolled. You may need two baking sheets or have to do a second batch.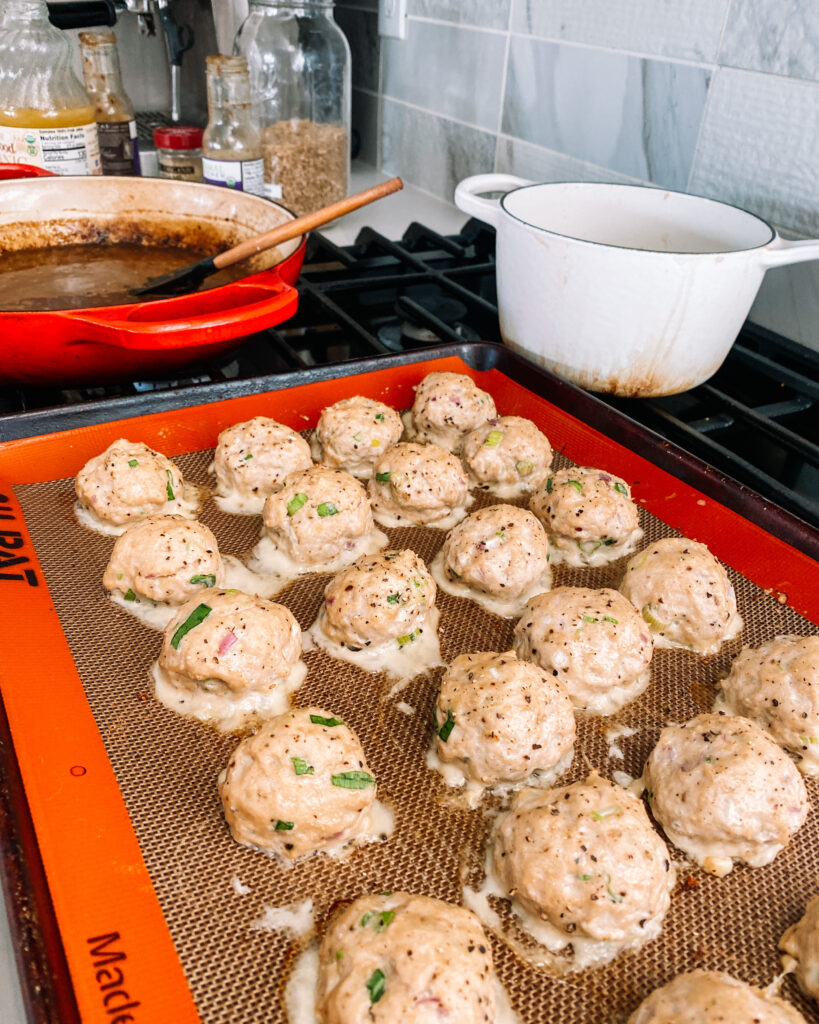 They should be completely cooked within 20 minutes — I made them about 1.5-inches wide for reference. While they're cooking, you can start heating your sauce. This sauce is INSANE, let me just say that!! Gentle mix together your teriyaki sauce and pineapple juice (for added sweetness). *Just a heads up you will need about one and a half jars of the Primal Kitchen No-Soy Teriyaki Sauce if you end up using this one 🙂
To add the arrowroot starch as a thickener, stir/whisk together 2 tablespoons of water and 1 tbsp arrowroot starch in a small bowl until it fully dissolves before pouring in your skillet. This will prevent clumps in your sauce. You can also substitute cornstarch if you don't have access to arrowroot.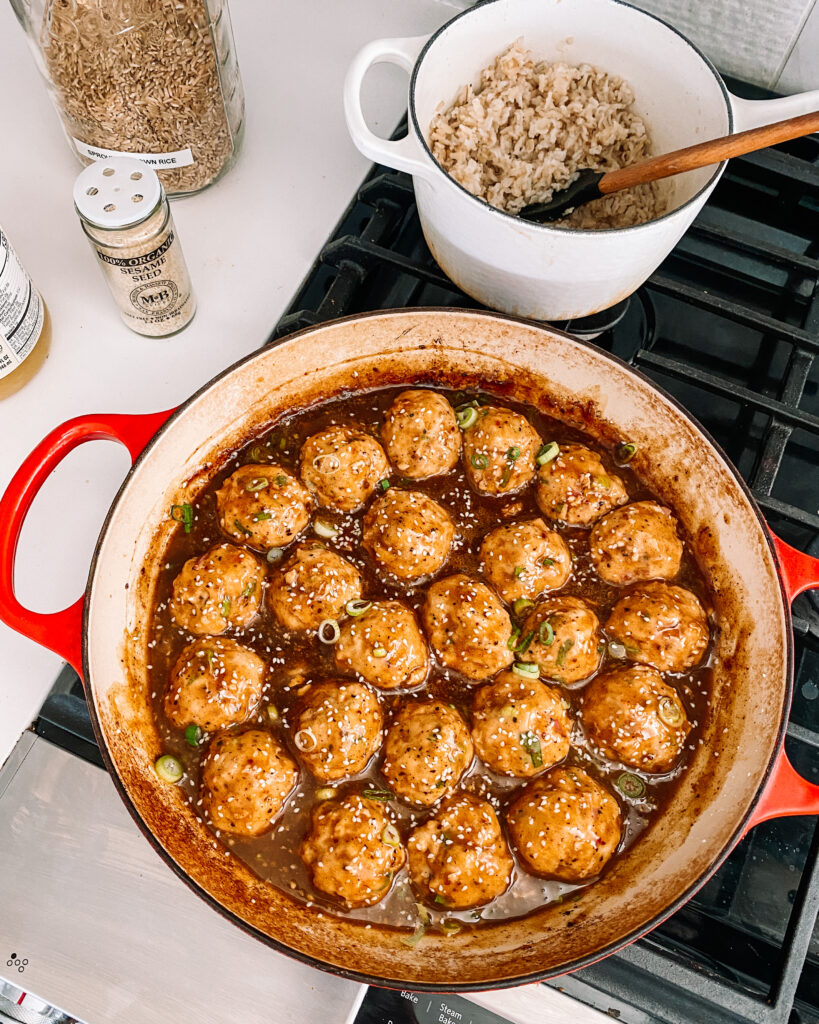 Using tongs, gently transfer meatballs to your large skillet with your teriyaki sauce. Give a gentle toss so they're completely covered, then top with additional sesame seeds & chopped green onion. They're ready to serve! I also made sprouted brown rice because what's a better combo than teriyaki and rice??? And also a big salad with sautéed broccolini. I trim the ends off the broccolini, slice lengthwise a few times so they're thinner + easy to digest, then toss them in a skillet with a splash of avocado oil and a little ghee with pink salt. Cook on medium heat and tossing every few minutes until they're cooked and slightly charred 🙂 Nothing better!
Try this one out and let me know what you think! Don't forget to rate the recipe below, I really appreciate it <3 xx Rachael
SHOP WHAT I USED TO MAKE THIS RECIPE

Healthy Teriyaki Meatballs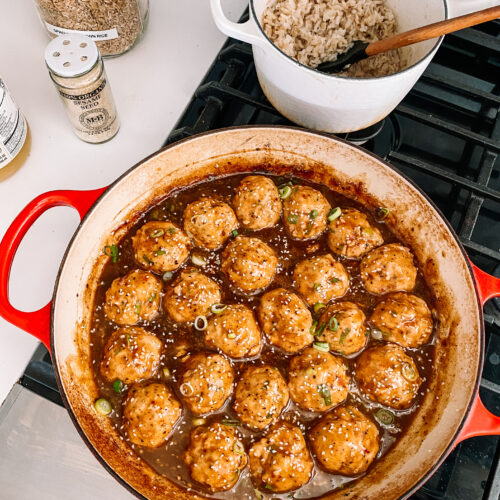 Healthy teriyaki meatballs made gluten-free and soy-free!! You will love this recipe 🙂 Perfect to make extra for leftovers for the week.
Ingredients
Meatballs
2

lbs

organic ground chicken

,

(feel free to use whatever protein you prefer)

1/4

cup

red onion, finely diced

1/3

cup

green onion, chopped

1

cup

almond flour

2

eggs, lightly beaten

few shakes

pink salt, ground pepper

1/4

tsp

garlic powder
Sauce
1

cup

teriyaki sauce

1/2

cup

pure pineapple juice

1

tbsp

arrowroot starch

,

(can sub cornstarch)

2

tbsp

water
Toppings
3

green onions, chopped

1

tbsp

Sesame seeds
Instructions
Preheat oven to 400 degrees F.

 In a large bowl, mix all of the meatball ingredients together. Prepare baking sheet with parchment paper.

With wet hands, roll mixture into 1.5-inch balls and place side by side on the baking sheet. You'll have to be gentle when rolling and continue to wet hands to prevent sticking. Bake for 20 minutes.

Meanwhile, heat teriyaki sauce + pineapple juice in large skillet. Mix arrowroot starch with water in a small bowl until fully dissolved before adding to sauce.

Once boiling, bring down to simmer. Add meatballs once they're done, toss in sauce & top with green onion + sesame seeds.

I made sprouted brown rice and added a big salad / sautéed broccolini on the side.