Way back in high school I made the switch to non-dairy milks and I've never looked back– I'm lactose-intolerant, and much rather prefer the taste and quality when it comes to alternative milks.
Have you ever made them for yourself at home? It's much cheaper, more convenient, includes less additives/preservatives/fillers, and you can customize however you like! Anything from hemp seed milk and cashew milk to holiday coconut milk (recipe below)! I'm tellin ya, making your own nut and seed milks from home is a game changer, especially when you've run out of your fav store-bought milk. Plus, there's very little measuring involved when you DIY. I typically guesstimate every time with a cup or-so of nuts + 5-7 cups filtered water.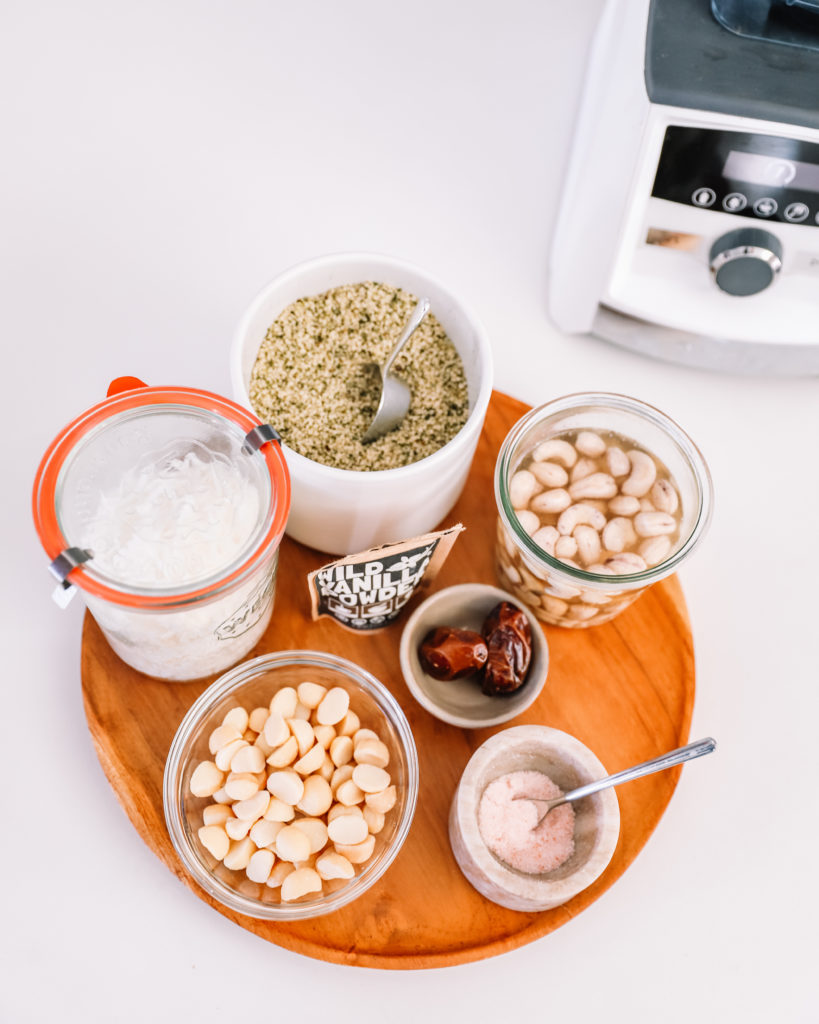 They all typically last around 4-5 days fresh in the fridge.
Creamy Cashew Milk: I'd say this is our favorite and the one that's stocked most in our fridge. It's SO yummy and bonus: you don't need to strain it unlike almond milk! Just soak a cup of raw cashews in filtered water (enough to cover the nuts completely) for at least 4 hours, or overnight. Drain the water, pour the cashews in a high-powered blender—I prefer Vitamix—then add 5-7 cups of water with your flavorings of choice: cinnamon, vanilla bean powder, sea salt, a date or splash of maple syrup for sweetness, etc. Blend for 1-2 minutes on high and you'll see it come out thick and frothy!
I love using these (or these!) massive jars here to store in the fridge for up to 5 days.
Hemp Milk: This is my go-to when I've realized I'm completely out of almond milk. I use this one mostly in my smoothies and it's so quick, like 1-minute (*no need for soaking or straining!)! I just toss about 1-2 tbsp hemp seeds with 1-2 cups filtered water in a blender along with a few shakes cinnamon and that's it! Blend on high for 30-45 seconds and you're ready to add in your remaining smoothie ingredients. It's also great for homemade iced matcha lattes!
Click here for my Everyday Glow-To Smoothie!
Holiday Coconut Milk: You will LOVE this one for a spin on eggnog…. Well, with a lighter, more subtle and delicious taste! This one does require a nut milk straining bag (click here for the one I use). No need for soaking overnight—just add about a cup or big handful of shredded coconut or coconut flakes to your blender with 5-7 cups filtered water, ¼ tsp cinnamon, few shakes nutmeg, few shakes allspice, few shakes cardamom, cloves, sea salt and ½ tsp vanilla bean powder or extract. If you're wanting a sweeter taste, add a date or splash of maple syrup! Blend on high for several minutes. Prepare nutmilk bag over large bowl, then pour coconut milk over straining bag. Squeeze all excess liquid out and pour coco milk into glass milk jug or mason jar to store in the fridge. Can discard coconut pulp.
Try it in a yummy holiday-spiced smoothie or in place of egg-nog this season!
Macadamia + Sunflower Seed Milk: Now is when you can start getting creative–Try mixing a few of your fav nuts & seeds! I made this recipe when I was trying to utilize all the raw macadamia nuts I got in Hawaii a few weeks ago. You can soak both macadamia nuts + sunflower seeds together in filtered water for just a few hours before draining the water and adding them to the blender with additional filtered water (again, make it to your liking! If you know you won't go through that much nut milk throughout the week, try soaking only ½ cup nuts, and filling with about 4 cups filtered water, as opposed to 5-7. The less water you use, the thicker and more flavorful the milk will become). Add several shakes cinnamon, ¼ tsp vanilla bean powder, pinch sea salt and you're good to go! Can adjust seasonings based on preference.
what I used to make these recipes