Watch my grocery haul Reel HERE 🙂
Taking you through exactly how I restocked our very empty fridge. One major tip is to just plan a few meals at a time – that way it's less ingredients overall, and you're not locked into meals that you're not interested in later in the week. I try to plan my grocery list around 3 recipes and our other staples. I'll be back to the store in ~2-4 days, it works for me!
The recipes I'm making with this haul include Immune Boosting Shots (from my cookbook), One-Pan Enchilada Skillet, and Pistachio Crusted Fish Tacos (also exclusive to my cookbook!).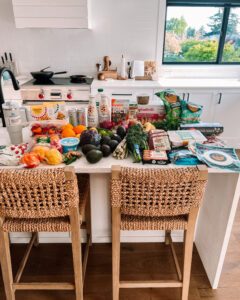 PRODUCE
Avocados, Asparagus, Cilantro, Green onion, Broccolini, Bell peppers, Bananas, Ginger root, Jalapeños, Purple cabbage, Lemons & limes, Oranges, Red onion, Mango
SNACKS
Country Archer Provisions grass-fed beef sticks, Simple Mills gluten-free crackers, RXBARS (this is my go-to pre-workout snack), Siete salt & vinegar chips and lime tortilla chips
REFRIGERATED/FROZEN
Almond milk (we go through a ton so we use Whole Foods 365 unsweetened brand for smoothies and Three Trees for coffees/matchas), Siete cassava tortillas and organic flour tortillas, Kite Hill dairy-free sour cream, pepper jack goat cheese, Ardor natural energy drinks, frozen organic raspberries for smoothies
PROTEINS
Grass-fed organic ground beef, organic ground turkey, organic spicy Italian chicken sausages (Whole Foods 365 brand), pasture-raised eggs, wild-caught cod from the freezer (Butcher Box)
OTHER
Siete spicy taco seasoning, organic basmati rice, spindrift (pre-Bridger ordering a water carbonator from my book signing at Williams Sonoma last week lol), Santa Cruz peanut butter (no added oils/sugar), pistachios, new 30-ounce Stanley mug