The second I tried this dinner, I knew it would become a staple in our rotation moving forward. It honestly brings me back to childhood when we'd hit a Mexican food spot at least a couple times a month; a family fav! You know those massively drenched enchiladas I'm talking about? I haven't had one in YEARS and I've been dying for the same flavor without gluten/dairy. Well my friends, HERE IT IS.
This recipe is made all in one skillet and takes away the added time you'd be having to put into rolling the enchiladas and baking them. Instead, you basically throw all the ingredients into a big skillet and it's ready in 20 minutes. Way less cleanup, too. I know you will love this one! Completely gluten-free if you use grain-free tortillas (I use Siete Cassava tortillas), and you can swap whatever cheese you like best. I used shredded goat cheese.
You know I love tossing or sneaking extra veggies into our meals and this one is no different. I added tons of bell peppers and zucchini. But the zucchini can easily be subbed for anything you have in the fridge, even 3-4 big handfuls of spinach or power greens, which is what I did this week. It turned out amazing and you can't even taste the greens!
Gotta give it a go 🙂 Let me know if you try in the comments below.
Click here for the Reel I made of this recipe 🙂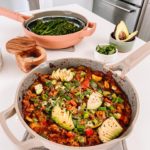 20-Minute One Pan Enchilada Skillet
Ingredients
2

tbsp

avocado oil

1/2

cup

diced red onion

1

tsp

minced garlic

1

lb

organic ground turkey or chicken

2

cups

chopped zucchini

1

large red bell pepper, diced

few shakes

cumin, chili powder, paprika

sea salt, to taste

black pepper, to taste

4

regular sized tortillas, cut into strips

(I used Siete Foods tortillas)

1/2

cup

chopped cilantro

1/2

cup

shredded goat cheese

(sub your favorite cheese)

1/4

cup

green onions, chopped

1

avocado

1

tsp

red chili flakes

1

15-oz

jar enchilada sauce

(I used Siete Foods red enchilada sauce)
Instructions
Heat oil and garlic in skillet with onions on medium for several minutes.

Add organic turkey to brown for 5 minutes. Next, add seasonings, zucchini, red bell pepper, ½ can enchilada sauce and let cook for several minutes. Then pour in remaining sauce, ¼ cup chopped cilantro, ¼ cup shredded cheese.

Stir in tortilla strips immediately after and cover with lid to cook for 10 minutes on medium to low heat. 

Add rest of cheese, green onion, cilantro and cover for one more minute to melt. Serve with sliced avocado, red chili flakes and whatever side you like 🙂 We typically do a salad or steamed broccolini. Enjoy! xx