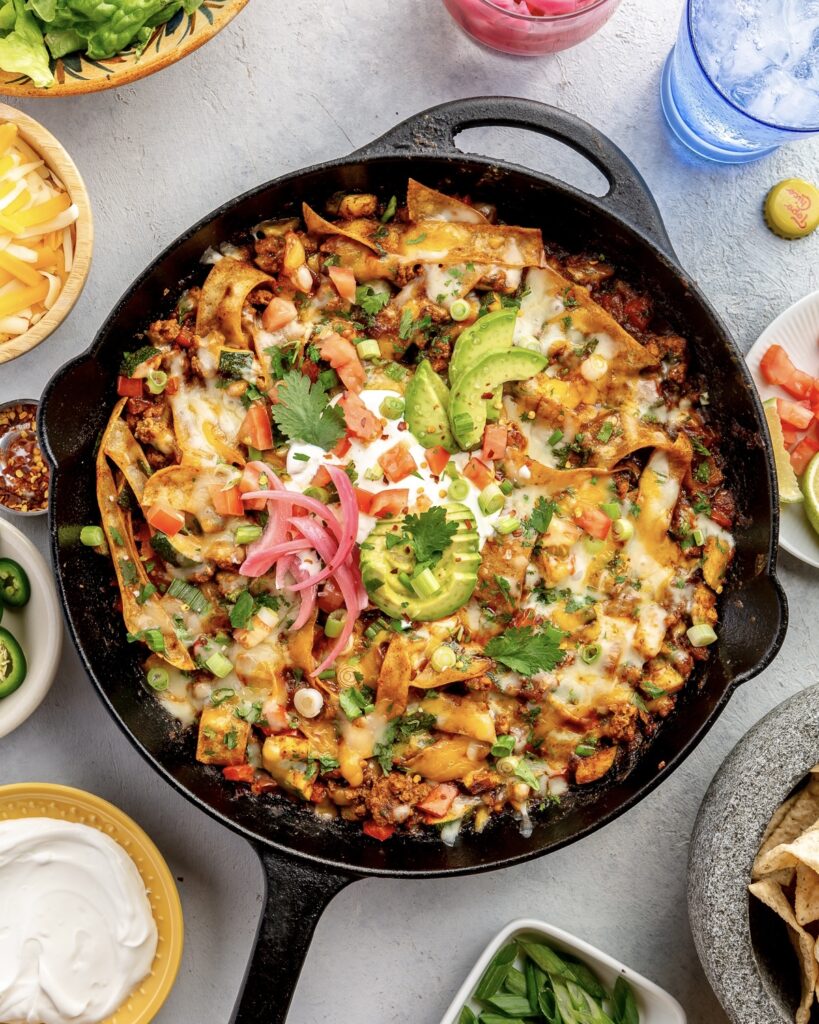 This one-pan enchilada skillet is hands down the most popular recipe on my site and I'll tell you why. It's basically a deconstructed version of my favorite food, enchiladas, the flavor is incredible every time, it's made together in one skillet (!!), and I am 100% confident it will win over anyone. I always ordered enchiladas growing up, because obviously nothing beats a tightly wrapped chicken tortilla drenched in sauce. I hadn't had enchiladas in years because of my gluten & dairy intolerances, so years ago, I threw this together and my life has never been the same!

As much as I like to hype up my own better-for-you recipes, the best part is that you all agree on this one. It's safe to say this recipe has gone viral and is even featured as a menu item inside all of the Suites at Lumen Field this season (Go Hawks!), which I'm still dying over. It's one of the staple recipes in my cookbook for good reason 😉 If you're a first-timer, I honestly cannot wait for you to experience this dish!

ALL THE FLAVOR WITH NONE OF THE MESS
We love a one-pan meal because that usually means it's a quick dinner and an even quicker clean up. Not only are we saving time with cleanup, but making this dish as a skillet saves you all the time you'd spend rolling the tortillas and baking them without compromising any of the flavor. this way, after 5 minutes of prep you can toss your ingredients into the skillet and then 20 minutes later, dinner is ready.


INGREDIENTS YOU'LL NEED:
Red Onion
Garlic
Ground Turkey or Chicken
15-oz Jar Enchilada Sauce
Zucchini
Bell Pepper
Tortillas
Cilantro
Goat Cheese (or preferred cheese)
Green Onions
Avocado
Cumin
Red Chili Flakes
Sour Cream
Jalapeño
This recipe is completely gluten-free if you use grain-free tortillas (I use Siete Cassava tortillas), and you can swap whatever cheese you like best, I use shredded goat cheese. I love sneaking extra veggies into our meals and this one is no different – the bell peppers and zucchini are my staple additions but you can add whatever you have on hand. The enchilada sauce that I prefer is the Red Enchilada Sauce by Siete.


HOW TO MAKE THIS ONE-PAN ENCHILADA SKILLET
Start by prepping your ingredients and toppings. Dice the red onion; chop the zucchini, bell pepper, green onion and cilantro; cut the tortillas into strips; and mince the garlic. Once everything is prepped and ready, heat a medium skillet over medium heat.
Once your skillet is hot, add your oil and let is heat through. Brown the meat and add the red onion, bell peppers, zucchini and seasonings. Mix well. Pour in 1/2 the enchilada sauce until heated through, 3-5 minutes. Add the remaining sauce, chopped cilantro, and shredded cheese. Mix well and cook for 3-5 minutes, or until hot.


Finally, add your tortilla strips and cover the skillet with a lid. Cook for 10 minutes on medium to low heat. The noodles will start to soften and absorb the sauce while it cooks, replicating that classic saucy enchilada experience we all know and love to a tee.
Remove the lid, give the skillet a good stir to ensure everything is evenly coated and well mixed.


Add remaining cheese, green onion, and cilantro and cook until the cheese is melted. Serve with sliced avocado, red chili flakes, sour cream, jalapeño and whatever sides you prefer! Adding a few pickled onions and serving it over a bed of fresh lettuce is the adult take on this childhood favorite. So delicious, saucy, and in this case, nutrient-dense.

MORE RECIPES YOU'LL LOVE
Spicy Southwest Chicken Skillet
Gluten-Free Crispy Chicken Parm
Spicy Penne Alla Vodka With Meatballs

Click here for the Reel I made of this recipe 🙂
20-Minute One Pan Enchilada Skillet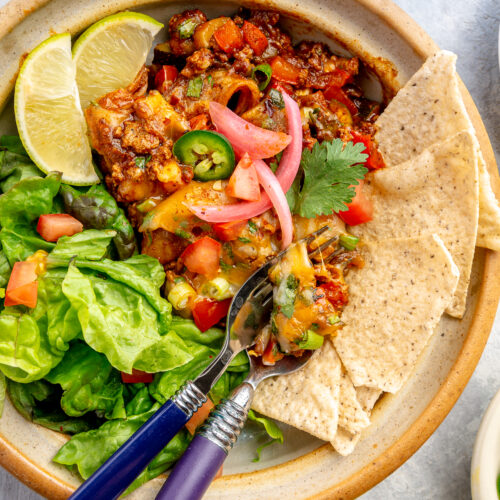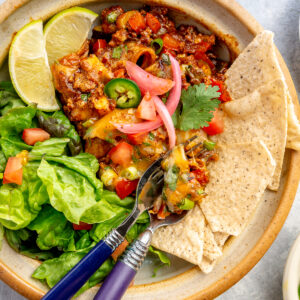 Ingredients
2

tbsp

avocado oil

1/2

cup

diced red onion

1

tsp

minced garlic

1

lb

organic ground turkey or chicken

2

cups

chopped zucchini

1

large red bell pepper, diced

few shakes

cumin, chili powder, paprika

sea salt, to taste

black pepper, to taste

4

regular sized tortillas, cut into strips

,

(I used Siete Foods tortillas)

1/2

cup

chopped cilantro

1/2

cup

shredded goat cheese

,

(sub your favorite cheese)

1/4

cup

green onions, chopped

1

avocado

1

tsp

red chili flakes

1

15-oz

jar enchilada sauce

,

(I use Siete Foods red enchilada sauce)
Instructions
Heat oil and garlic in skillet with onions on medium for several minutes.

Add organic turkey to brown for 5 minutes. Next, add seasonings, zucchini, red bell pepper, ½ can enchilada sauce and let cook for several minutes. Then pour in remaining sauce, ¼ cup chopped cilantro, ¼ cup shredded cheese.

Stir in tortilla strips immediately after and cover with lid to cook for 10 minutes on medium to low heat. 

Add rest of cheese, green onion, cilantro and cover for one more minute to melt. Serve with sliced avocado, red chili flakes and whatever side you like 🙂 We typically do a salad or steamed broccolini. Enjoy! xx