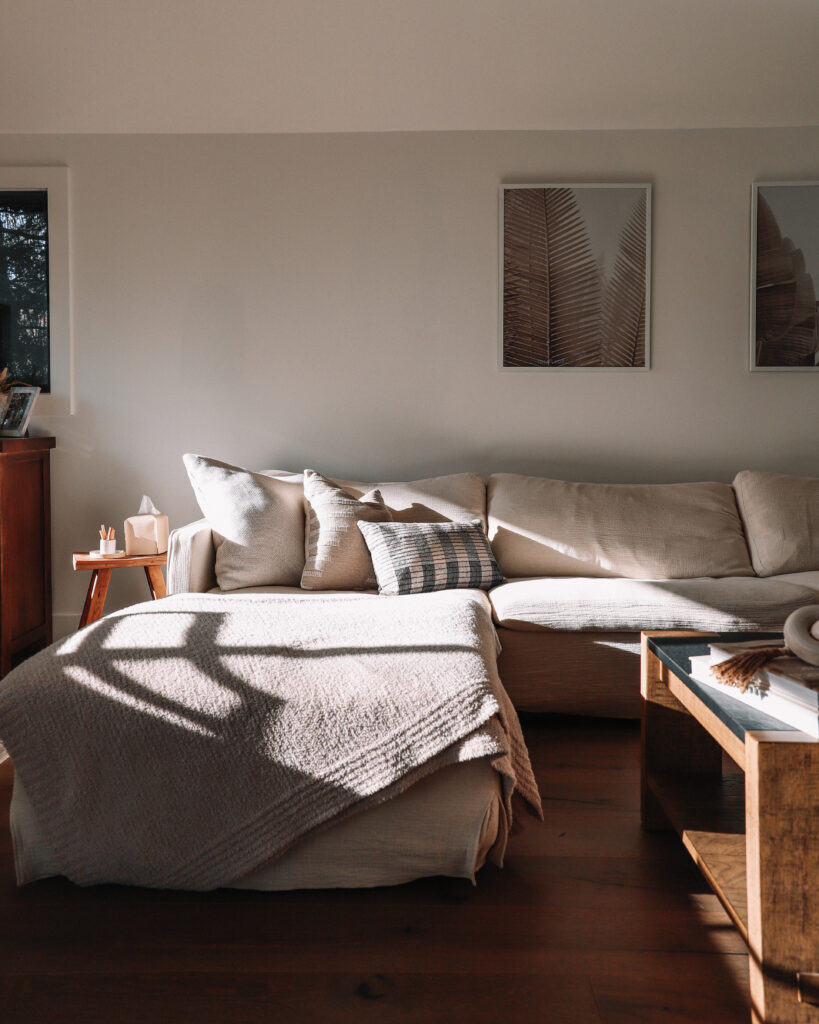 So far, this year has been a little crazy. We've spent a lot of out time out of state actually, and as of today (May 18th, 2023), we've only technically been home for 30 days in all of 2023. You might've seen through my other posts that Bridge and I, and the weens, drove down to Arizona on December 1st, 2022 to escape part of the winter weather this year. We ended up traveling between Arizona, Las Vegas, where my sister and BIL live, and LA. I'm so, so grateful we got to be with my sister through the birth of her first baby, and my first niece! Honestly, it was such a highlight for us!
Anyways, the point of this post is to show you our newly updated family room. Rewind to last fall, I ordered a sofa from Sixpenny to complete our downstairs living space– read more on that post here. It is the most comfortable couch I've ever had, let alone sat on, so Bridge and I instantly fell in love with it. We ended up ordering another sectional from Sixpenny for the upstairs family room. We tried so hard to actually like the couch we initially had, but was just never impressed by it. So I ordered the new one in December knowing that certain fills/fabrics take up to 12 weeks to make, but they do also have tons of ready-to-ship options as well.
It ended up being delivered while we were still in Las Vegas, so Bridge and I flew home for the weekend to set everything up and style the space. I'm no interior designer or artist, but I wanted to paint our own art on the wall, similar to this. So in the meantime, we have two smaller prints that don't necessarily fit the oversized wall, so bare with me!! haha.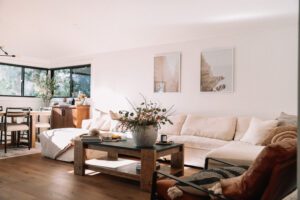 Meet the Amelia U-Shaped Sectional. She fits the space perfectly, has such an elevated feel and comfort level is 10/10! Click here to check out the sectional on Sixpenny's site. We chose the feather-down in Corn Silk Washed Cotton Linen. I love the lighter color, but we always have these blankets tucked into the cushions so that the dogs can lay on it without a mess. The pieces are all modular, so you're able to rearrange the ottomans to fit your space and the slip covers are removable so you can get them dry cleaned or gently wash. Shop the Amelia U-Shaped Sectional.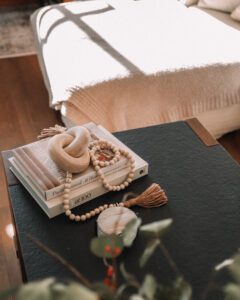 Shop the photo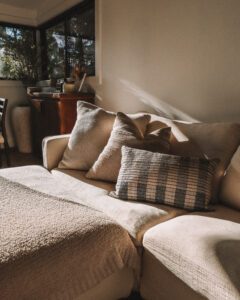 It's been a few months of breaking in the sectional and we're so in love with it! We get to host more people, which has been nice fitting everyone on the couch. The cushions require a little bit of fluffing here and there, but to be expected. I would highly recommend the brand to anyone looking for a new sofa, sectional, chair, daybed, dining chairs and/or tables. They handcraft every frame and you can feel they use high-quality materials. Sixpenny offers 10% off of your first order on their website.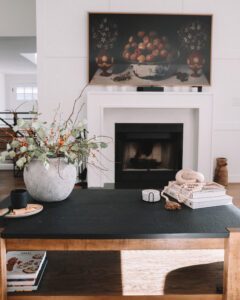 I took these photos just before I back from my book tour, so now I need to add my Rachael's Good Eats cookbook + coffee table book to the situation with new seasonal flowers, but it's really coming together! When we first moved in, the wall that the TV on was a completely blank slate besides the fireplace. We added the mantle and the paneling so that the room felt more open and the couch could face the fireplace instead of the wall perpendicular to it.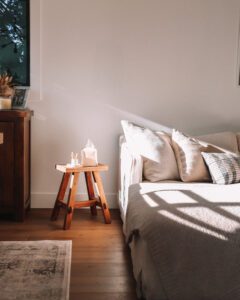 Shop the post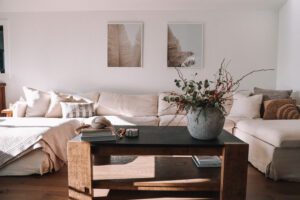 Hope you enjoyed seeing our updated family room space! Hold me accountable on those spackle art paintings! 😉
xx