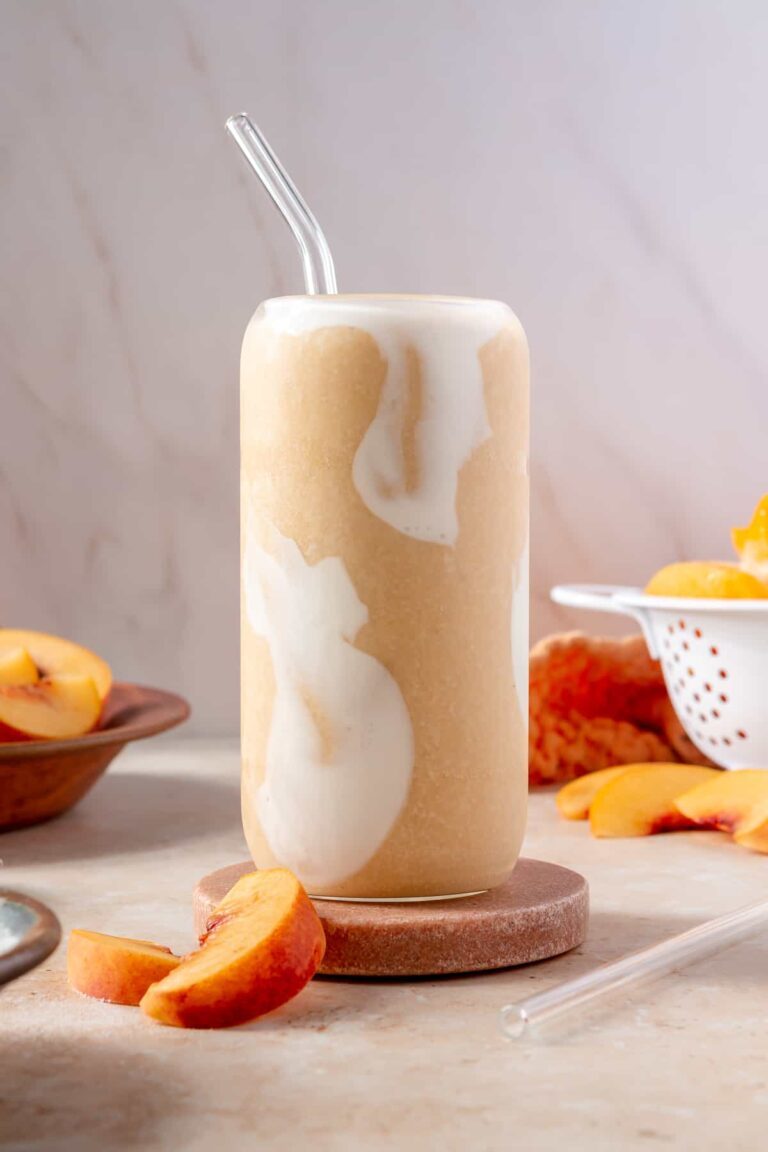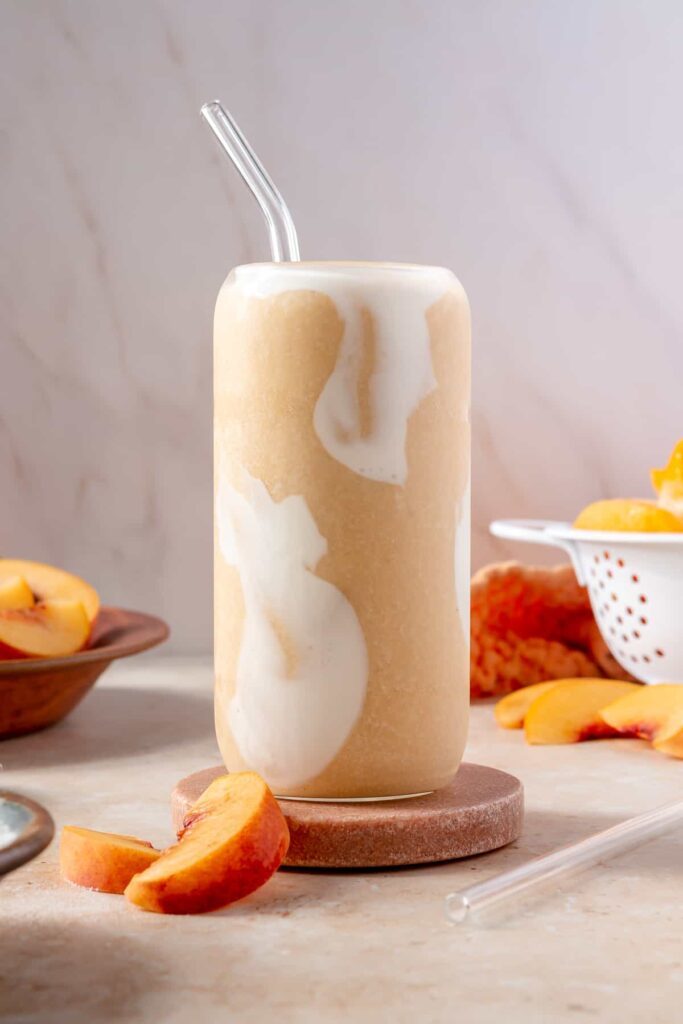 It's the little things that bring me joy each day – like making a literal milkshake for breakfast. Smoothie giriles will understand how satisfying the perfect blend is, especially when you try out a new flavor combo. I was not disappointed with this peaches & cream variation, and I think you just might love it. Packed with protein and a handful of superfoods, this Peaches & Cream smoothie is on heavy rotation and hits the spot every. single. time.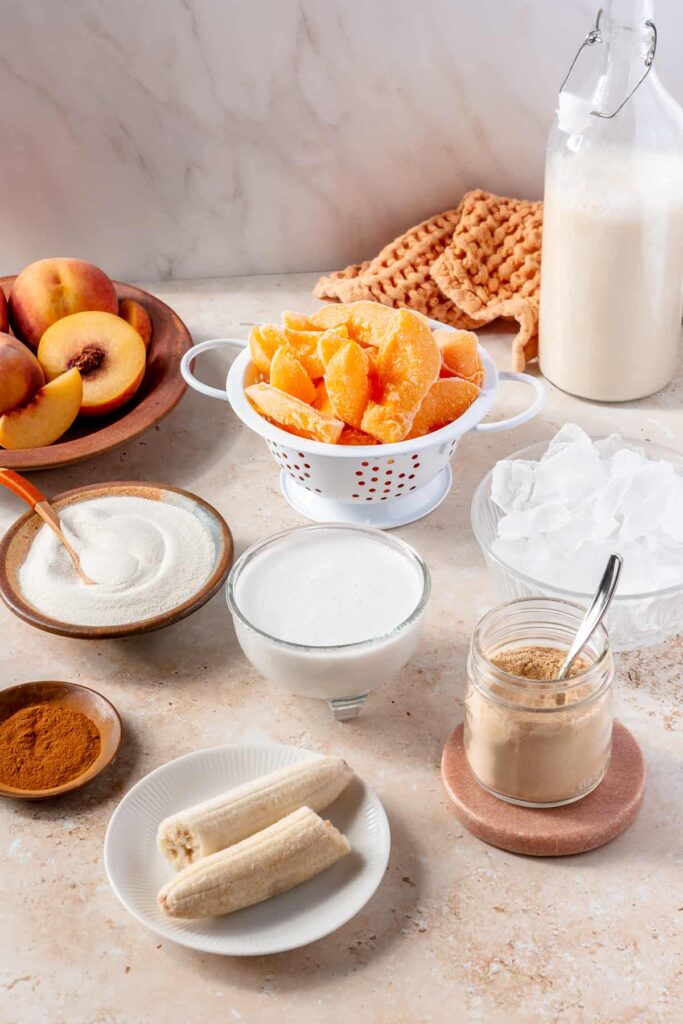 JUST PEACHY
I love peaches so much – such an underrated fruit in my opinion. They're only in season for a short amount of time, so I needed a way to keep my smoothies peachy beyond summer. One of my tips for a thicker, colder smoothie is to use frozen fruit instead of fresh. Using frozen peaches just makes this smoothie a delicious option all year long, no matter the season. Peach lovers – thank me later. Let me give you a rundown on all the amazing benefits this superfood smoothie has to offer:
Peaches: immune support from vitamins A & C
Bananas: an absolute staple in almost all of my smoothie recipes (more of which can be found here on my site), bananas are not only a great source of potassium, but they provide the creamiest texture. Pro tip: freeze ahead of time or buy frozen to really amp up the cold, milkshake-like taste.
Collagen: is best known for supporting healthy skin, hair, nails, joints and bones. Collagen generally contains eight of the nine essential amino acids your body needs, making it a good source of protein.
Coconut Cream: like collagen, coconut cream is also beneficial for hair and skin. It's a healthy fat and provides other superfood effects like antioxidants, magnesium and zinc.
Maca Powder: Maca is a serious superfood, but some of its most powerful benefits are that it can help with hormonal balance, and help to lower stress and boost stamina. Maca also has a nutty, almost butterscotch-like flavor, which pairs well with many sweeter flavors.
Ceylon cinnamon: is one of my most used pantry items, and for good reason. I love the taste, but love even more that it's helpful in reducing blood sugar after eating, plus it contains antioxidant, anti-inflammatory and antimicrobial effects. Some studies have even shown that the effects of cinnamon can help with skin regeneration through stimulating enzymes that promote cell growth and repair. With cinnamon, a little goes a long way – but can you believe all of these benefits can be packed into the smallest serving? Unreal.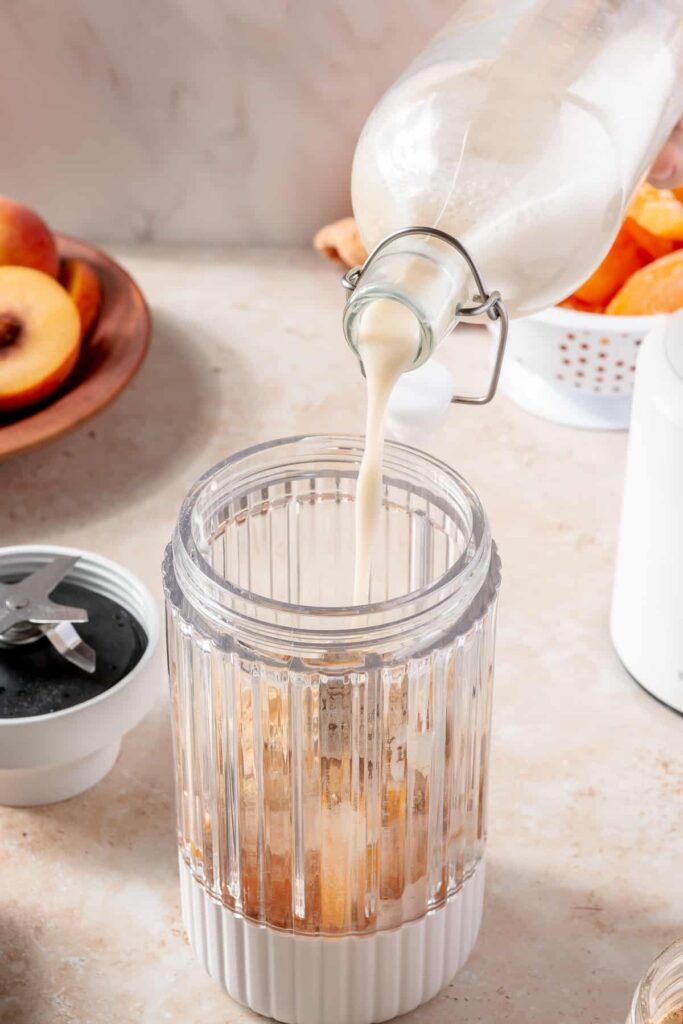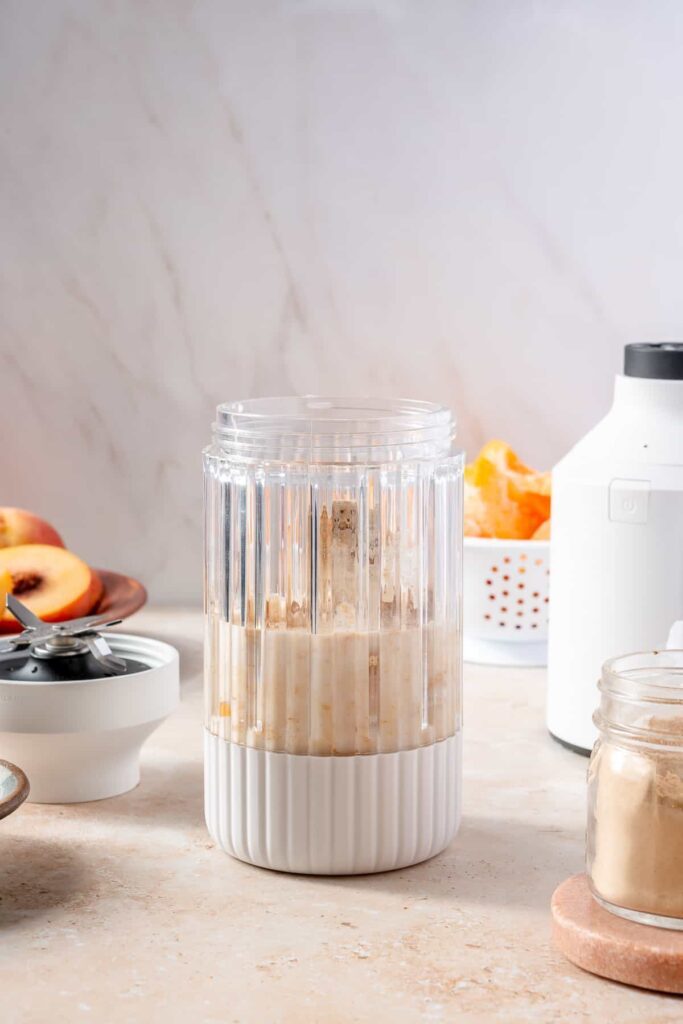 INGREDIENTS YOU'LL NEED:
Vital Proteins Collagen
Frozen peaches
Unsweetened almond milk
Ice
Organic unsweetened coconut cream, plus extra for the glass
Frozen banana
Maca powder
Cinnamon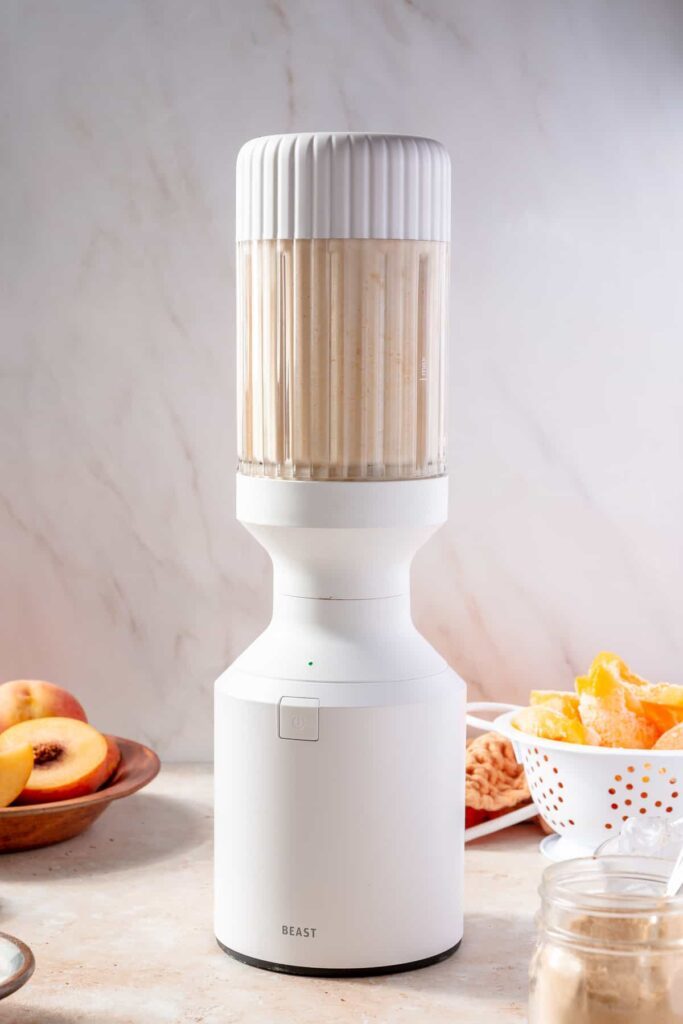 SMOOTHIE NECESSITIES

HOW TO MAKE AN RGE PEACHES & CREAM SMOOTHIE
Not gonna lie, I kiiiind of consider myself a smoothie queen (at this point, I think it'd be impossible to count how many smoothies I've made in my lifetime so far lol), so trust me when I say I highly recommend pre-slicing and freezing your peaches and bananas the night before, or going the store-bought frozen route.
Add the collagen, peaches, almond milk, ice, organic coconut cream, frozen banana, maca powder and cinnamon to your blender. Bend on high until smooth, adding more liquid if you need to bring it to your desired consistency.
Optional, but also highly recommended to add an extra moment of joy in your day: using a spoon, add some of the extra coconut cream in smaller circles to the inside of your glass to make little smoothie clouds.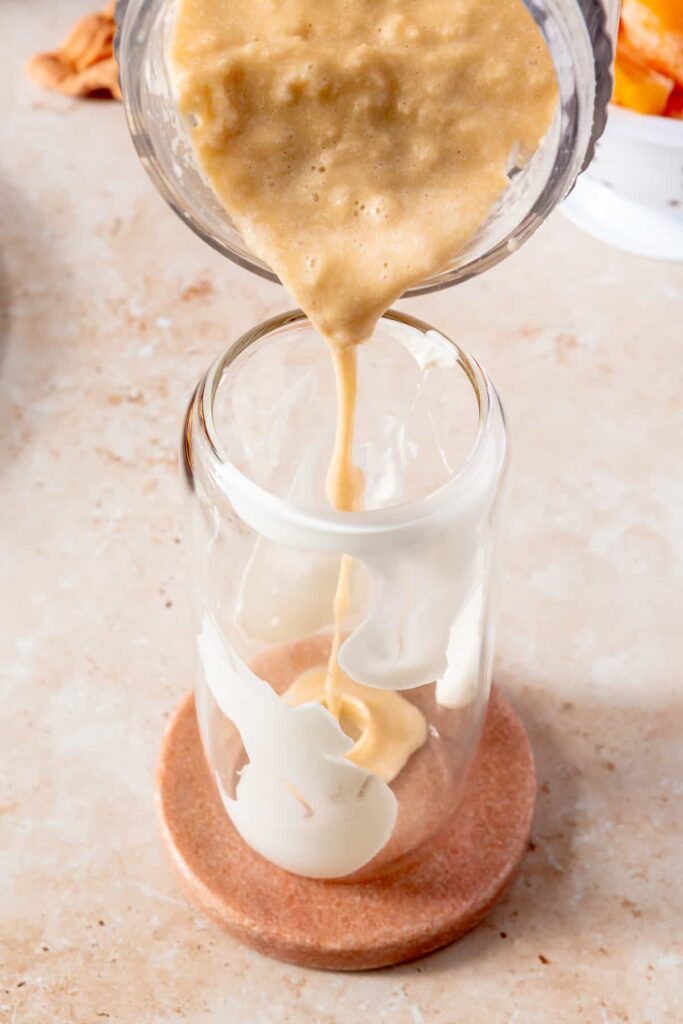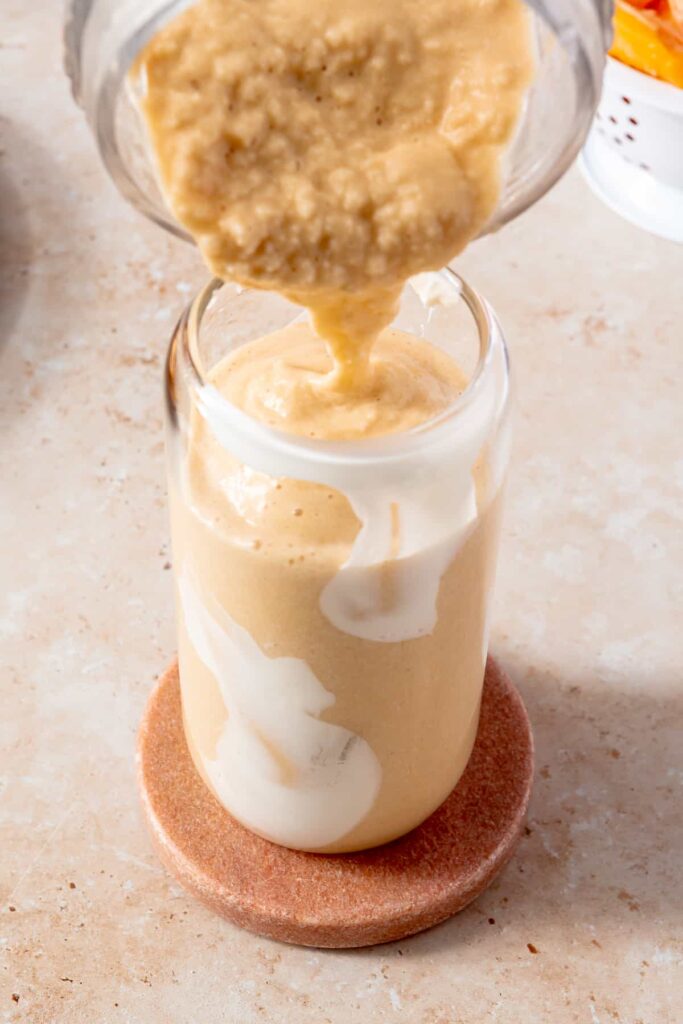 RECIPE SUBSTITUTIONS & QUESTIONS
I've said it before and I'll say it again – one of the reasons I love smoothies is how customizable they are. Although this recipe calls for Collagen Protein, you can easily swap out for your preferred regular protein powder – it doesn't have to be collagen, but I'd recommend either going with a vanilla or unflavored protein powder for this one.
Instead of the unsweetened almond milk, feel free to use your preferred dairy-free milk alternative – or regular dairy milk if you don't have any dairy sensitivities.
Feel free to omit the maca if you don't have it on hand.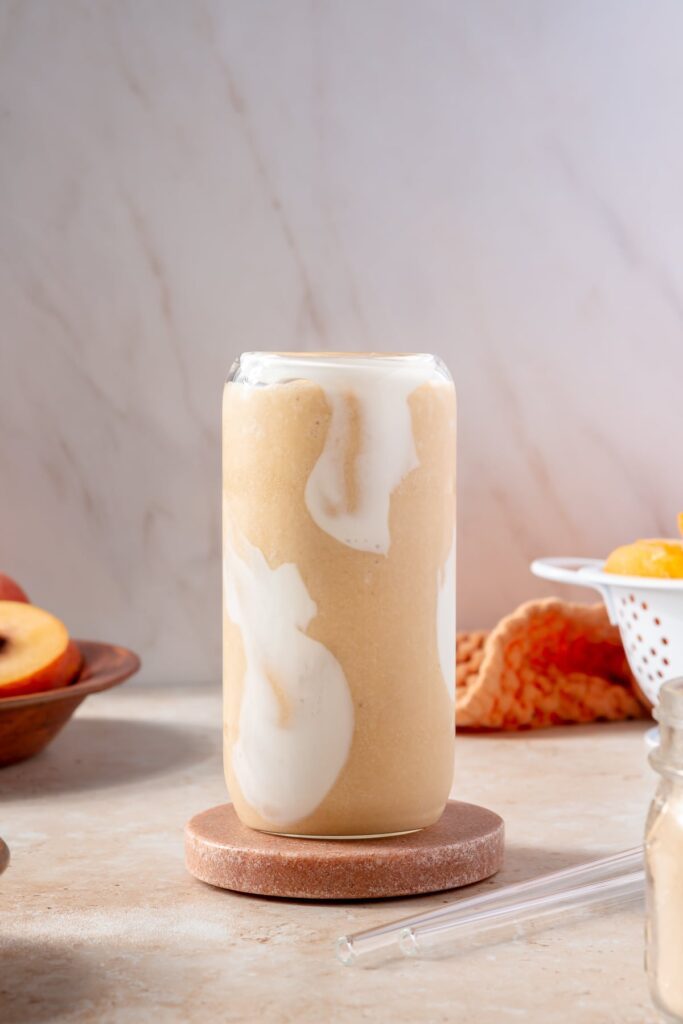 CAN I USE CREAM INSTEAD OF MILK IN A SMOOTHIE?
Adding coconut cream to this smoothie gives it that thick, milkshake texture and also contributes to the overall balance of fat, carbs and protein. I like a mix of coconut cream and almond milk for the perfect thick and creamy texture, but enough liquid to help it blend. Being able to suck my smoothie through a straw is a must!
WHAT IS MACA POWDER?
Maca is actually a cruciferous, root vegetable (meaning it's related to cabbage, broccoli and kale) that is known to have red, black, white and purple varieties that have been around for centuries. The maca root plant can be ground up into powder form and added to different foods and smoothies to enhance flavor and provide all the superfood benefits.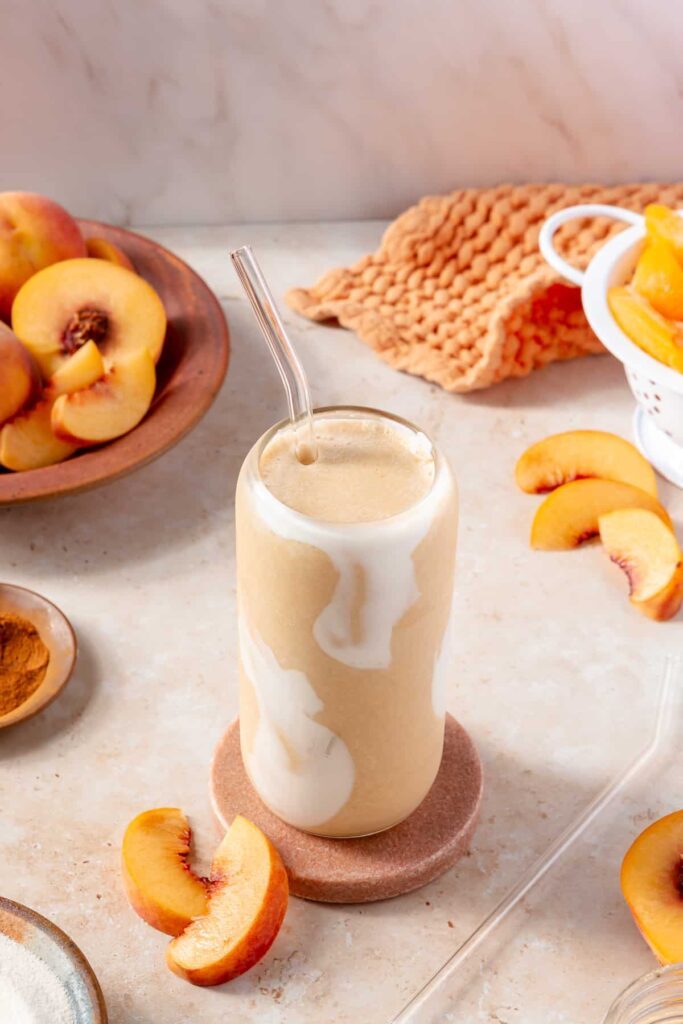 LOOKING TO ADD MORE SMOOTHIES TO YOUR ROTATION?
Peaches & Cream Smoothie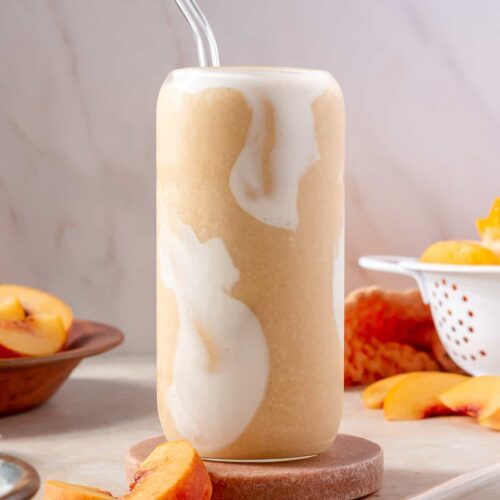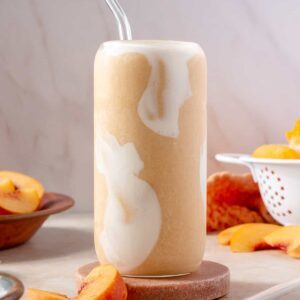 Ingredients
4

scoops Vital Proteins Collagen

¾

cup

frozen peaches

1

cup

365 by Whole Foods Market Almondmilk

¾

cup

ice

¼

cup

365 by Whole Foods Market canned organic unsweetened coconut cream

,

plus more for the glass

½

frozen banana

1

tbsp

365 brand maca powder

Pinch

cinnamon
Instructions
Optional: Using a spoon, add coconut cream in smaller circles to the inside of your smoothie glass.