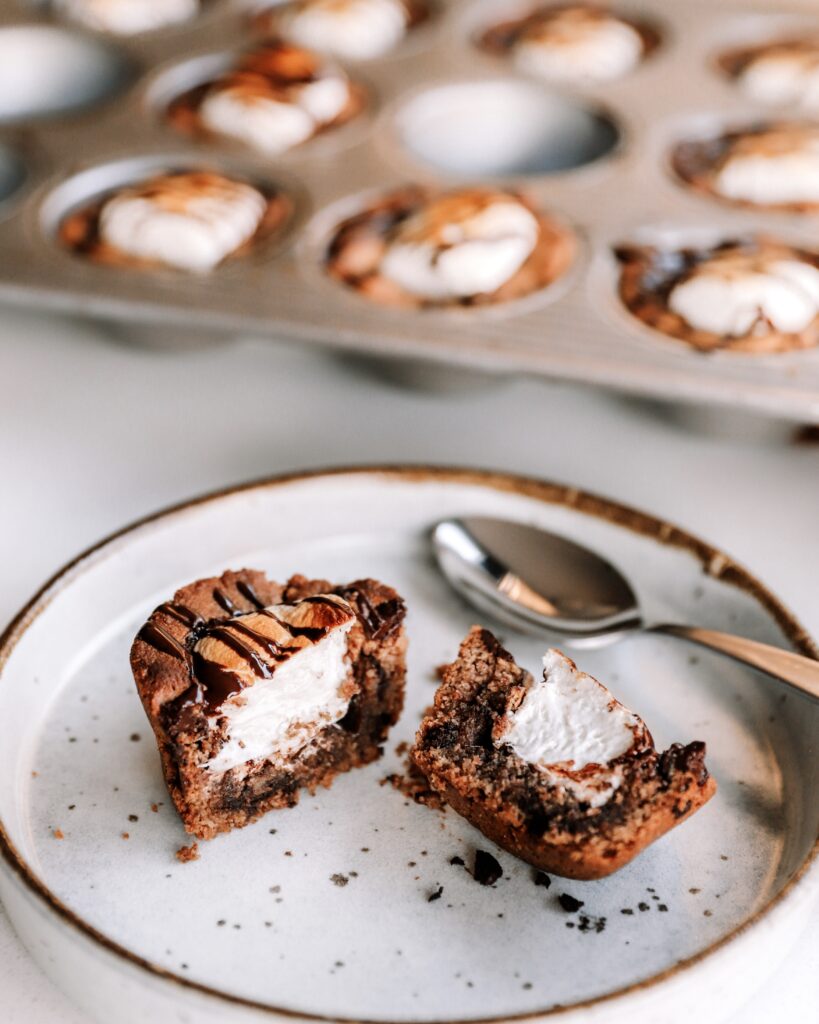 I have the ultimate summer dessert for you. Actually, make this anytime of year and you'll immediately be transported back to summer nights around the campfire. I swear, anytime I add a melty marshmallow to a recipe, mentally, I'm there. I've never considered myself a baker, but if it's pretty low-fuss, I think I got the gluten-free, dairy-free baking essentials down. In fact, I say these S'mores Cookie Cups secure my spot as a baker… they might be one of my favorite desserts I've ever made.  All the nostalgic flavors of a s'more sandwiched into my viral Cookie Skillet cookie cup. It's warm and chocolatey and tastes like my childhood summers on Lake Tapps. Don't hesitate to whip these up, they're simple to make, gluten-free and dairy-free, and the best mid-summer treat!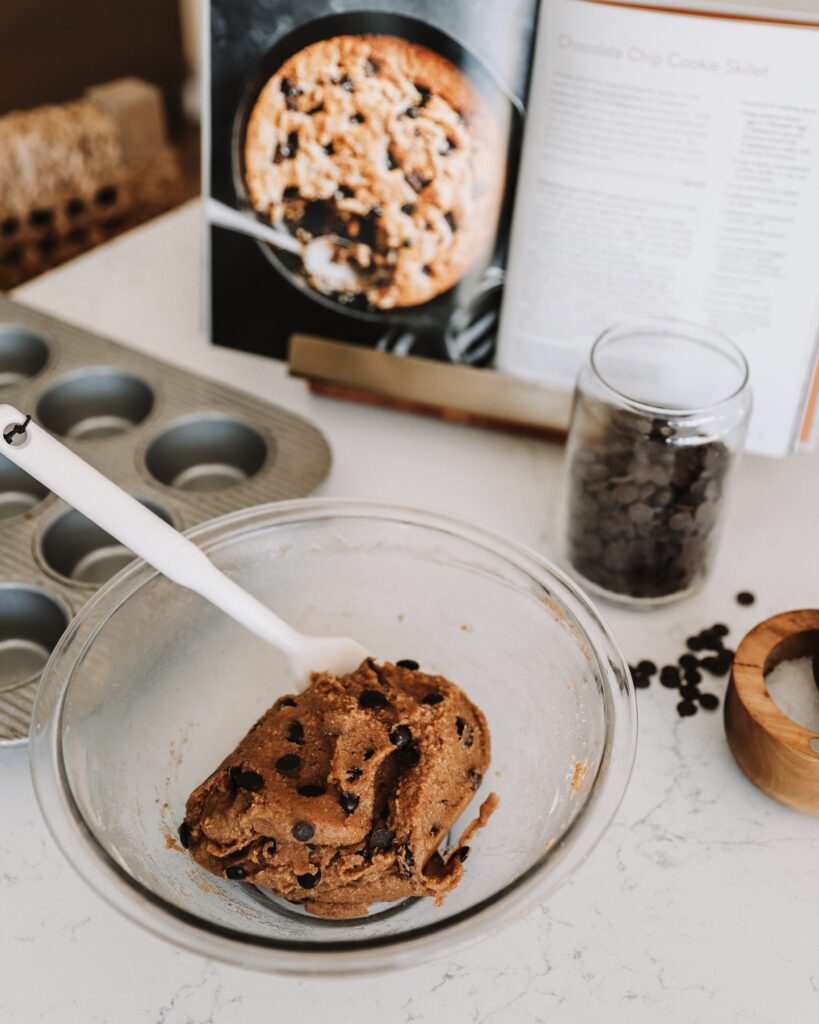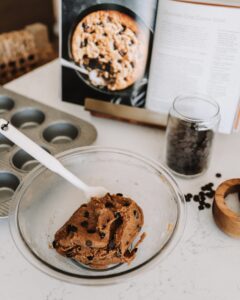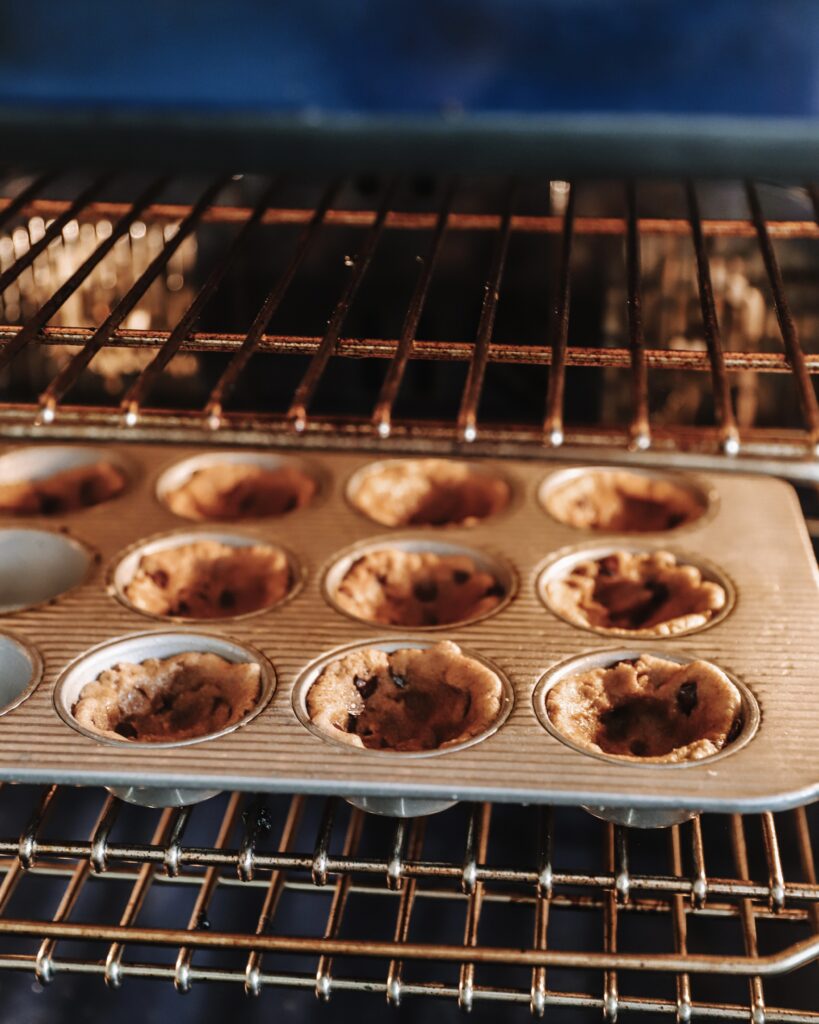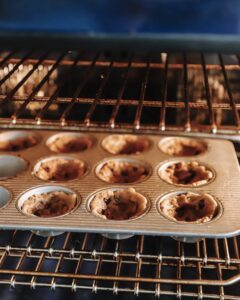 AN INDULGENT TREAT MADE WITH WHOLESOME INGREDIENTS
You know that if I'm making a treat or recreating a recipe, I'm going to make it with the best ingredients I can find. I feel best when I eat gluten-free and dairy-free, and always prefer sweets that are refined-sugar free. The cookie cups are sweetened with just maple syrup, and I grabbed organic marshmallows – what's not to love?
I recommend enjoying these after letting them cool for just a few minutes on the counter. That way the marshmallow is that soft and gooey texture that we love, and the cookie is warm with melty chocolate chips. You can also let the cookies cool and store them in room temp for 24 hours, or in the refrigerator for up to 3 days.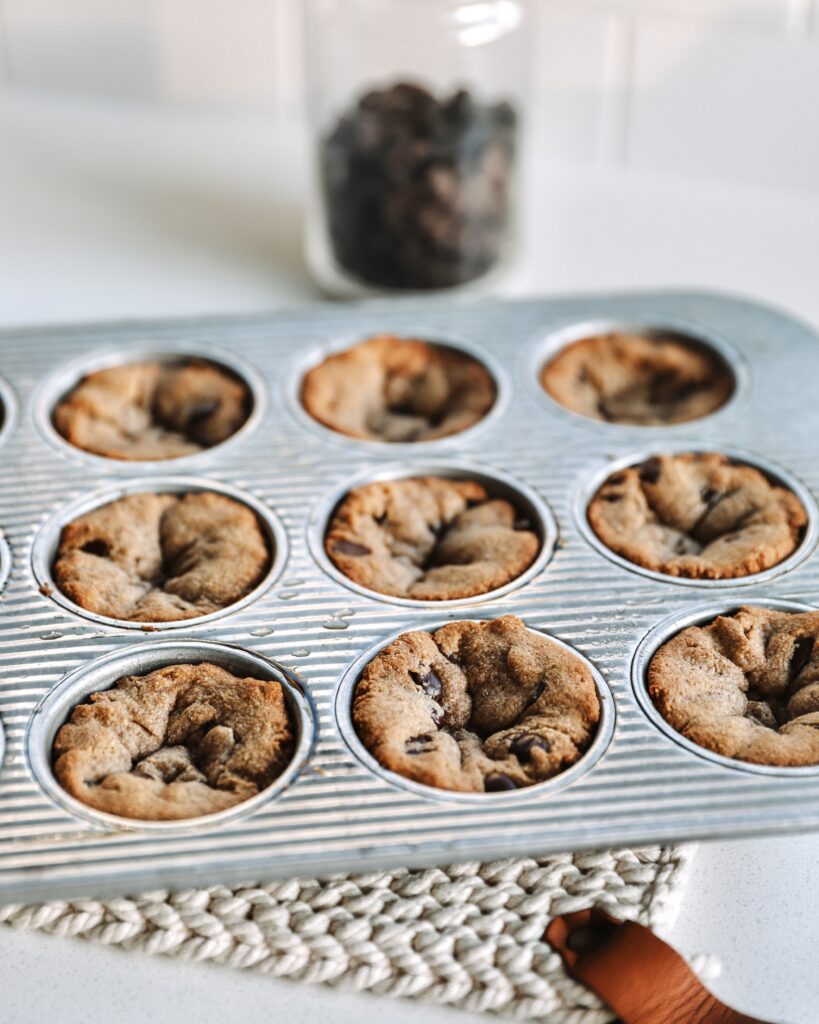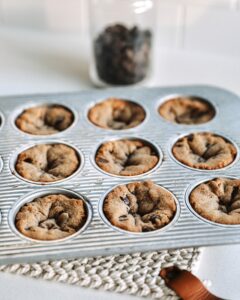 HOW TO MAKE GLUTEN-FREE COOKIE CUPS
Ok, my viral cookie skillet recipe changed the game back in 2017. Since then, I've used the same recipe and created a few variations like a Pumpkin Spice Cookie Skillet, S'mores Cookie Skillet,  Caramel Cookie Skillet, and Cookie Skillet Individuals, which are essentially just the batter portioned out into individual cookies. I love the batter because it has such a bold flavor everyone loves and it's easy to switch it up based on the occasion. I think s'mores are one of my favorite things in the world and I also love making desserts single-serve for convenience. These incorporate both and I know you're going to love! The cookie cups are crispy on the edges and soft in the middle, which makes the perfect little pocket for a marshmallow (or even a scoop of ice cream). I love adding dairy-free chocolate chips linked above), but you can always add your preferred mix-ins.
WHAT FLOUR IS BEST FOR GLUTEN-FREE COOKIES?
For these cookies I found almond flour to work best. Almond flour keeps the cookies moist, and lends that slightly nutty flavor that I love. I have not tested other gluten-free flours in this recipe, but oat flour, paleo flour, and gluten-free baking flour are other popular gluten-free options.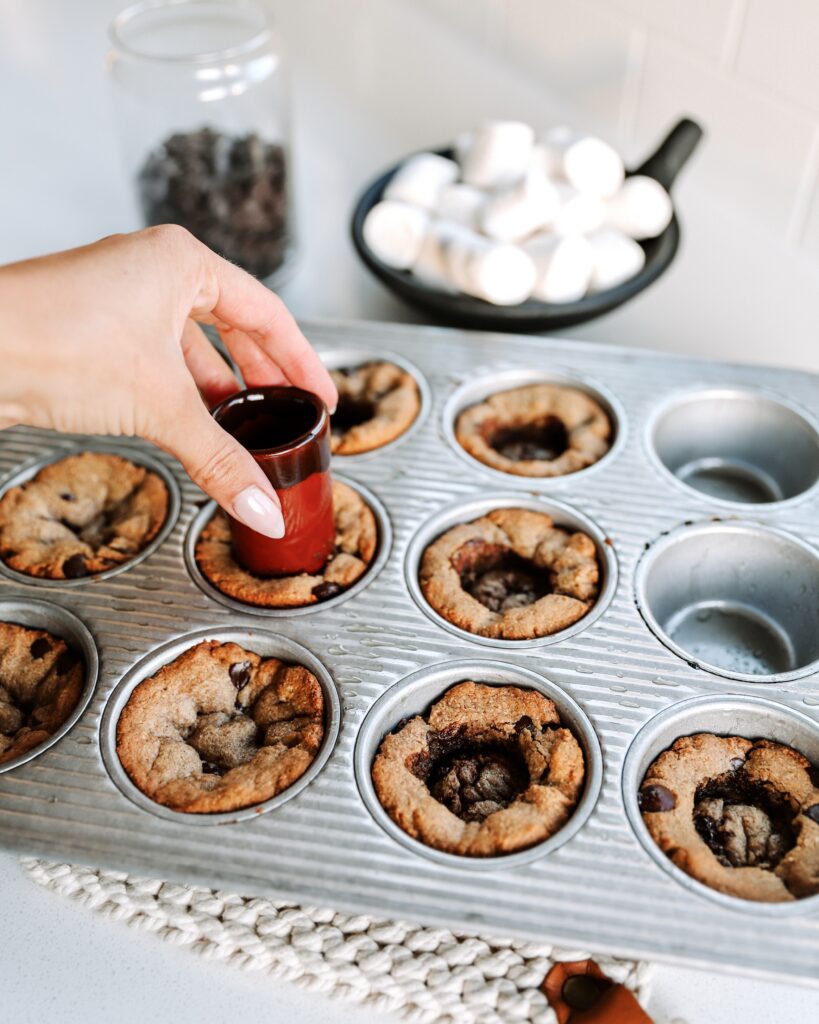 CAN YOU BAKE COOKIES IN A MUFFIN TRAY?
While making these cookie cups I realized that muffin tins are not just for muffins! Though I used the muffin tin to help achieve the cup shape for these cookies, baking the cookie dough in a muffin tin creates the cutest individual-sized cookie cakes. Next time I make cookies, I might just have to bake them in the muffin tin. The crispy outside, with the thick, gooey middle is something I'll dream about until then!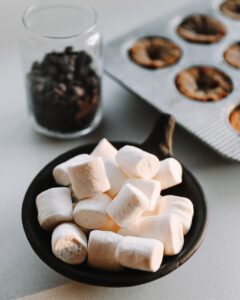 You'll grease a muffin tin– I like coconut oil spray– and put ~2 heavy TBSP of dough in each cup, spreading it evenly across the bottom and up the sides. Bake for 13-15 minutes. After baking, let the cups cool for 5 minutes before pressing a shot glass (or the back of a spoon) down into the center of the cup to make room for the marshmallow.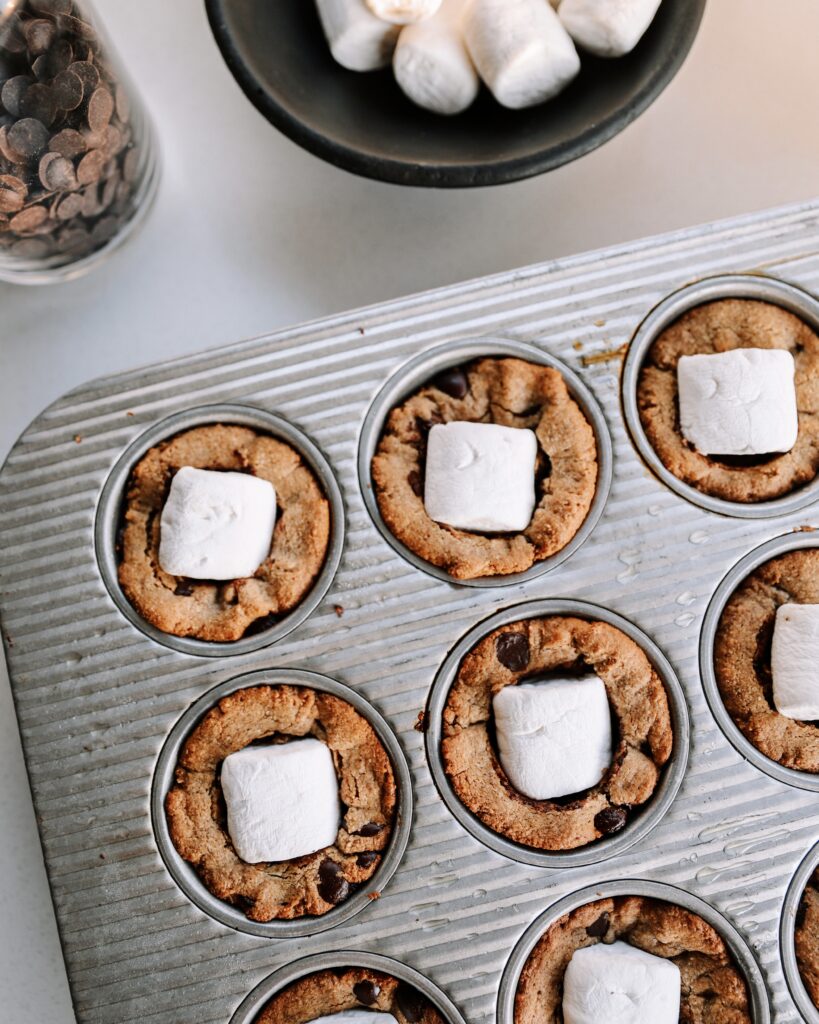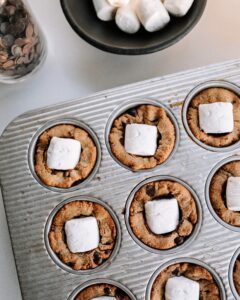 The dough is so simple, and uses ingredients that are likely already in your pantry. Once you whisk together the wet ingredients, you can sift in the dry ingredients and mix until well combined. The dough is packed with better-for-you ingredients, so you can feel good about this recipe 😊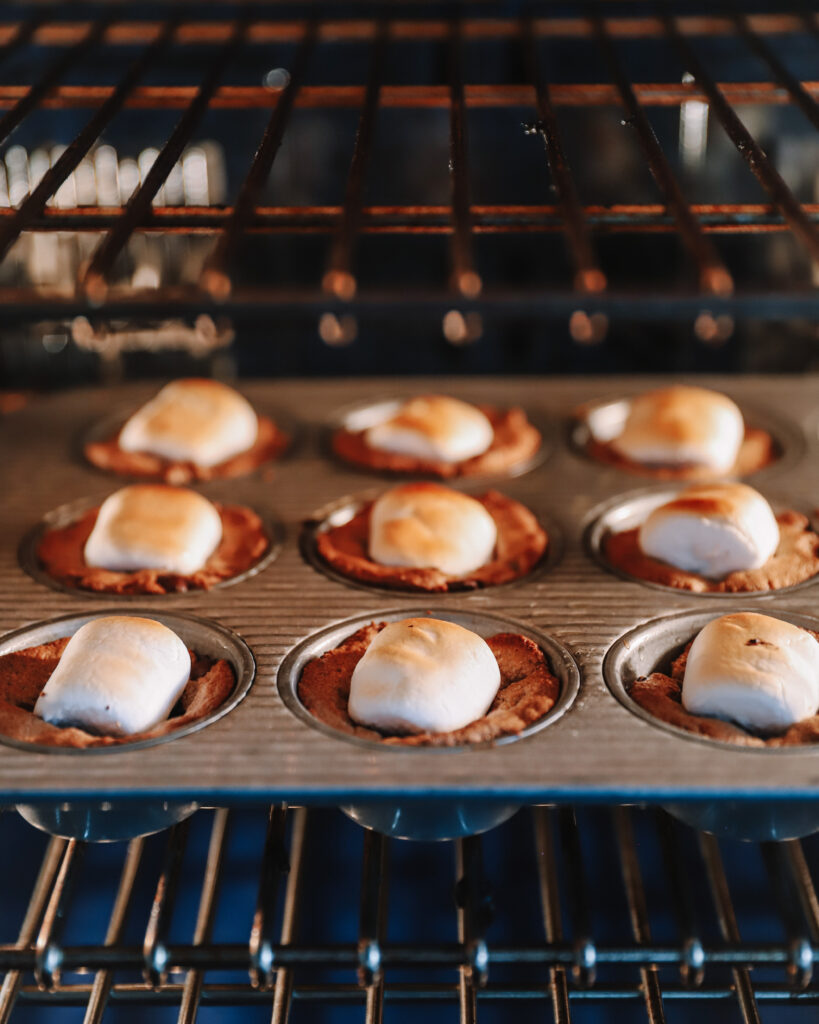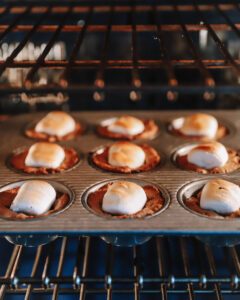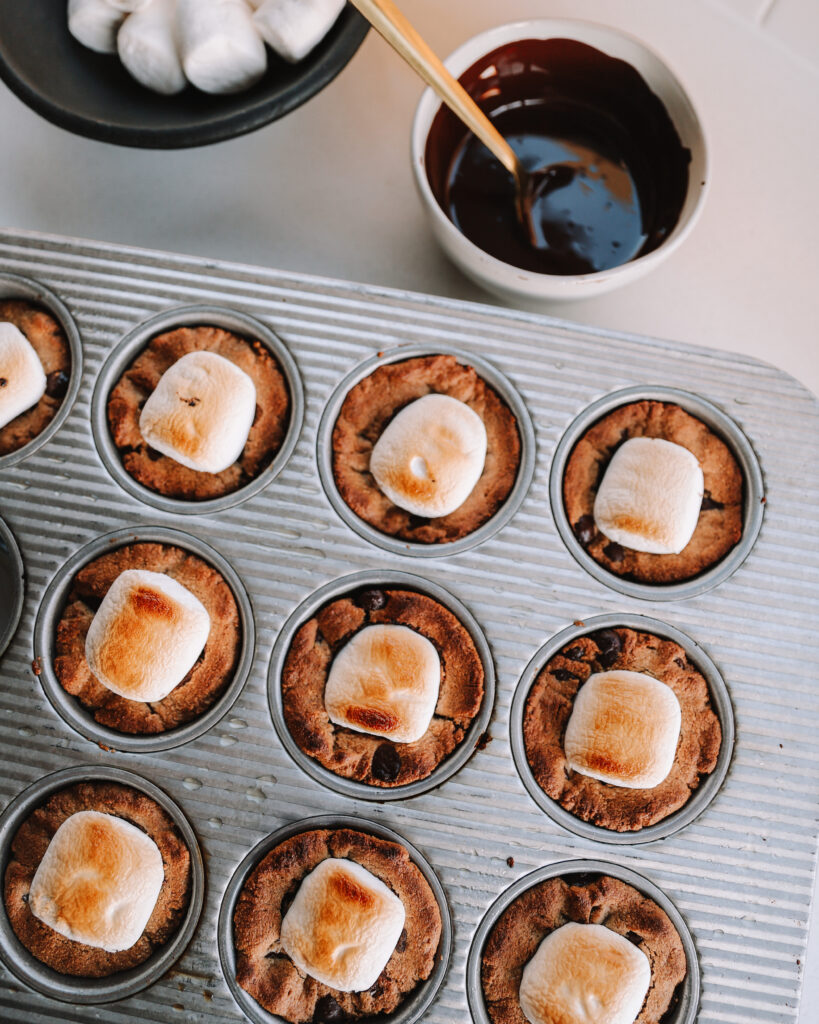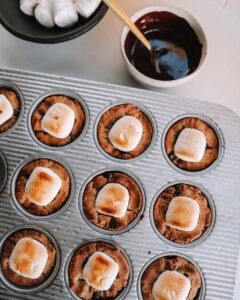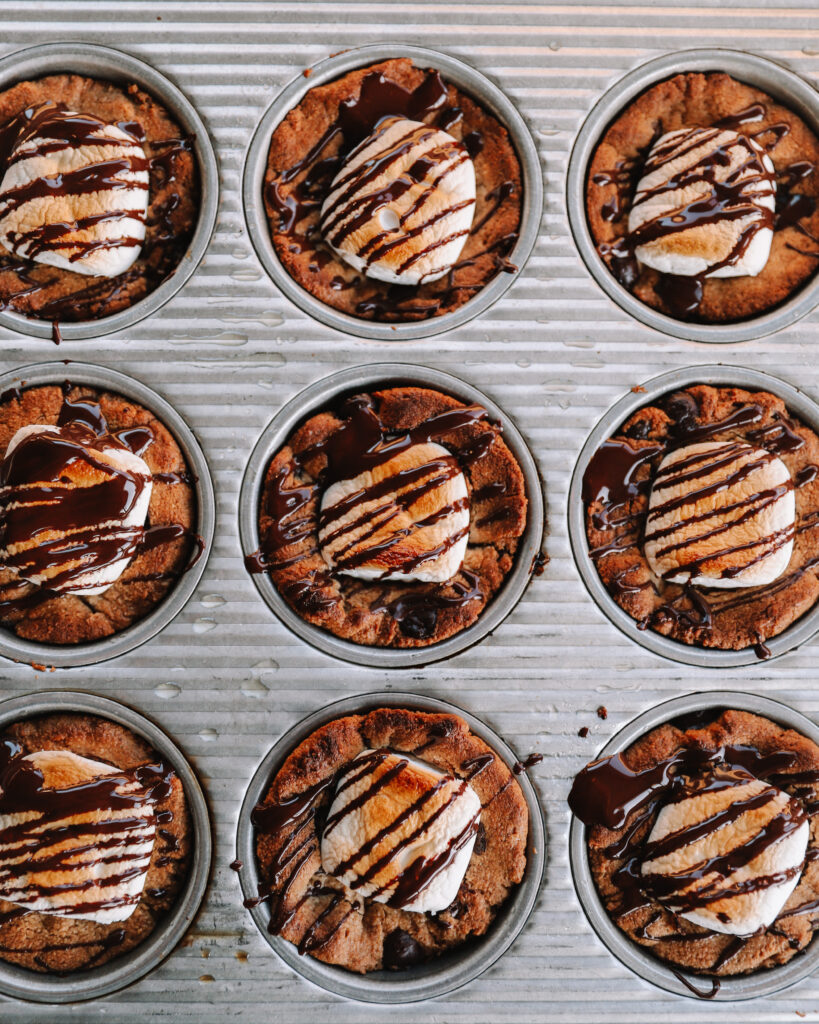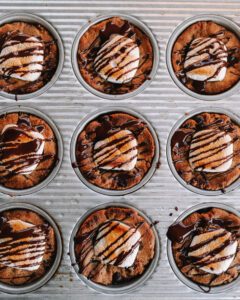 Melt chocolate either on the stove in a small saucepan, over a double broiler (pour boiling water in a small bowl, then add a larger glass bowl over the top containing the chocolate. Allow the steam underneath to heat, and continue stirring the chocolate until it's fully melted), or in a microwave-safe bowl, heating in 30-second intervals. Using a spoon, drizzle the melted chocolate over the top of each cookie cup.
INGREDIENTS YOU'LL NEED:
Egg or Flax Egg
Maple Syrup
Coconut Oil
Cashew Butter, or sub other nut/seed butter
Vanilla Extract
Almond Milk
Almond Flour
Baking Soda
Cinnamon
Chocolate Chips
Flakey Salt
Marshmallows
HOW TO MAKE S'MORES COOKIE CUPS
Preheat the oven to 350 degrees F. In a large bowl, whisk together the egg, maple syrup, melted coconut oil, cashew butter, almond milk, and vanilla extract. Stir in almond flour, baking soda, cinnamon, and sea salt. Make sure to stir out any clumps, then fold in the chocolate chips.
Spray a cupcake tin with oil to prepare. Using ~2 TBSP hunks of dough, add to the bottom of one cup and work it evenly up the sides. Repeat until the cups are full or the dough is gone (the dough will yield ~9-11 cookie cups). Bake for 15 minutes, then remove from the oven to cool for 5 minutes.
Press down the center of each cookie with the bottom of a shot glass, or the back of a spoon. Drop a marshmallow into the center of each cup, then pop back into the oven to bake at 350 degrees F for 2-3 minutes. Turn the oven to broil and watch for the marshmallows to turn golden brown, about 1-2 minutes. Make sure to keep an eye on them so they don't burn! Remove from the oven and drizzle additional chocolate over the top.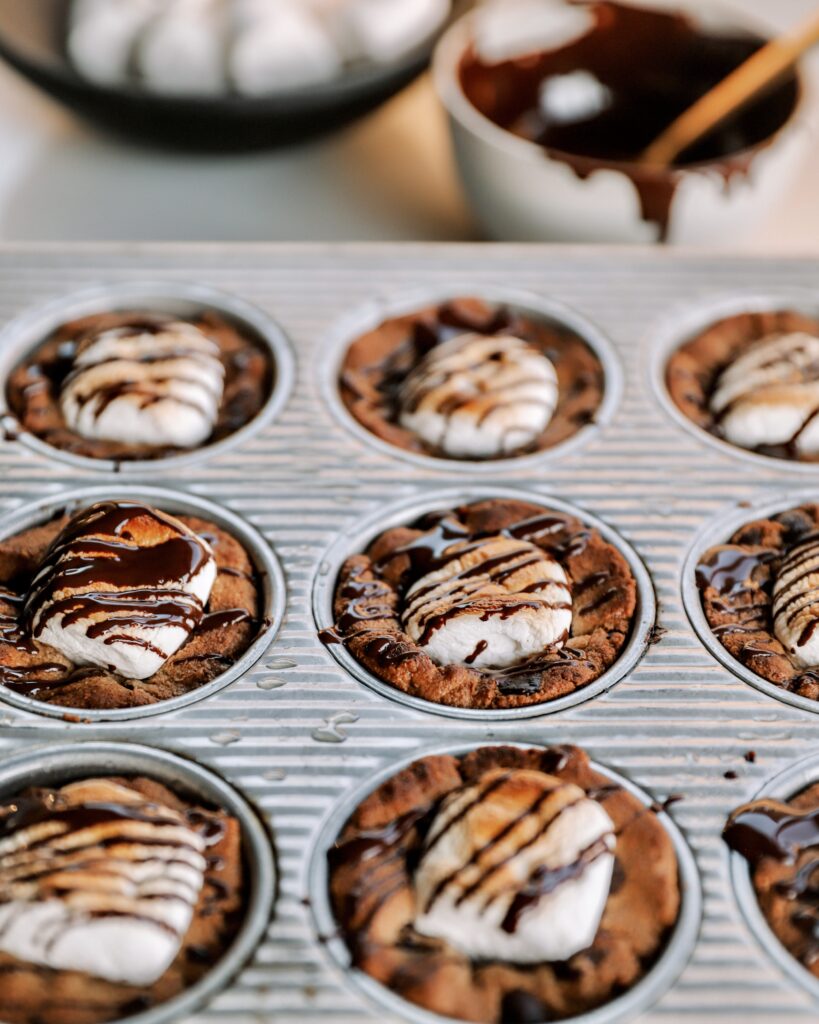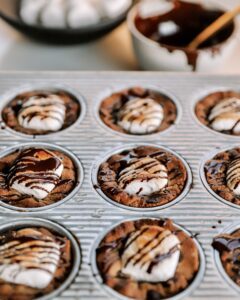 Click here for the Reel I made of this recipe 🙂
S'mores Cookie Cups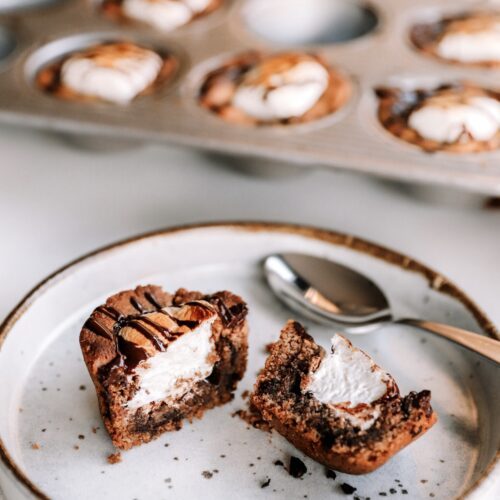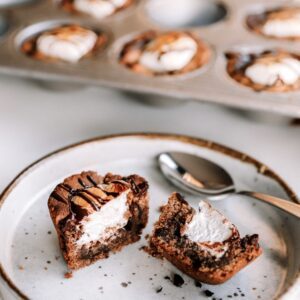 Ingredients
Cookie Dough
1

pasture-raised egg

,

(or flax egg)

3

tbsp

maple syrup

1/4

cup

coconut oil, melted

1/3

cup

cashew butter

,

(sub any nut/seed butter)

1

tsp

vanilla extract

1

tbsp

unsweetened almond milk

1.5

cups

almond flour

1/4

tsp

baking soda

1/2

tsp

cinnamon

3/4

cup

chocolate chips

,

(I prefer Evolved Chocolate signature dark, dairy-free)

1/4-1/2

tsp

Maldon salt
S'mores Cups
9-11

marshmallows

,

(depending on the size of your muffin tin)

1/4

cup

chocolate chips, melted
Instructions
Cookies
Preheat the oven to 350 degrees F.

In a medium size bowl, whisk wet ingredients together.

Slowly stir in almond flour, baking soda, cinnamon, and sea salt, making sure to press out any clumps. Then fold in chocolate chips.

Oil a cupcake tin (dough will yield 9-11 cups), and press the dough into the cups and up each side.

Bake for 15 minutes, then let them rest on the counter for 5 minutes.

Press down each center with the bottom of a shot glass, adding a marshmallow in the hole.

Return to the oven and bake for 2-3 minutes. Turn the oven to broil, and bake until the tops of the marshmallows turn golden brown, about 1-3 minutes (make sure to keep an eye on them!).

Remove from the oven and drizzle the remaining chocolate over the top. Enjoy!