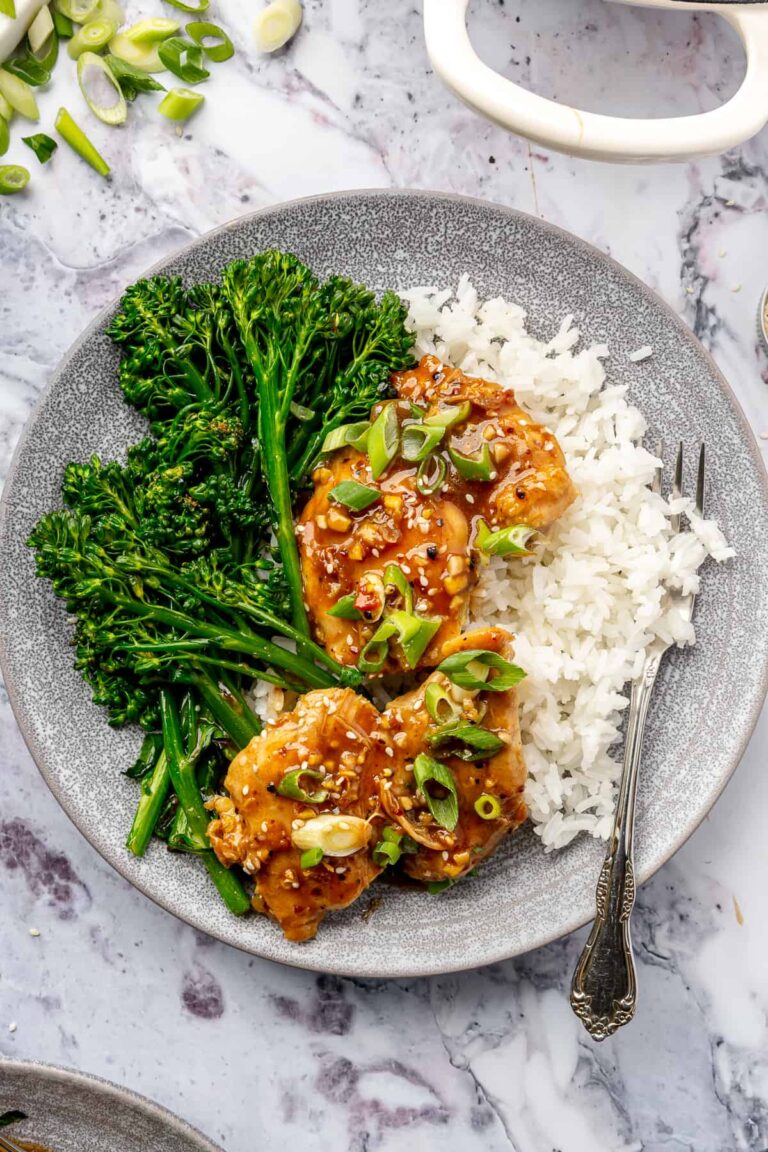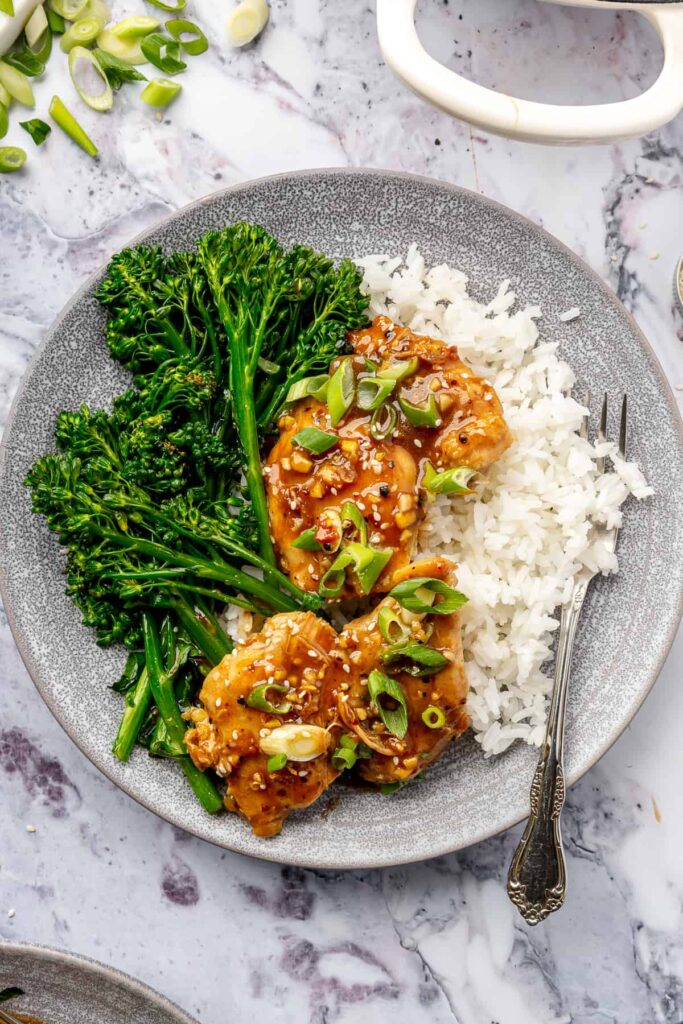 I had a stroke of genius and used the teriyaki sauce from my Healthy Teriyaki Meatballs (one of the most popular recipes on my blog) with crispy chicken thighs made in a cast-iron skillet. The result was a mind-blowingly easy dinner that everybody raved about. I still can't get over this one, it's a must make.
This is one of those super simple, easy, and healthy dinners that tastes anything but healthy. The sauce is the perfect balance of sweet and savory, and the garlic and ginger give it a fresh and zesty flavor. The teriyaki sauce gives the whole dish that slightly sticky, finger-licking texture that coats the chicken and pairs so well with rice.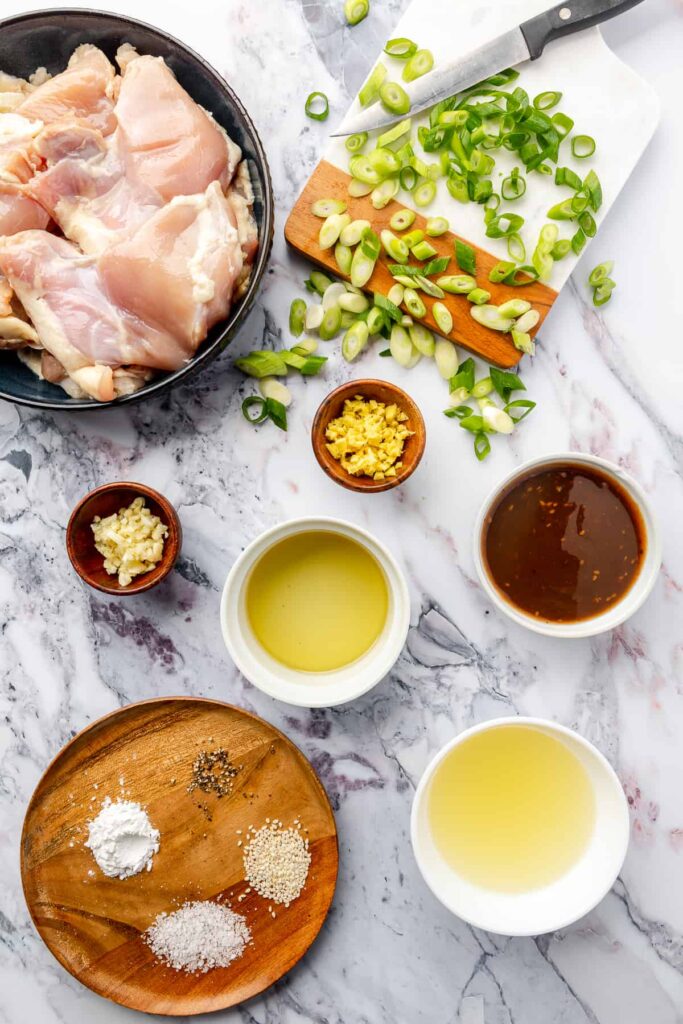 AN INSTANT WEEKLY FAVORITE
I made this recipe at my sister's house for the first time and it was such a hit. We had a busy day working at Toast Society and a few Recreation Sweat projects, and planning dinner was not a priority. When the time came, we needed something quick and easy, and protein-forward because we were hungry. My go-to dinner when I'm short on time (and inspiration) is rice, a protein, crispy broccolini and a delicious sauce. I dressed up my go-to meal with this homemade pineapple teriyaki sauce and it was a home run.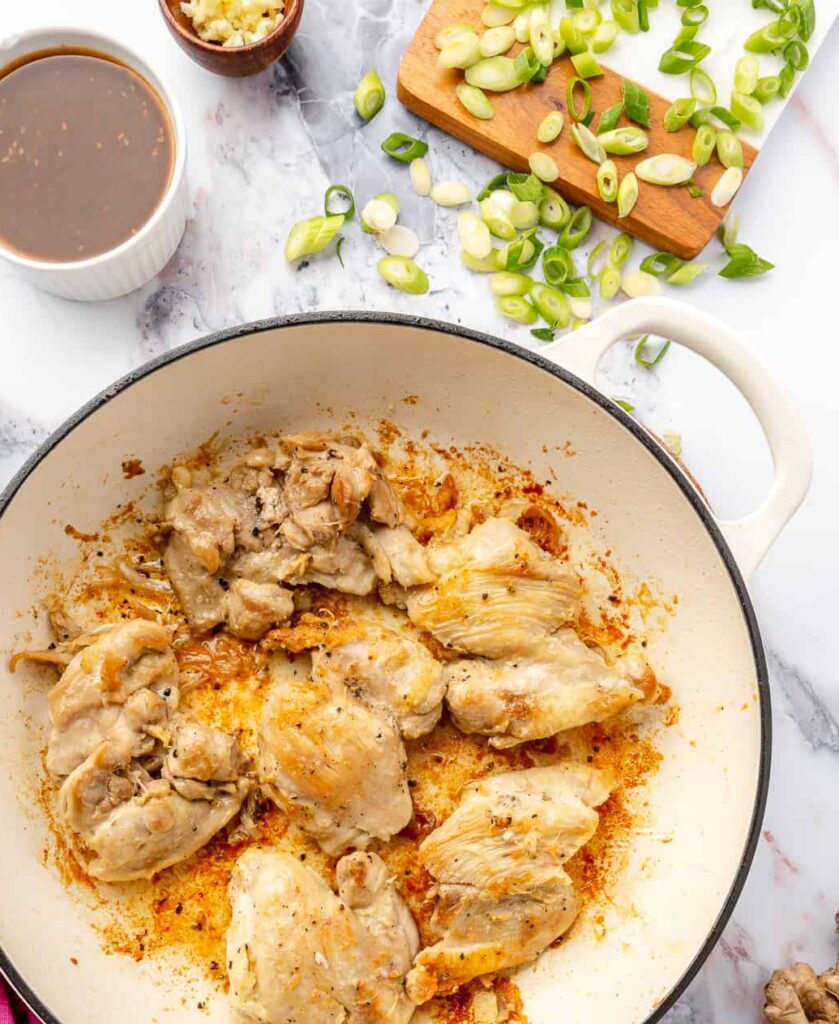 INGREDIENTS YOU'LL NEED
Organic Chicken Thighs
Avocado oil
Scallions
Primal Kitchen Honey Teriyaki Sauce
Pineapple Juice
Garlic
Ginger
Arrowroot Starch
Sea Salt
Ground Pepper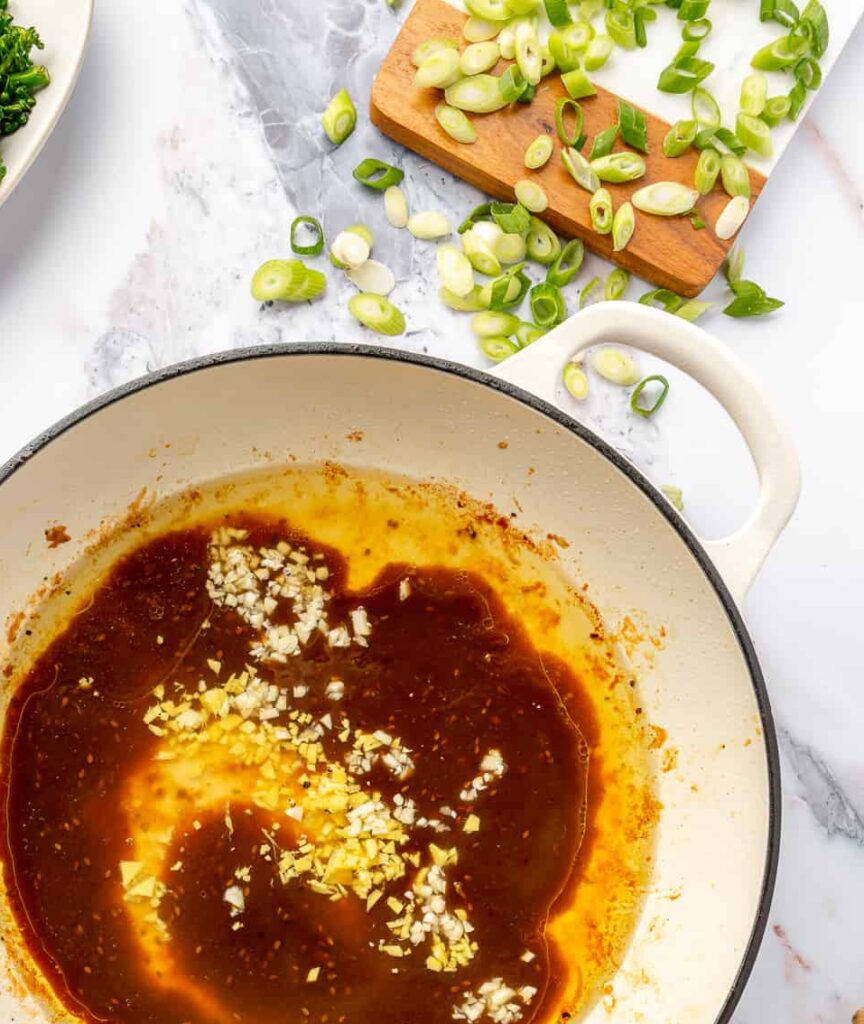 HOW TO MAKE TERIYAKI CHICKEN THIGHS
First, prep your sides. I recommend serving with rice and crispy broccolini. Cook your rice according to the package while you get started on the chicken thighs. Next, let's chop the veggies. Finely slice the scallions (both the white and green part) and mince the garlic and ginger.
Then, in a large skillet, add oil and heat on medium to high. Let the pan get hot, but not smoking. Add the chicken thighs and season with salt and pepper. Brown each side for about 3-5 minutes, cover the pan while cooking the second side to cook them through – you may have to do this in several batches. Once the chicken has been browned, remove from the pan and set aside. Turn the heat to low, and add the Teriyaki sauce, pineapple juice, garlic, and ginger. Stir well, lifting any pieces of chicken from the pan.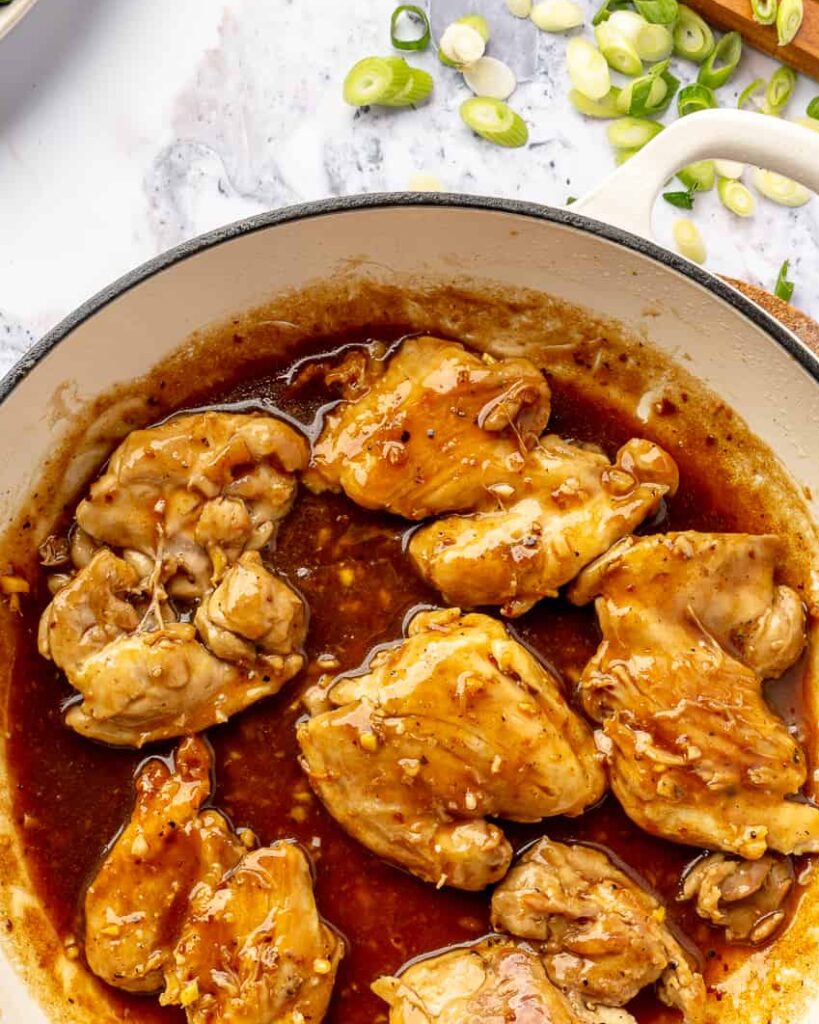 Let the sauce simmer for 1-2 minutes, stirring often. Then add the chicken back to the pan and submerge them in the sauce. Cover and cook for 3-4 minutes, until the sauce and the chicken are heated through.

Add the arrowroot starch to a small bowl, then spoon in a few tablespoons of sauce. Whisk until smooth and well combined. Pour the mixture into the pan and stir well. Bring the heat to medium-low and let the sauce thicken for about 2 minutes.

Add scallions over the top and serve with rice and broccolini. Hope you enjoy!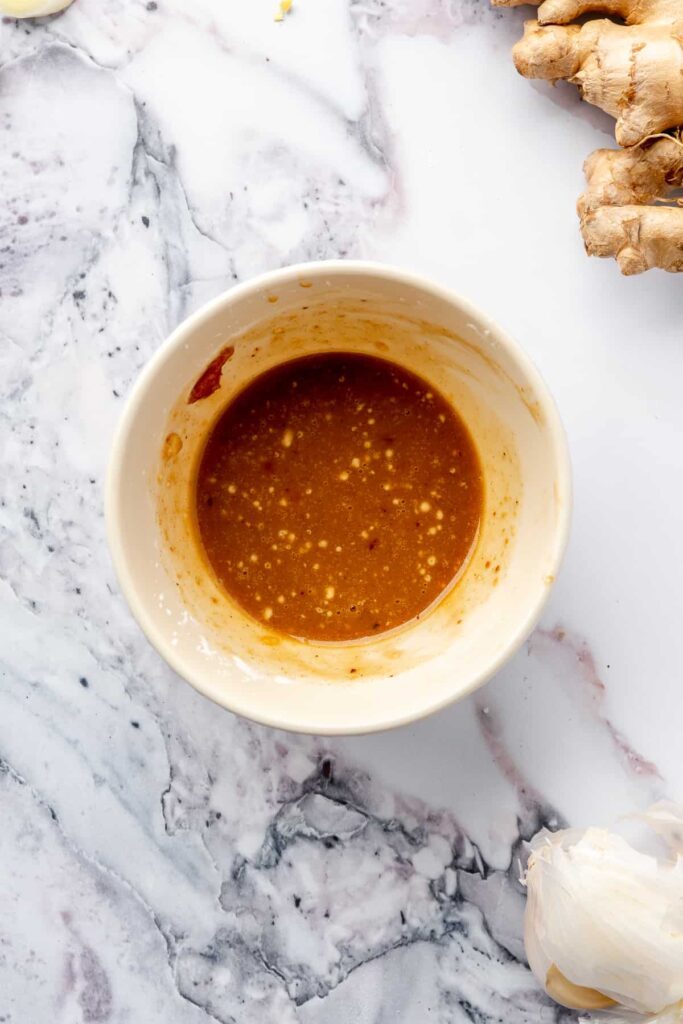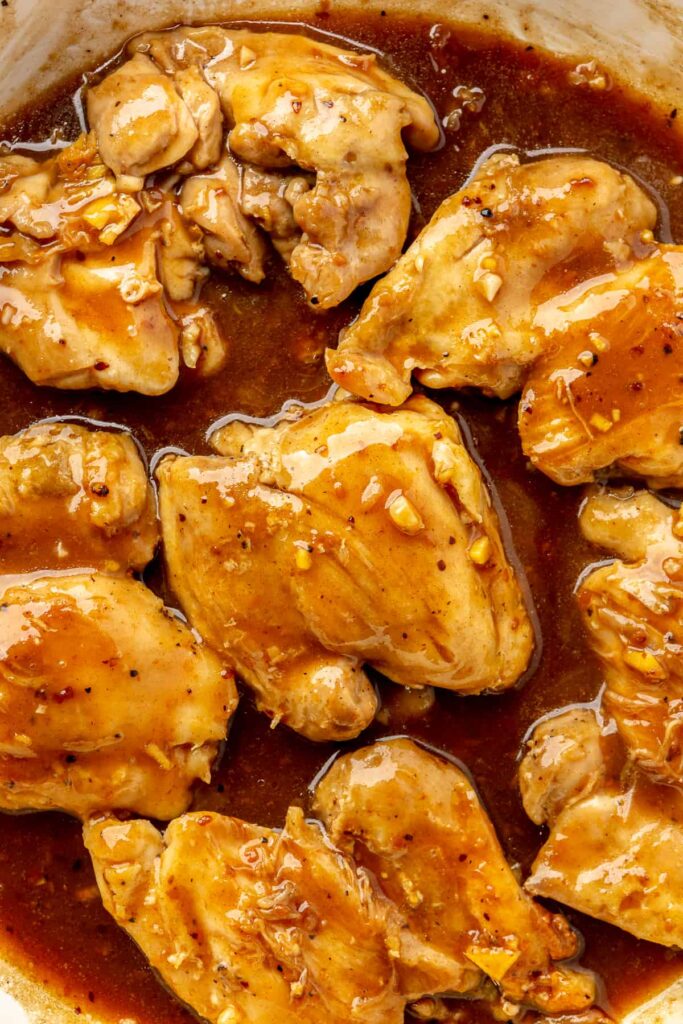 HOW DO YOU COOK CHICKEN THIGHS SO THEY DON'T DRY OUT?
Overcooking chicken is easy to do, and pretty common since nobody wants to risk undercooking chicken. A few tips to juicy chicken is browning it at a medium-high temperature for the crispy outside, and finishing at a low temperature to retain the juices. I like to use a meat thermometer to check the temp when I know it's getting close to done to avoid overcooking it. Cooking your chicken in a sauce or broth also helps the chicken from not drying out.
HOW TO THICKEN TERIYAKI SAUCE?
In this recipe, we use arrowroot starch to thicken the sauce. It's a gluten-free, dairy-free and low-inflammatory substitute for cornstarch. The arrowroot is what gives the sauce that slightly sticky, thick texture. Feel free to substitute cornstarch instead.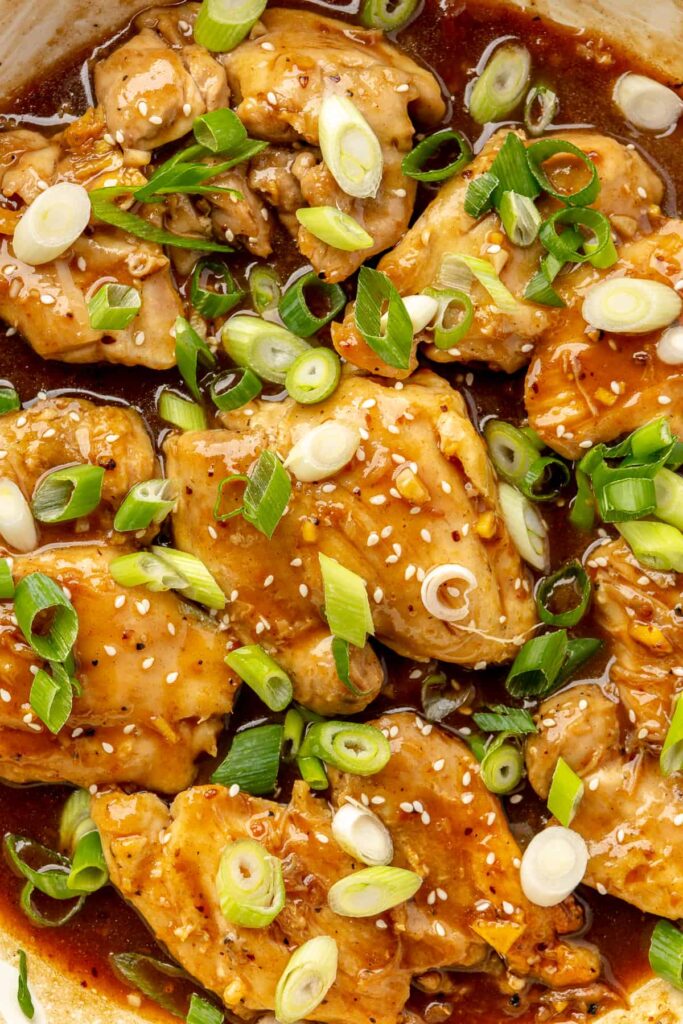 SHOP MY KITCHEN

RECIPE QUESTIONS AND SUBSTITUTIONS
I have not tested this recipe with any other brand of Teriyaki sauce, but feel free to swap out the Primal Kitchen sauce with your preferred Teriyaki. You can substitute cornstarch for the arrowroot starch. I prefer to serve this dish with white rice, but feel free to substitute the grain or high-quality carbohydrate of your choice.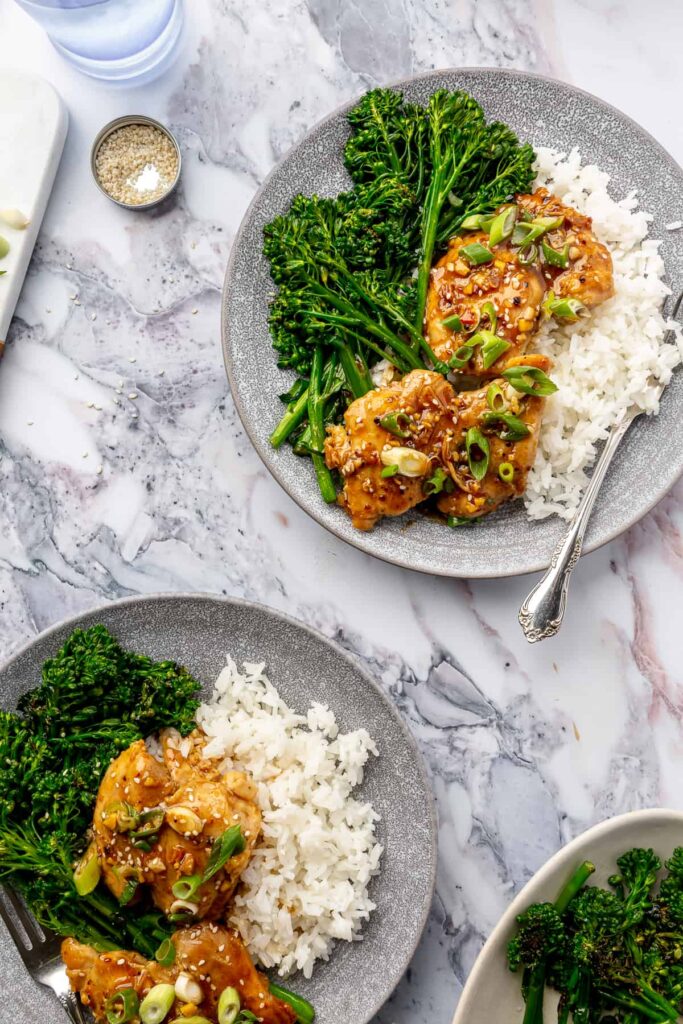 Teriyaki Chicken Thighs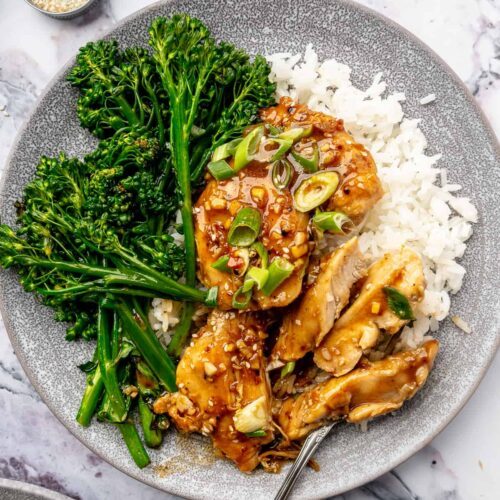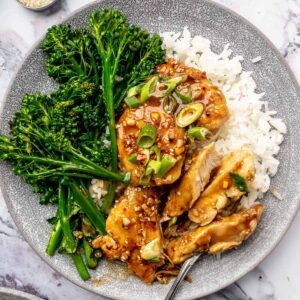 Ingredients
6-8

organic chicken thighs

2-3

tbsp

avocado oil

3

scallions

,

white and light green parts, sliced
Sauce:
1

jar of Primal Kitchen honey teriyaki sauce

1/2

cup

pineapple juice

1/2

tbsp

minced garlic

2

tsp

fresh/minced ginger

1

tsp

arrowroot starch

1/2

tsp

sea salt

ground pepper
Instructions
In a large skillet, add oil and heat on medium to high. Let the pan get hot, but not smoking.

Add the chicken thighs, then season with s + p. Let brown before flipping, about 5 minutes. Flip, then cover to let cook/brown the other side, another 3-5 minutes.

Remove all chicken and set aside. Turn down heat to low. Add all sauce ingredients, minus the arrowroot starch, and stir, lifting up any pieces of chicken from the pan.

After several minutes, add the chicken back to the pan, and flip a few times to drench in the sauce. Cover to heat for 3-4 minutes.

Get a small bowl, add the arrowroot starch, as well as a few tbsp of sauce, and whisk or stir until smooth. Pour in the pan directly over the sauce, stir, and let thicken for 2 minutes.

Add scallions and serve with rice and broccolini 😍 I sauté our broccolini in a mixture of ghee and avo oil, seasoning with pink or sea salt. Hope you enjoy!