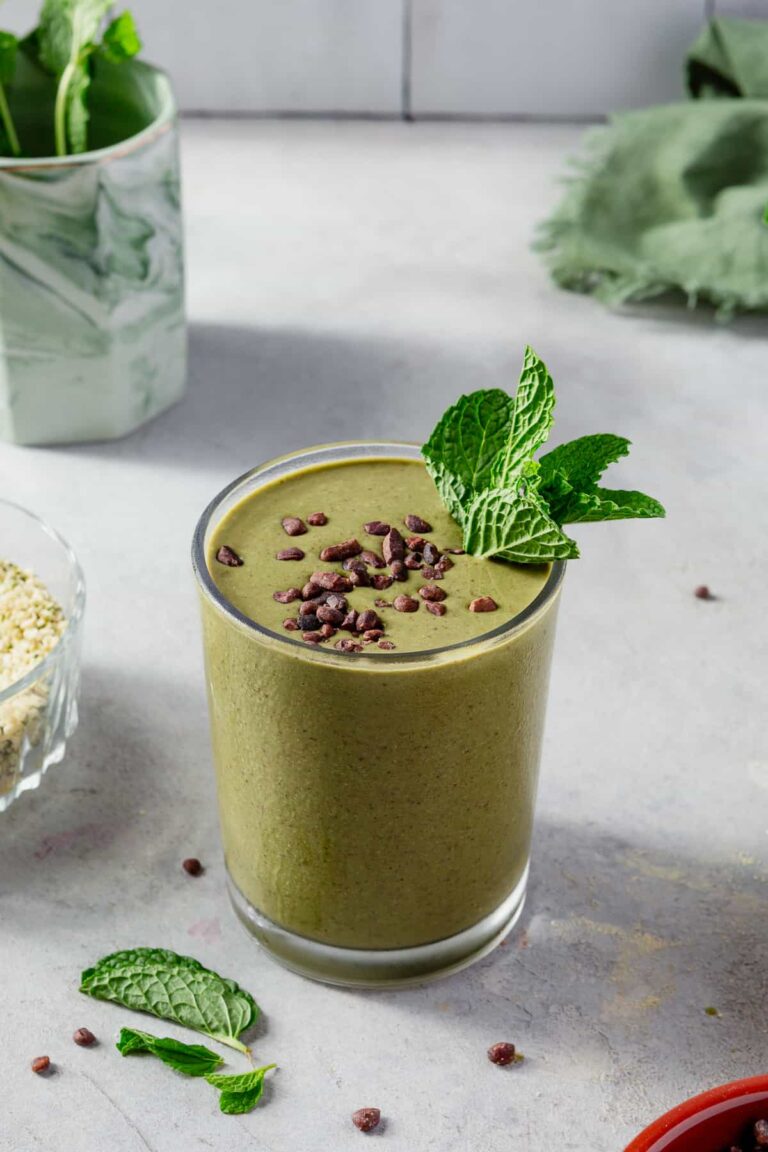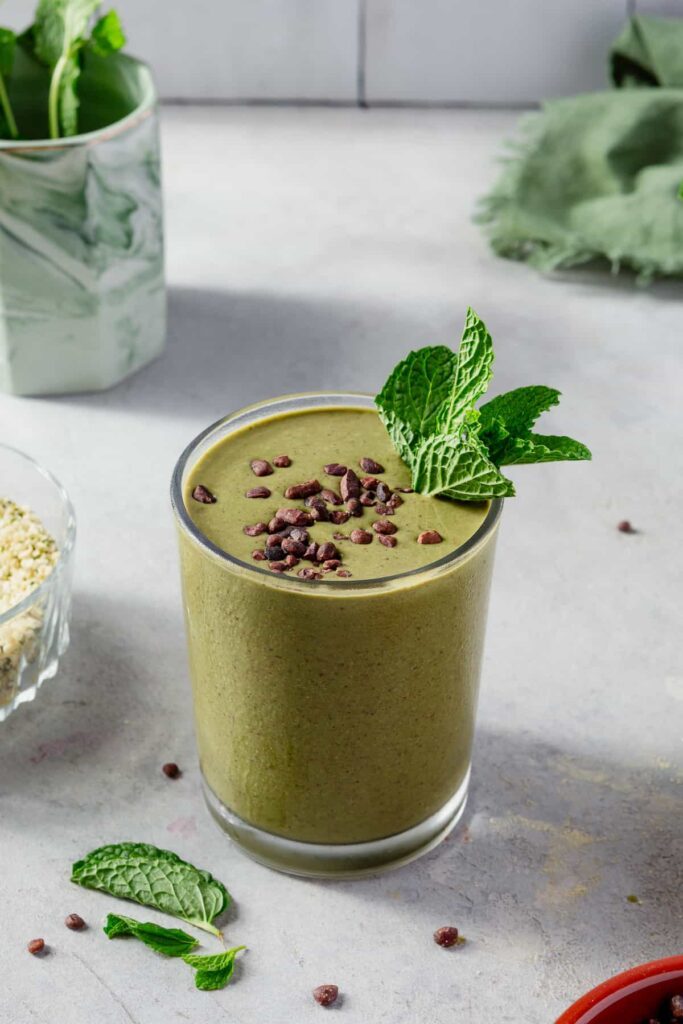 If I said you could have dessert for breakfast, what would you say? And no, you're not dreaming. I have a deep love for recreating (and putting a healthy spin on) childhood classic treats. This recipe is no exception, but this time I wanted to try my hand at turning an all-time classic into a smoothie – and I promise it does not disappoint. We can all thank my Dad for this one. Growing up, he taught me the invaluable trick of putting Girl Scout cookies in the freezer, and not to brag but I really cracked the code on the thin mint flavor. Sweet and subtly minty, and a little bit of crunch from the cacao and this smoothie is tasting way too much like the thin mints that we all know and love. Don't wait any longer to whip this one up, it's such a treat!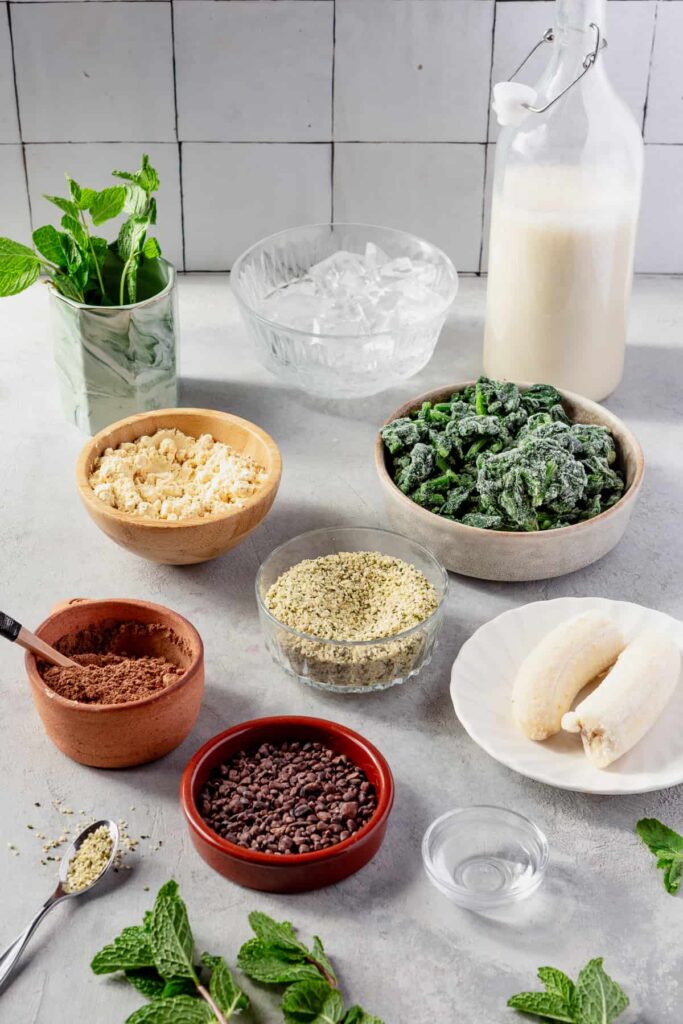 This recipe is an exclusive smoothie recipe from my cookbook, Rachael's Good Eats. When I was recipe testing this smoothie, I knew I had it right when Bridger started asking for it on repeat. It's easy to get hooked on, and it hits different than your usual fruit-based smoothie. I'm a mint and chocolate lover, and I'm so excited for you to try this one. I get DMs about it all the time – it's that good.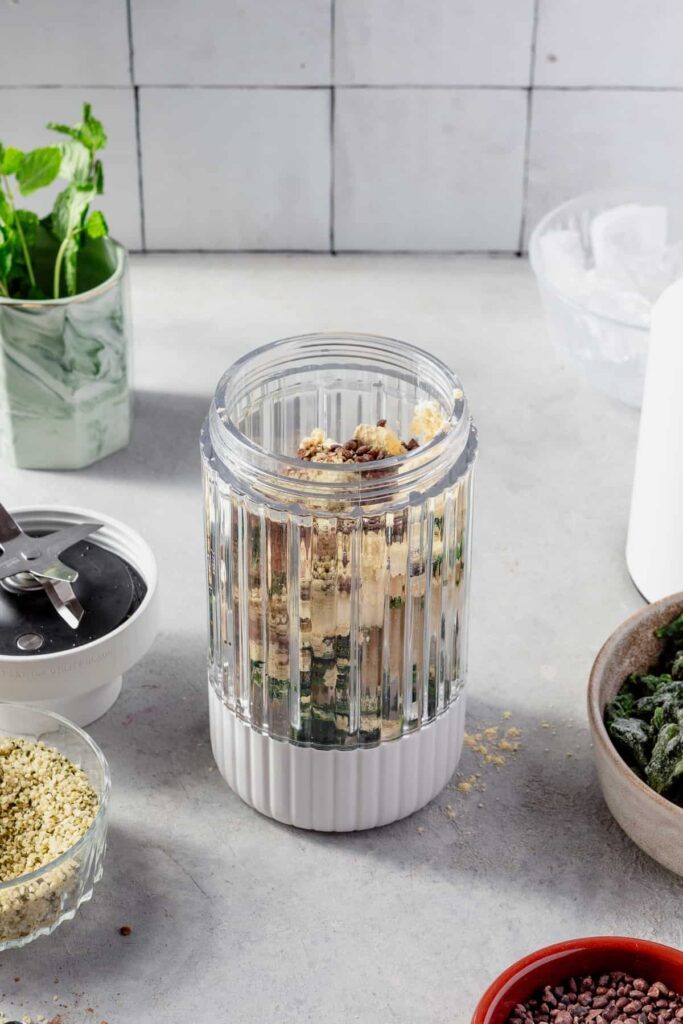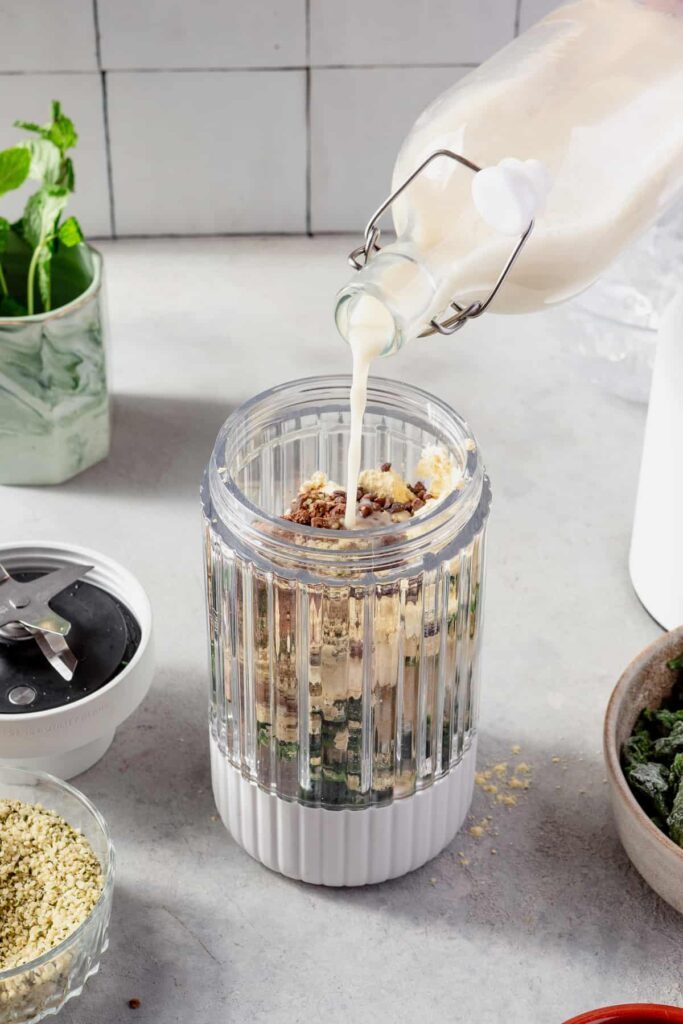 SMOOTHIE BASICS
All hail a frozen banana in the smoothie world. Bananas are such a staple because it not only creates that delicious, creamy texture, but provides a great boost of potassium and is rich in various antioxidants & phytonutrients. This recipe is also boosted in flavor with cacao and mint extract for the chocolatey milkshake experience, and nutritionally rich because of the spinach, hemp seeds, cinnamon, and protein. Cacao and cinnamon not only add a deeper flavor, but they work together to provide important minerals like iron and magnesium, and support blood sugar balance.
I also love adding spinach to almost all my smoothies to sneak in some extra greens and health benefits. Spinach is high in magnesium, potassium and Vitamins C & E, to name a few. Plus, it adds that mint green color we're going for in this one.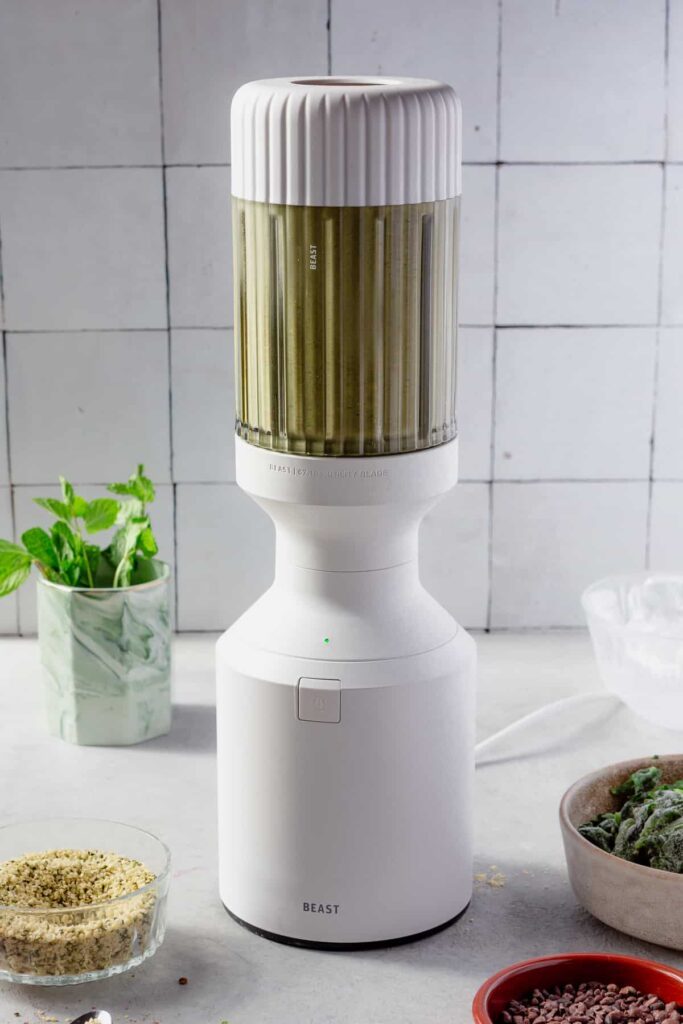 SHOP SMOOTHIE NECESSITIES

BLOAT, BE GONE
Did you know peppermint is helpful for digestion and easing bloating? Just the smallest drop of the minty fresh extract adds the perfect taste and health benefits as we transition from all things pumpkin to the peppermint mocha -'tis the season for treats. I actually really love this smoothie as a late-afternoon treat or even an after-dinner dessert. It's indulgent enough to enjoy as a treat, but I really love the way that mint settles my stomach. It's worth working into your holiday treat rotation, for sure!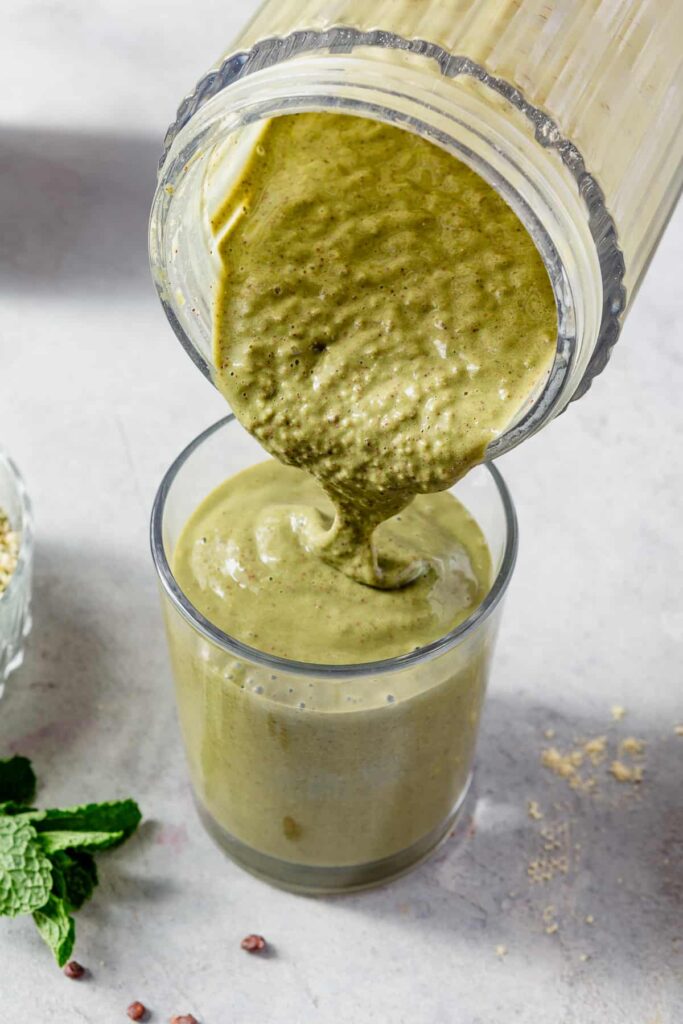 INGREDIENTS YOU'LL NEED:
Unsweetened coconut milk (or other non-dairy milk, refrigerated or shelf-stable)
Ice
Frozen banana
Frozen spinach
Vanilla protein powder
Cacao nibs
Cacao powder
Raw hemp seeds
Peppermint extract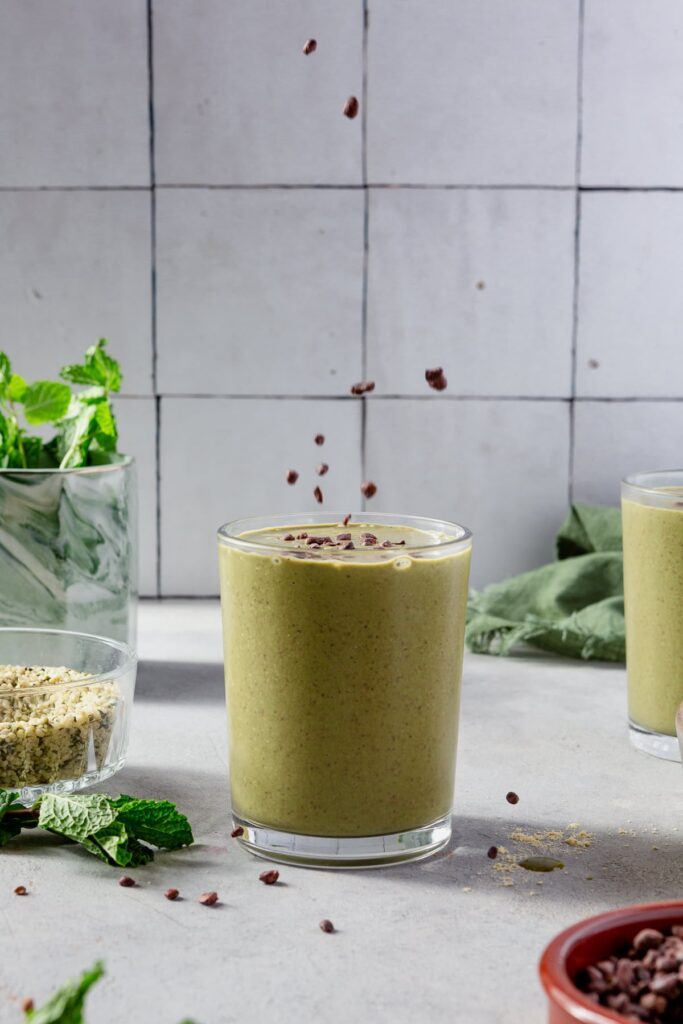 HOW TO MAKE MY THIN MINT CHIP SMOOTHIE 
Ideally, I buy already-frozen or freeze all the produce ahead of time (the banana and spinach). I love a nice, cold smoothie. If you don't have frozen ingredients on-hand, no worries.
Start by adding unsweetened coconut milk, ice, frozen banana, frozen spinach, vanilla protein, cacao nibs, cacao powder, hemp seeds, and peppermint extract to your blender. Blend on high until smooth.
Once you're done blending, pour into your favorite cup (bonus points if it's a festive cup during the holiday season!), grab a straw and top with an extra sprinkle of cacao nibs, and/or garnish with a couple mint leaves if you have on hand.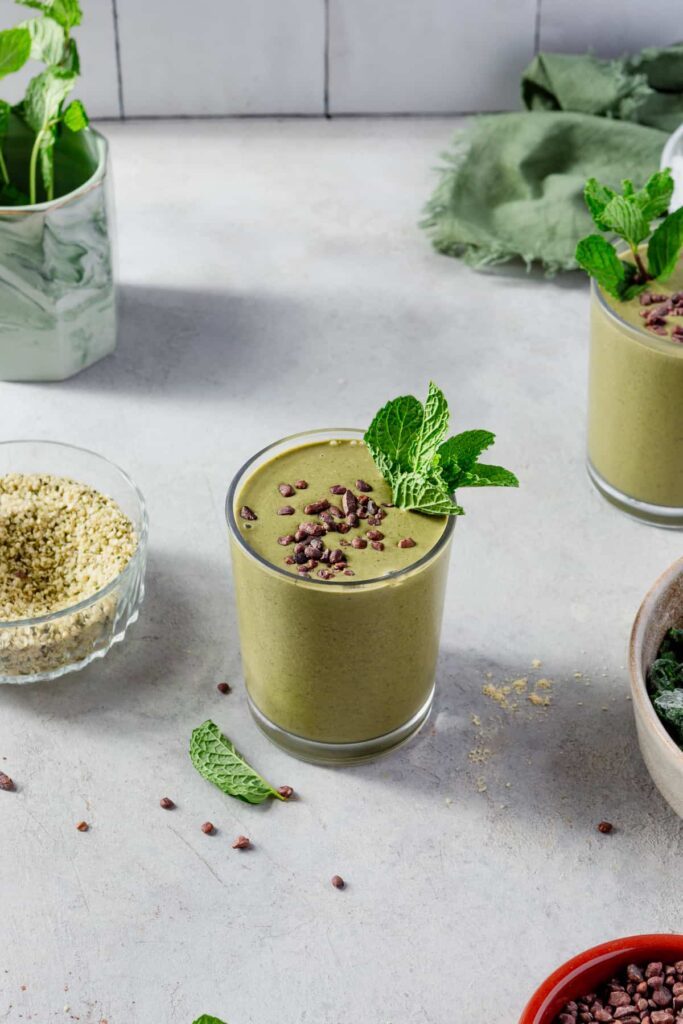 RECIPE SUBSTITUTIONS & QUESTIONS 
This recipe calls for unsweetened coconut milk, but you can definitely use your favorite unsweetened, non dairy milk alternative (or regular milk if you're not dairy-free) instead.
Mint leaves can be used in place of mint extract, if preferred, or depending what you have on hand. While there's not an exact conversion, start small with blending in one or two mint leaves (depending on their size), and adding more as needed to achieve that perfectly minty fresh taste.
If you don't have hemp seeds, don't worry about it! You can easily omit as it won't affect the overall taste. If you're looking for recommendations on protein powders, check out a list of my favorites in this blog post: My 5 Favorite Protein Powders.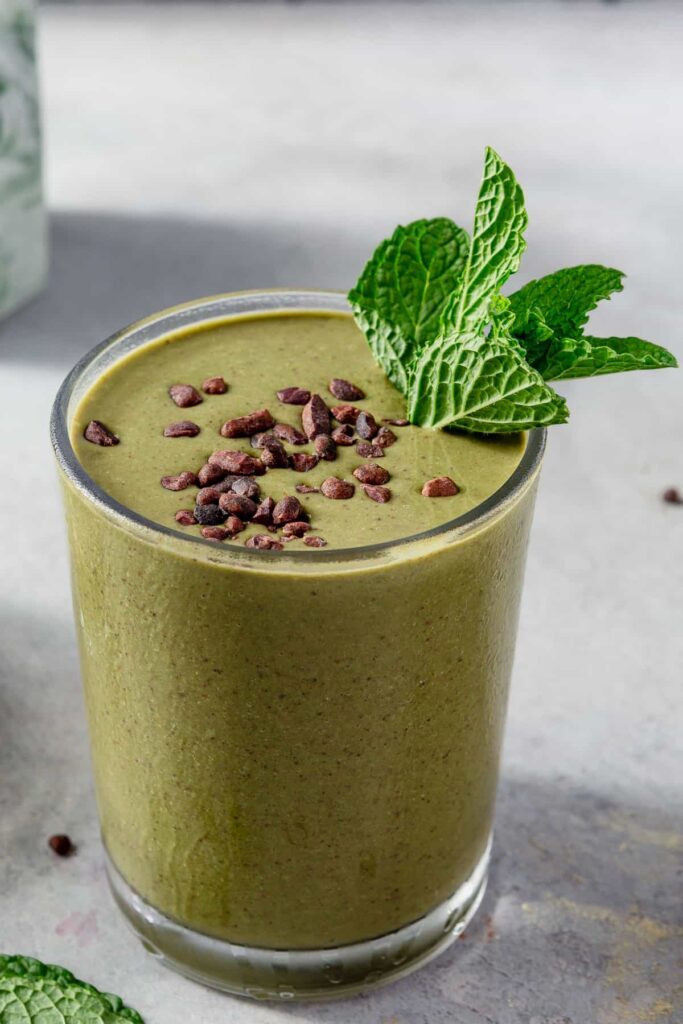 WHAT ARE THE HEALTH BENEFITS OF A MINT SMOOTHIE? 
There are a ton of health benefits associated with mint. Whether it's through mint leaves or peppermint extract, you will generally receive the same health benefits when including it in your smoothie. Mint is a powerful herb, rich in antioxidants, and is mainly known for its benefits in aiding digestion issues such as an upset stomach, bloating and indigestion.
IS IT BETTER TO USE FRESH OR FROZEN SPINACH IN SMOOTHIES? 
It's really a matter of personal preference. I like to use frozen spinach to keep this smoothie as cold as possible, and I've also found that the frozen spinach blends better because it's more brittle. You can use fresh spinach, no problem. The nutritional value is generally the same across both.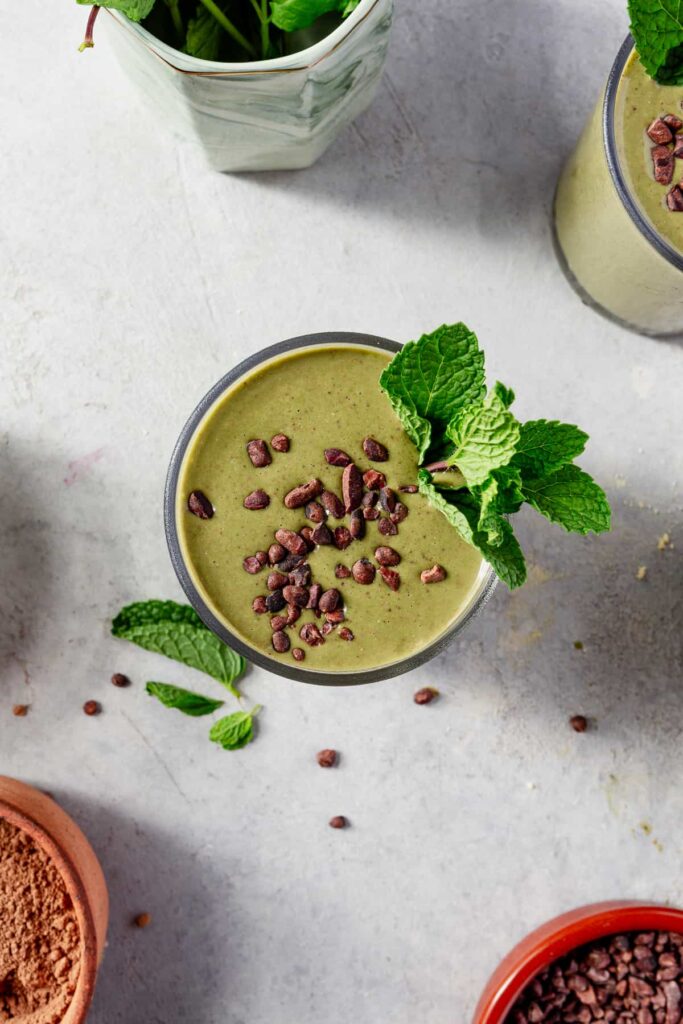 LOOKING FOR MORE DESSERT-LIKE SMOOTHIE RECIPES? 
Thin Mint Chip Smoothie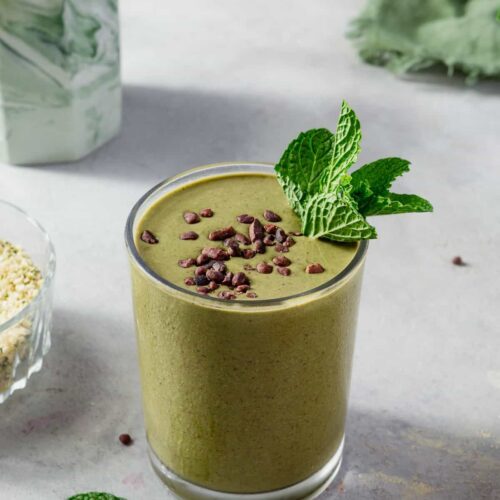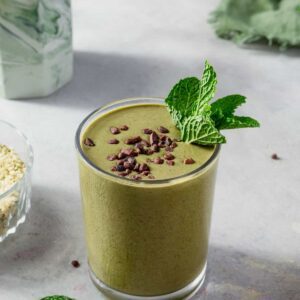 Ingredients
1.5

cups

unsweetened coconut milk

3/4

cups

ice

1/2

frozen banana

1-2

handfuls of spinach

1

serving vanilla protein powder

2

tbsp

cacao nibs, plus more for topping

1

tbsp

raw cacao powder

1

tbsp

raw hempseeds

1/8 – 1/4

tsp

peppermint extract, to taste
Instructions
Add all ingredients to a high-speed blender and blend until completely smooth. Top with additional cacao nibs and enjoy!