I'm a huge fan of both turmeric and honey as they offer a multitude of health benefits. Between raw Manuka honey & curcumin, the active compound found in turmeric— they contain powerful anti-inflammatory properties, are great for the skin, good for our digestive systems, rich in antioxidants, able to heal wounds & burns, boost our immunity, help with allergies and more.
I combined the two a while ago and have been loving adding to my ginger teas at night, but since this combi is very anti-inflammatory it works great when incorporated into many different things! Try out the following below:
– mix into smoothies
– baking
– create a moisturizing face mask
– blend with your favorite golden milk elixir
Check out my other tips for boosting your immune system during cold/flu season here.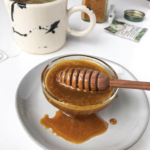 Turmeric Honey
Ingredients
1/4

cup

raw organic or Manuka honey

1/4-1/2

tsp

turmeric spice

few shakes

black pepper
Instructions
Combine and stir the honey and turmeric together in a small bowl.

Add a few shakes of black pepper to help activate the curcumin (the compound responsible for the benefits in turmeric) in the turmeric and increase the bioavailability.

Store in a small, covered glass container and keep in cool, dry place. Lasts for several months.