Last week, Monday Swimwear asked me to be part of their virtual vaca to Mexico to share my fish tacos and it was obviously a no brainer. First, because I love Mexico and second, because I love tacos. Plus, I feel like the whole virtual wedding theme has crossed over into May and I'm not entirely mad about it. Still wishing we were there everyday of self iso!
If there's one type of cuisine I prefer most in life, it's Mexican. Hands down. I've perfected this trifecta of chunky mango pico, crispy fish tacos and spicy skinny margs and can't wait to share with you! Scroll down for all the deets 🙂
CHUNKY MANGO PICO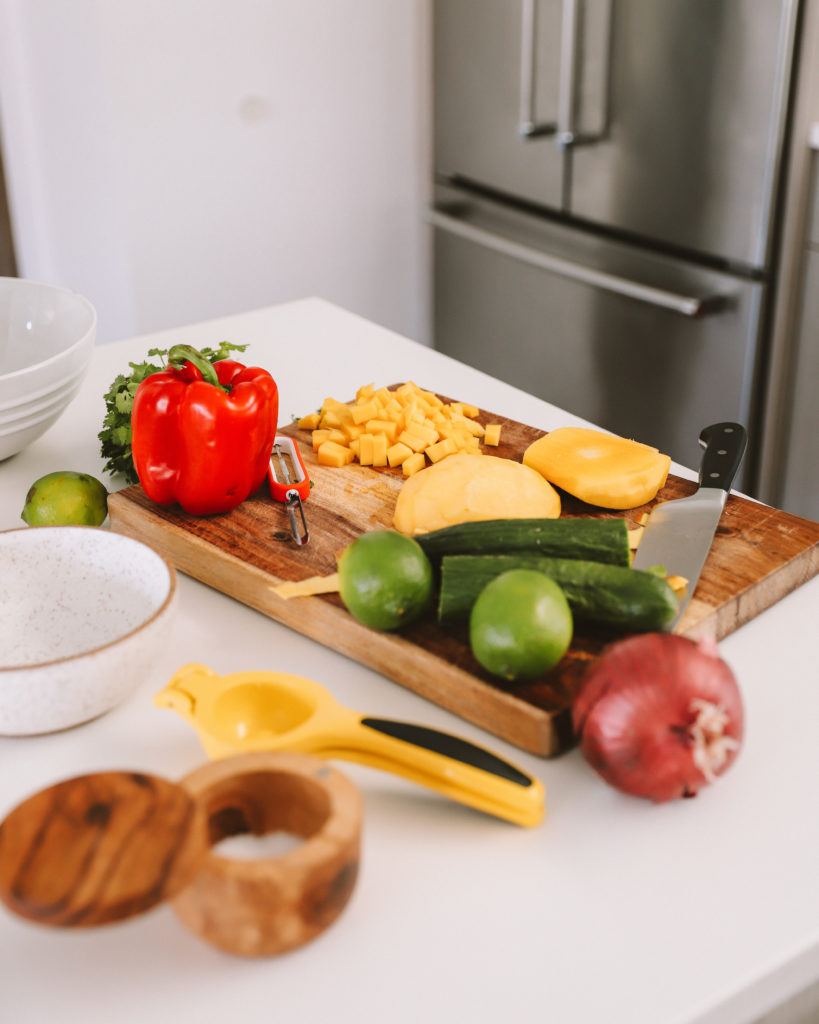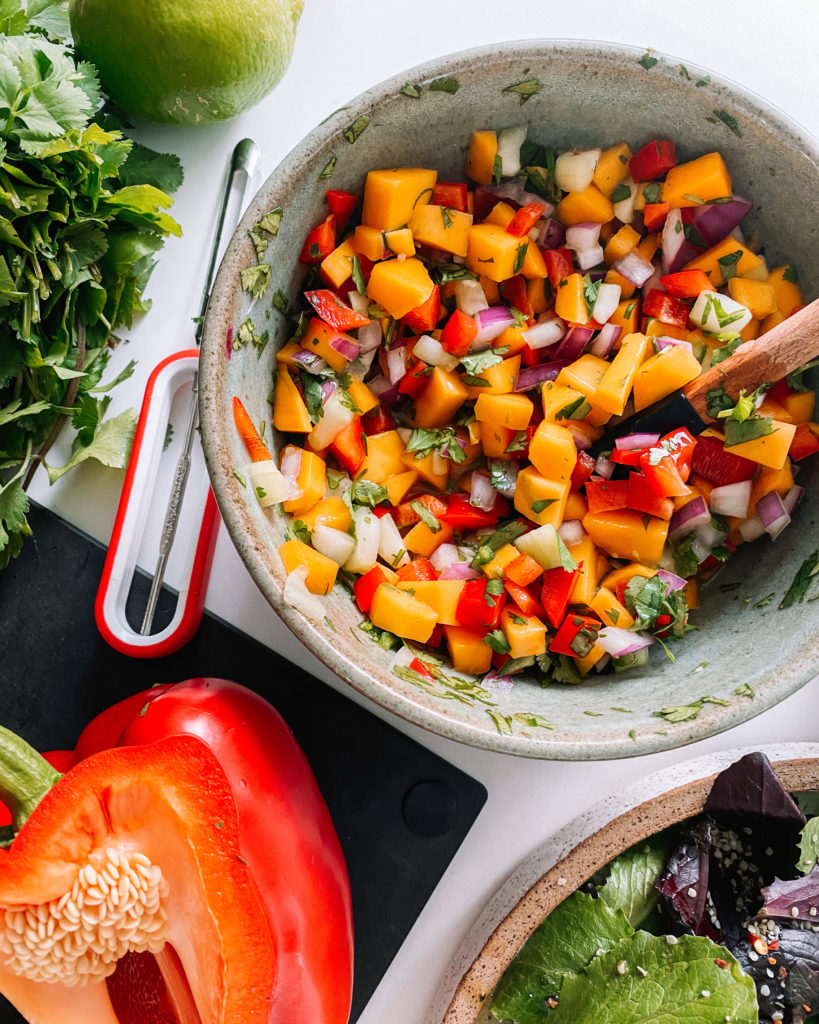 First up: FRESH MANGO PICO. I will never be the same after this recipe. I created it following our wedding tasting down in Cabo. During the tasting I asked if they could create a mango salsa and clearly I wasn't too specific because he came back with a blended dip, which was delish but not what I was expecting. They informed us that the term 'salsa' is a blended, more liquid consistency type of dip, and 'pico' basically means more chopped/chunky. The chef made it sooo good and I know we never had our dream Cabo wedding, but hey, it's still going to be served at our future 1-year anni celebration there in 2021! *patiently waiting* But anyways, I had to remake it as soon as we got back. It's so easy, is made from just 8 simple ingredients, and I've been prepping big batches for the week to put on anything and everything (as chip/veggie dip, too!). There's so much flavor from the mango and I love red bell pepper in most of my meals– it's the best crunch & hit of vitamin C. It'll be the PERFECT summer staple in your fridge!
Click here for the full recipe 🙂
SPICY SKINNY MARGARITA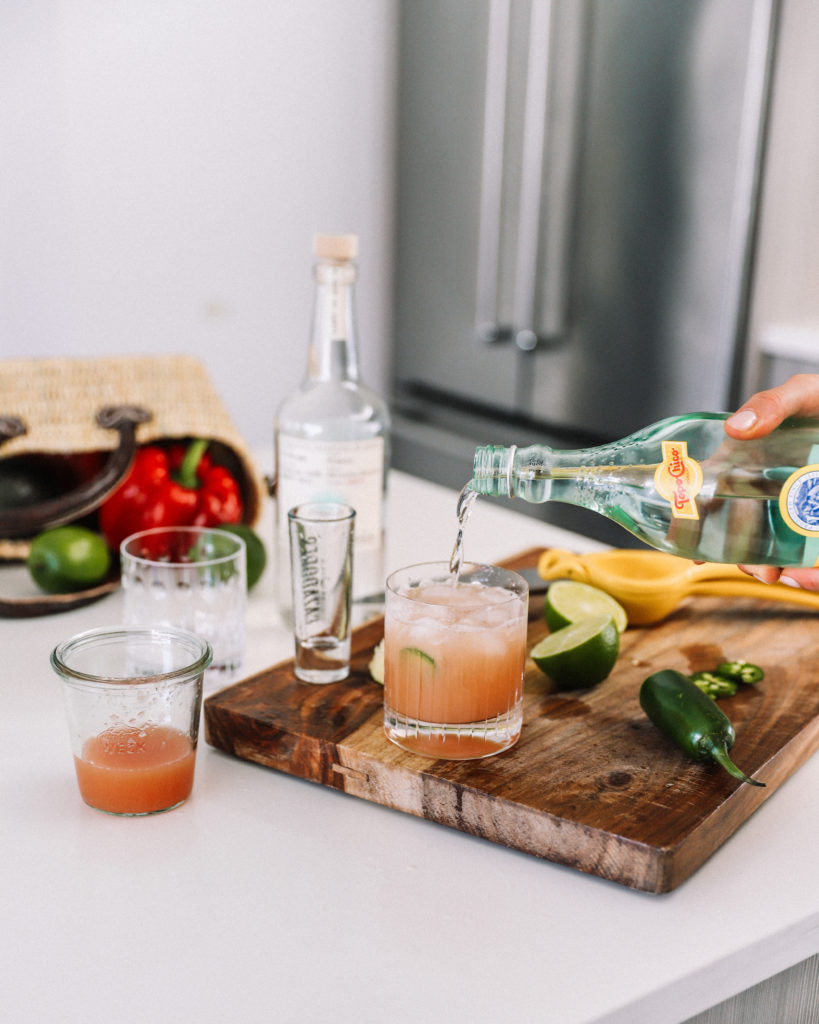 Okkk if you're like me and love a good sassy-with-a-hint-of-freshness cocktail, you're going to love this one. I don't drink often, but have recently become obsessed with this drink as of last year and I can't find anything better. First of all, we came across the perfect tequila, which happens to be Casamigos blanco– so smooth, I'm honestly surprised because I used to avoid anything with tequila. Of course with fresh lime juice, carbonated water (Topo Chico), some jalapeño rounds and a splash of fresh grapefruit juice! No added sugar (goodbye sugar hangover, dull/dry skin & inflammation!), it's actually the best refreshing cocktail that we'll be making through the end of quarantine, I'm sure.
Click here for the full recipe 🙂

CRISPY FISH TACOS: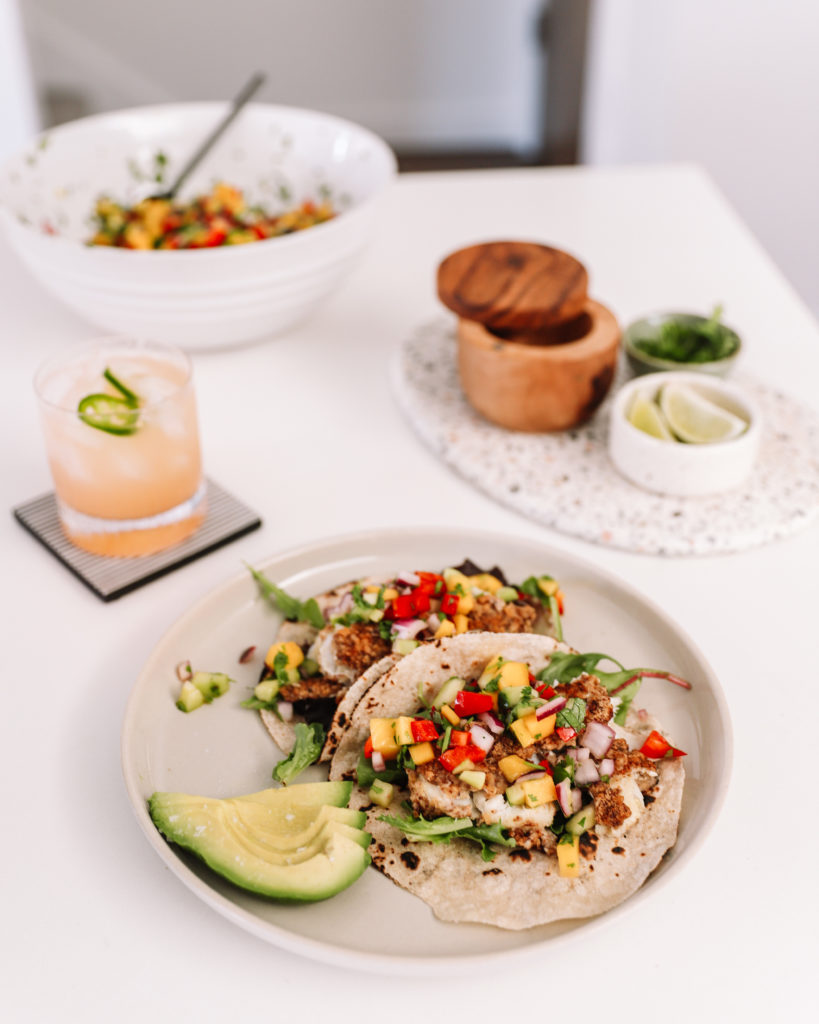 And for the main event, my crispy fish tacos!!! They're out of this world! We've been making them nonstop ever since the first night I made them for Bridge and I, wanting to see if my 20-min Crispy Chicken worked on cod as well. Big surprise, it does!
You can literally use whatever crackers you want for these– I prefer Simple Mills. Any flavor works, but I've been using the plain sea salt version and flavoring it up with different spices on hand. I add 1-2 tbsp ground flax to the breading because well, it's a good boost of fiber. Some of you asked if there's a substitution… you can totally leave out of the recipe if you don't have in your kitchen.
Then you're going to want to throw all the breading ingredients into a food processor to pulse until it reaches a flour-like consistency. If you don't have a food processor on hand, just grab a big ziplock bag, throw all the ingredients inside, zip it up and smash the crackers with the bottom of a glass or something sturdy and flat on the bottom. Continue pulsing until it reaches a flour-like consistency.
Next up, make your assembly line: fresh wild-caught fish (I used cod and it was fantastic), deep dish bowl with a whisked egg, deep dish bowl with cracker/breading mixture, then a fresh plate to house the breaded cod before it goes to the skillet. Once they're all breaded, let it fry in the skillet for a few minutes on either side, around 6-8 min total. It should be fork-tender when done.
Once you're finished, start building your tacos! I'm a sucker for Siete's cassava flour tortillas heated over an open flame, filled with mixed greens and/or thinly chopped cabbage, crispy cod, a few spoonfuls of the mango pico, avocado, fresh cilantro and a squeeze of fresh lime juice over the top. Ok yum, right?! Scroll down for the full recipe 🙂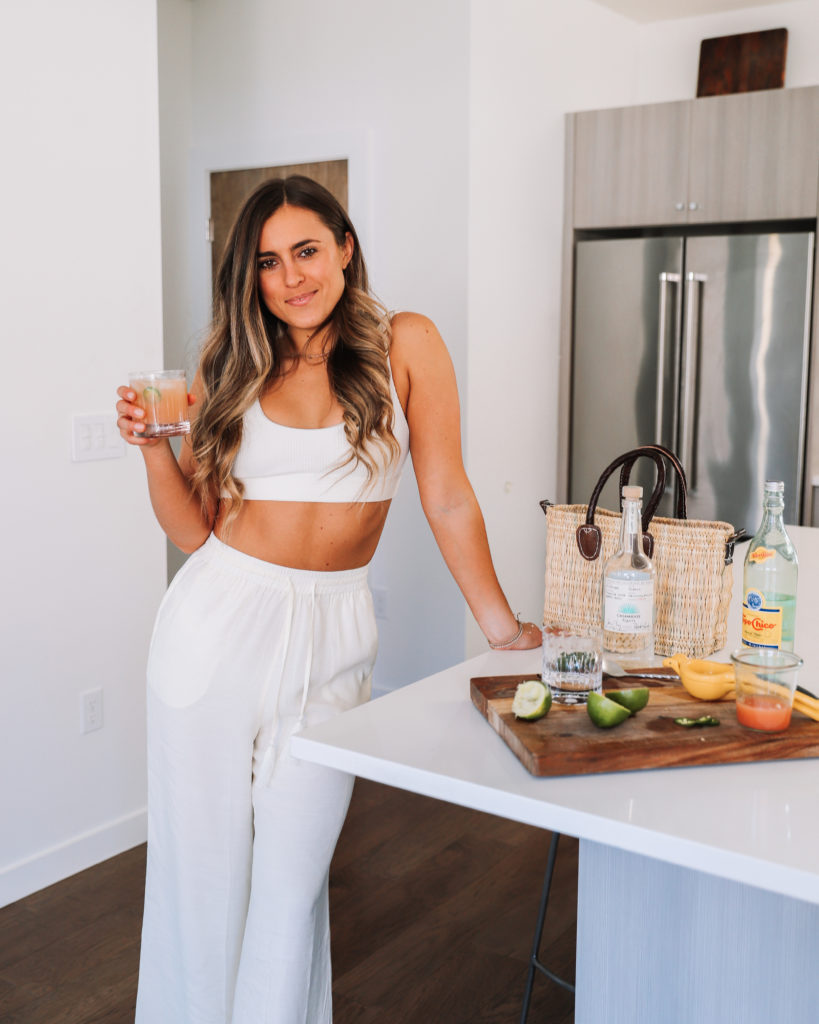 Before I finish, I have to share this super cute swimsuit + beachy coverup from Monday Swimwear. I got a small in everything and it seems to be true to size! Of course, the pants were very flowy/little long, but perfect for the beach. Click through for the links 🙂 p.s. can't we all go to Mexico for a quick vaca after this quarantine ends??

Ok, time to share the taco recipe! Comment below and let me know if you make them! 🙂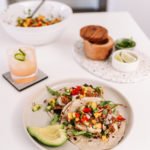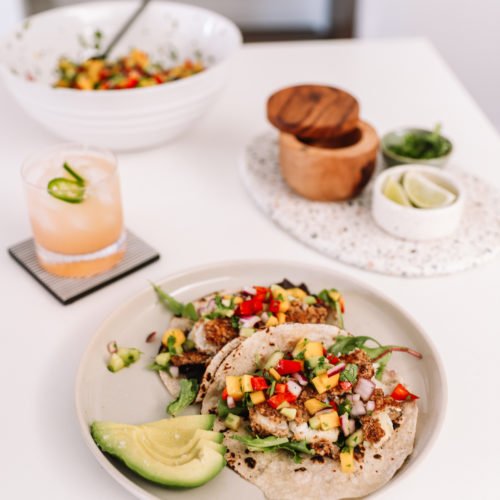 20-Min Crispy Fish Tacos
Ingredients
Crispy Fish
2

wild-caught cod fillets

1

pasture-raised egg

1/2

box

Simple Mills crackers

(or use crackers of choice)

1

tbsp

ground flaxseed

(for extra fiber! Option to leave out)

1/2

tsp

chili powder

(or seasoning of choice)

few shakes

sea salt

few shakes

ground pepper

3-4

tbsp

avocado or extra virgin olive oil
Tacos
tortillas

(I prefer Siete gluten-free cassava flour)

mixed greens/thinly chopped cabbage

chunky mango pico

(recipe linked above)

fresh cilantro

lime wedges
Instructions
In a food processor or blender, add the crackers, flaxseed and spices. Pulse until it reaches a flour-like consistency. *If you don't have a food processor, feel free to use a large ziplock bag, throw all ingredients inside, zip it up and use the bottom of a glass or flat surface to pound it down until it reaches a flour-like consistency.

Pour mixture in a deep dish bowl. In a separate deep dish bowl, whisk one egg.

Prepare your assembly line: bowl with egg, breading mixture, clean plate.

Rinse cod then pat dry with paper towel and lay flat on a plate. Using tongs or a fork, dip the fish in the egg wash, making sure to cover the entire fillet, then let the excess egg drip off before transferring to the breading mixture. Cover the cod completely in the mixture, making sure to pat down with the tongs so that the mix sticks, then transfer to a clean plate.

Heat a large skillet with avocado oil on medium. Transfer the cod to the skillet and let cook until golden brown on each side, about 4-6 min. Be gentle when flipping so that the mixture doesn't fall off. You can turn down the heat and cover to allow center to fully cook. Fish should be fork tender. Once completely golden brown, transfer to a clean plate to cool for 2-3 minutes before serving.

Heat your tortillas over an open flame until it chars on either side, or heat in a skillet.