MEAL PREP
Easily one of the more popular questions I get asked– Do I meal prep on a weekly basis? The short answer is no, BUT I will say that I love having easy, ready-to-throw-together ingredients on hand to make a balanced meal pretty quickly. I'm the type of person that of course, loves being in the kitchen, but I'm not about spending longer than 30-ish minutes at a time, so I've learned a lot of quick hacks and shortcuts to be able to make that happen.
I know most people think that eating healthy requires spending tons of hours a few days a week in the kitchen meal prepping, but I'm here to tell you it definitely doesn't have to be that way! The biggest tip I have for living a healthy lifestyle in general is making sure to set yourself up for success. Whether it's laying out your clothes the night before so you're ready for a morning workout session, or stocking your fridge 2x a week (or ordering groceries) with healthy ingredients, it's so important to give yourself a leg up in being successful!
I promise you, the minute I bring home & organize colorful, fresh produce in our fridge, make chia pudding for snacks the next 3 days, and have hummus, crunchy veggies (baby bell peppers, jicama, persian cucumbers are some of my favs) and brown rice crackers ready to grab for my afternoon snack… it saves me time during the week and I'm more confident in my choices!
STAY ORGANIZED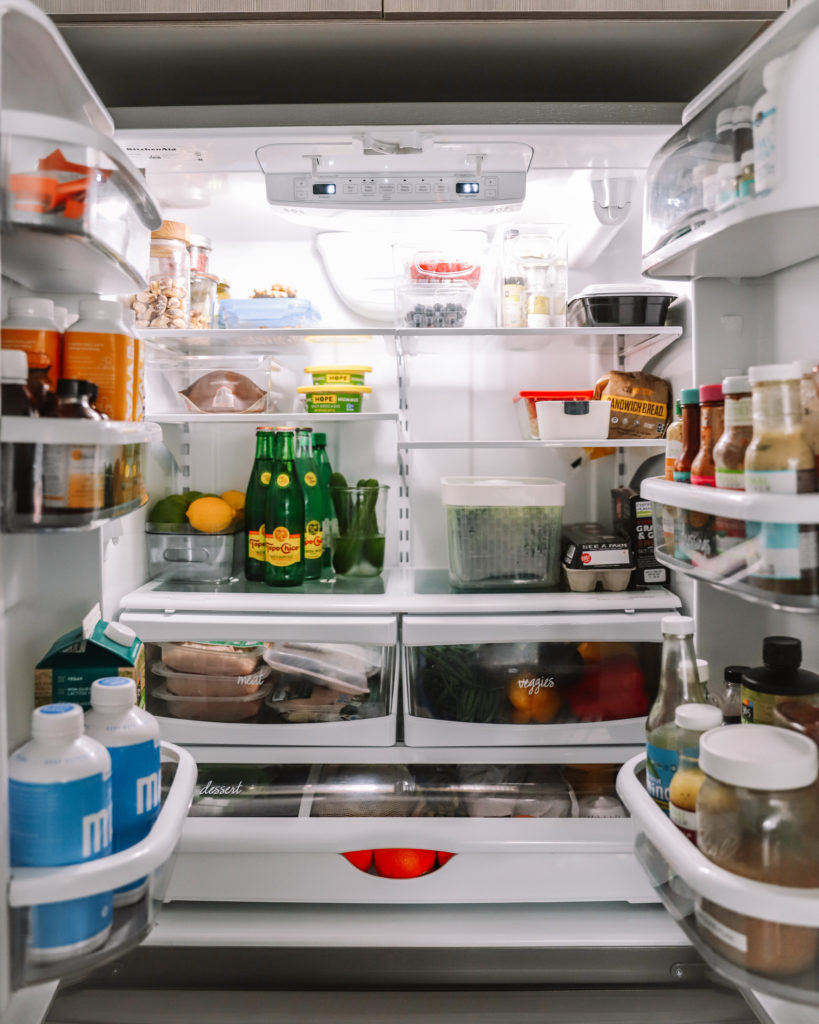 Ok listen, here's the deal. As I mentioned above, having an organized fridge and pantry is key in actually wanting to open up your fridge and reach for something healthy as opposed to just ordering out because A) you don't even know what's in there and B) you know what's in there, but it feels like a hassle to figure out what to make with what you purchased. I have a post alllll about kitchen organization here so start there first!
MAKE A PLAN
Once you feel better about your organization skills, make a plan for the week. This has always been a HUGE help to me. I always realize I forgot to plan when I'm so busy and working until 7-8pm before I even start thinking about what I'm going to make for dinner, then resort to a quick fix. That won't slide! If you start the week with a plan– it doesn't have to be full on meal prepped food in your fridge, it can literally just be a notepad with a handful of meal ideas you're going to make that week– you'll be so much more inclined to stick to your plan and make healthier decisions.
So over the weekend, figure out some meal inspo / dinner ideas you and your household will want to eat. Make a list and physically write it down. Hit the grocery store or order your groceries to be delivered. Wash your produce, get rid of your produce bags so you can see everything that's inside your fridge (organize is key, remember?), and see what things you can get ready for the first few days of the week. For example, there's a way higher chance I'll reach for baby bell peppers if they're sliced than if they're whole. So cut them up and store in tupperware. Same goes for chia pudding— if it's already prepped, that's typically my go-to for a pre-workout bite, an afternoon snack, or a yummy dessert where I'll throw on sliced strawberries, a spoonful of pb, cacao nibs and cinnamon! Plus, it's packed with fiber and is rich in omega-3s and protein so you can't go wrong 🙂
GROCERY STAPLES
I've already posted about my Trader Joe's grocery list and my Whole Foods haul on IGTV, but I'll list some of our staples here as well. When it comes to putting together any meal, I like including both macronutrients and micronutrients. For macronutrients, that includes quality protein, healthy fats and complex carbohydrates. Vitamins and minerals make up micronutrients, which are crucial when it comes to immune function, energy production, fluid balance, bone health, blood clotting and more. Think of it as the more variety of colors you're incorporating into your diet, the more vitamins and minerals you're consuming #eattherainbow.
Some foods that are always in our kitchen–
PRODUCE: organic mixed greens, bell peppers– specifically red bell peppers (contains more vitamin C than an orange), broccolini, avocado, sweet potato, fresh organic berries, persian cucumbers, limes/lemons, oranges, cilantro, green onion (quick hack: wash and chop them immediately after you get home from the store. Keep them in tupperware and you'll be more inclined to use throughout the week/it'll keep fresh for up to 5 days!)
MILK/EGGS: unsweetened almond milk, pasture-raised eggs
FRIDGE: Hope hummus, Primal Kitchen dressings, coconut aminos (soy sauce alternative), a sparkling water (Bridge has one most nights)
PROTEIN: organic ground turkey, chicken, chicken sausages
FROZEN: spinach/greens for smoothies, peaches/berries/bananas for smoothies, Birch Benders paleo waffles, Base Culture gluten-free bread, bone broth
PANTRY: extra virgin olive oil, avocado oil, nuts/seeds (I love macadamia nuts, walnuts, pecans), brown rice crackers, Simple Mills or Hu Kitchen crackers, smoothie boosters
PUT IT INTO ACTION
Now, you should have all the ingredients to put it into action! I love trying to make extras for dinner so there's enough to have for lunch the following day. This makes those busy work-from-home days easy because I don't have to take any time aside at all to make lunch. My favorite 'make extra' recipes include my 20-min Enchilada Skillet, Turkey Burgers, and the Nourish Bowl in my 7-day Added Sugar Detox cookbook. All are pretty quick anyways to make 🙂
I know for some people, taking all of Sunday at the beginning of the week to physically meal prep all their meals is what keeps them successful and that's great! It's all about finding what works for YOU and going from there. Yes, there will be a lot of trial and error to see what you like best, but honestly it's worth it in the end for that feeling on Saturday/Sunday knowing you just crushed your healthy eating routine for the week!
As always, let me know if these tips were helpful!
xx Rachael