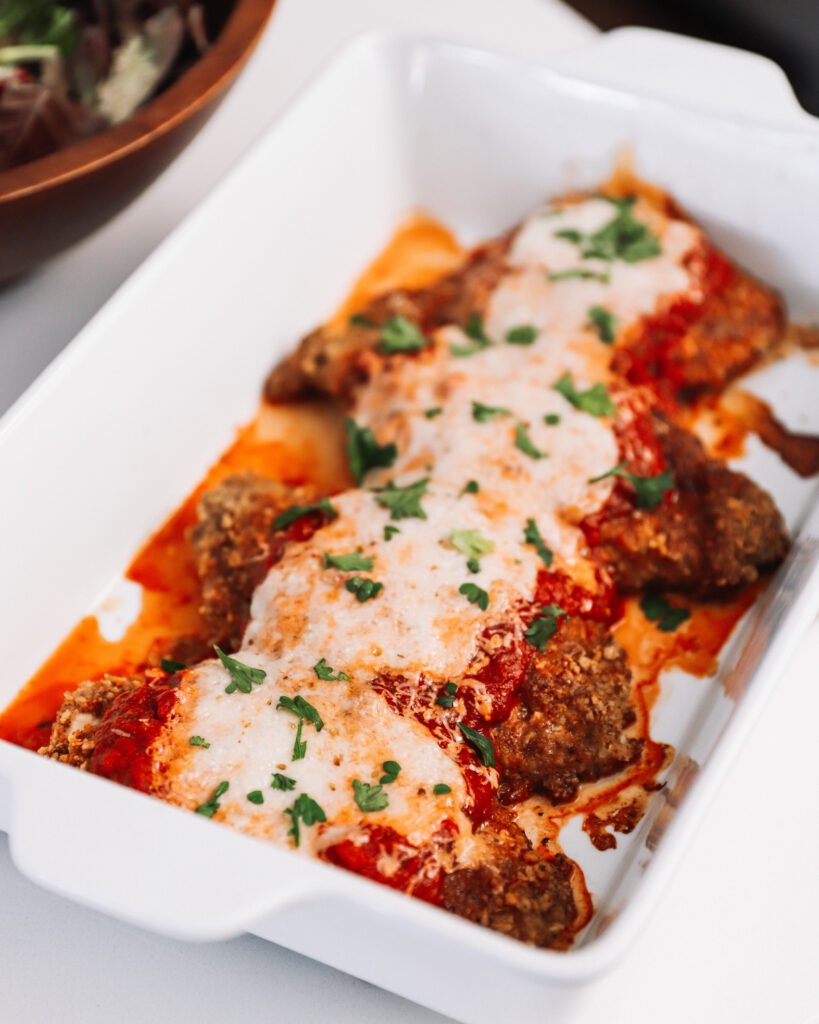 To say I'm excited about this brand new recipe is a MAJOR understatement!! Let's just mention that I'm pretty picky when it comes to the top recipes I keep in my arsenal and this gluten-free chicken parm has to make the top 3. To be honest, it's not exactly chicken parm, but I'll talk about that later. All you need to know is that you have to try this one out! It's a slight spin-off of my 15-min Crispy Chicken, which is already a great sign.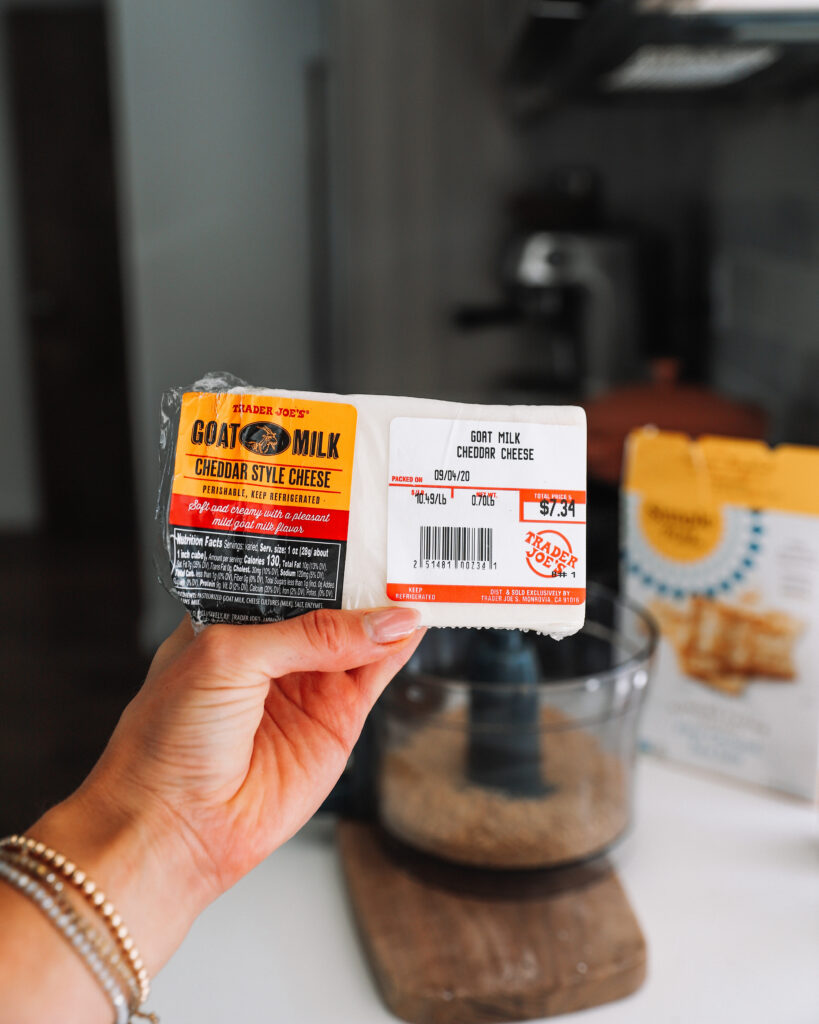 Let's start with the basics. In my recipe, I'm use goat milk cheese, but of course, you can always use what you prefer. I've been using goat milk cheeses ever since I realized I was lactose intolerant (symptoms: indigestion, upset stomach, brain fog, etc.), so for about the last 5-7 years. The one above is hands down my favorite– I buy it from Trader Joe's and it's a hard goat milk cheddar cheese that can be grated or easily sliced. Fun fact: Goat milk contains less lactose and A2 casein, which is less inflammatory and may cause less intolerance when you compare it with cow's milk (contains the protein, A1 casein). That's why a lot of people are still able to consume goat milk when they're lactose intolerant.
Nutrition wise, goat milk contains less calories, fat and protein than cheeses made with cow's milk. And when you look at sheep's milk or specifically cheeses made from sheep's milk, those have the highest amount of vitamins and minerals of the three milks, including vitamin B12, vitamin C, folate and magnesium. Think: manchego, pecorino romano, and Roquefort. So maybe if you're experiencing lactose intolerance and stay away from cow's milk, you could always ease into trying out goat or sheep's milk cheeses to see how your body handles!
Ok back to the recipe. I was so hooked after the first bite I took! It screamed unhealthy, which in my book, is always a plus when I'm using healthier, wholesome ingredients. A sure way to win over a crowd and always something I strive for when recreating people's childhood classics 😉 I honestly don't remember the last time I had chicken parm since I've been lactose intolerant the past 5-7 years, so it was a game changer to be able to have.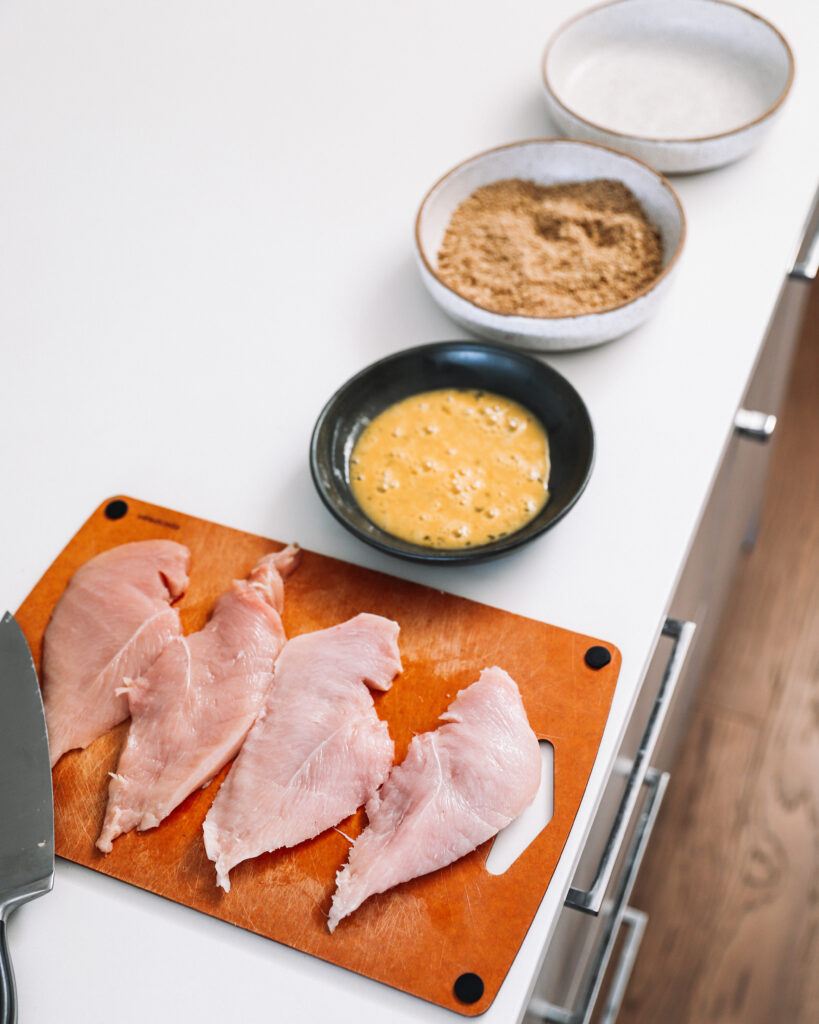 It's not a complicated recipe at all, especially if you're familiar with my Crispy Chicken. Trim organic chicken breasts, then slice in half, end to end. This way, they'll be thin enough to sear in a skillet & cook pretty quickly. Set up your assembly line: chicken, egg wash, breading mixture made from my favorite almond flour crackers (Simple Mills Sea Salt), basil, ground flaxseed, goat cheese, and sea salt, and then a clean plate/bowl at the end. I've seen this recipe done with dipping in some kind of flour before the egg wash, but I've found it's not necessary. You can also use your own favorite crackers instead or plain almond flour, or even breadcrumbs if your heart desires!
Use a fork to dip the chicken in the egg wash, covering completely, then transfer to breading mixture. Pat down so that the breading sticks completely, then transfer to plate. Now you'll want to get your skillet warm with 2-3 tbsp avocado or extra virgin olive oil and turning it on to medium heat. Once all chicken breasts have been breaded, gently transfer chicken to skillet and sear on either side for about 4-5 min each.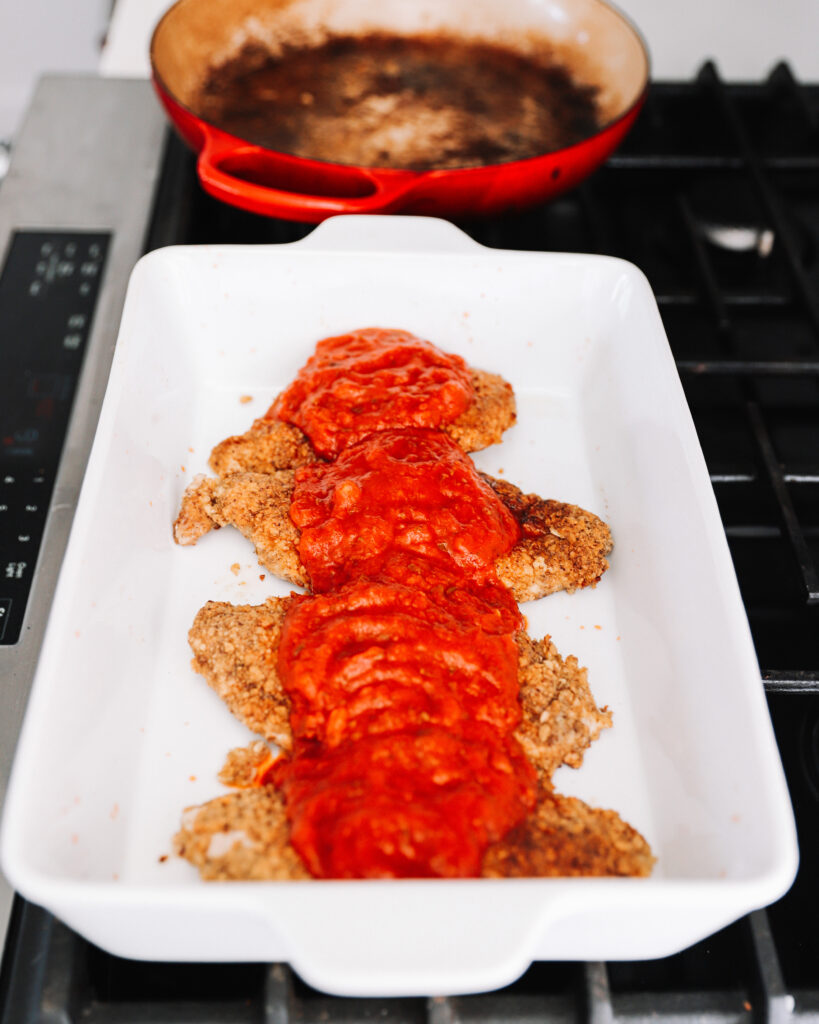 Once your chicken has browned, transfer to a large baking dish, then pour marinara over the top, in the center of each breast. Add your remaining shredded cheese (again, you can use whatever you prefer!), and let bake in the oven at 400 degrees for 10 minutes.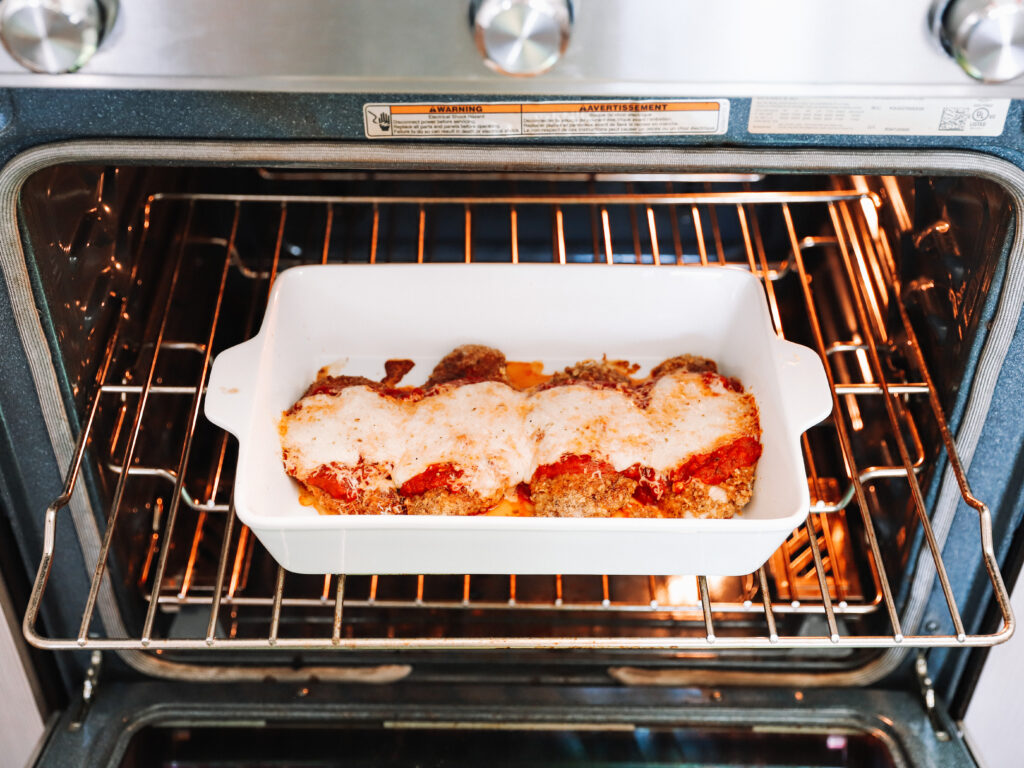 When the timer hits 0, I like turning on the broiler and letting the cheese get a little more golden brown on the top for 1-2 additional minutes.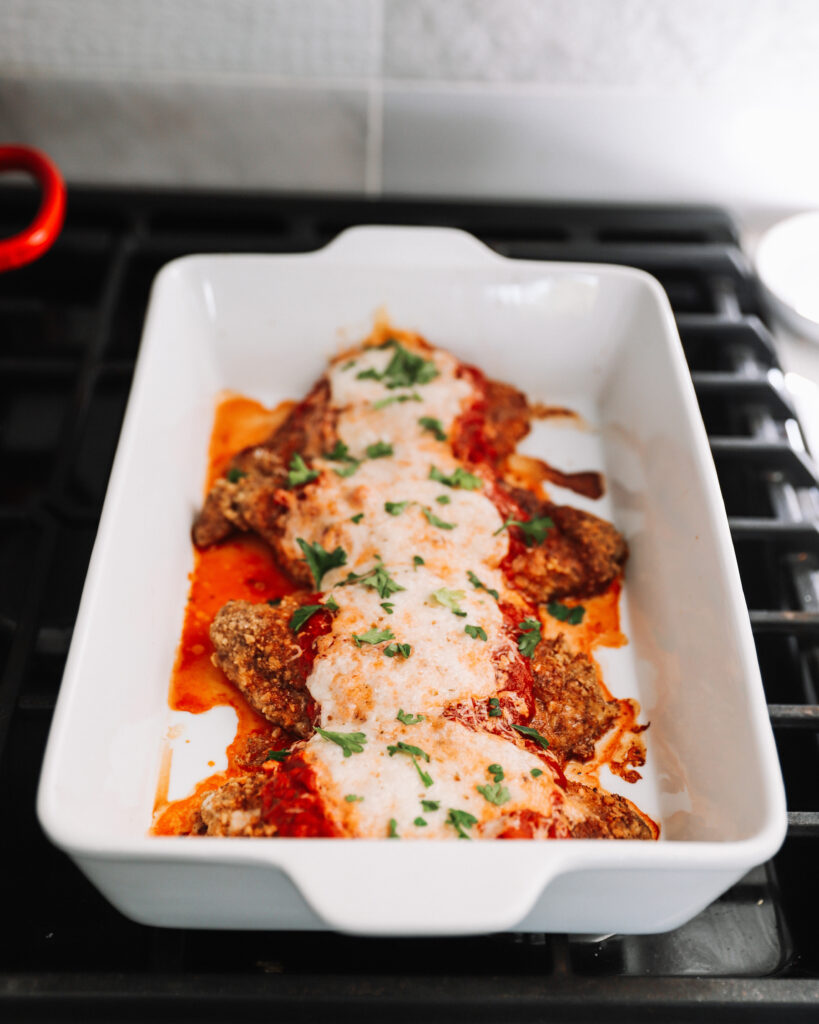 The last step is to top with fresh parsley and SERVE piping hot! Pair with a big salad, over noodles (we love Jovial gf brown rice pasta), with roasted veggies, I'm sure it'll work with anything 🙂 Can't wait to hear what you think! Make sure to rate this dish and leave a comment below if you try it! xx
SHOP WHAT I USED TO MAKE THIS RECIPE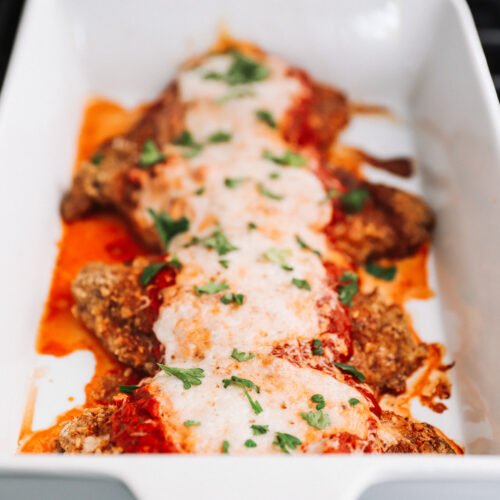 Ingredients
1.5

cups

almond flour crackers

,

(I used Simple Mills sea salt, but feel free to use ~1 cup almond flour or breadcrumbs, if you need)

2

tbsp

ground flax seed

,

(great boost of fiber!)

1

tsp

dried oregano

1/2

tsp

pink salt

1

pasture-raised egg

2

large

organic chicken breasts, trimmed, then sliced in half, end to end so they're very thin

,

(should be 1/4-inch thick. Beat with a meat tenderizer until thin, if needed)

1-2

cups

marinara sauce

,

(I love Primal Kitchen or Rao's)

2.5

cups

freshly grated hard goat cheese

,

(I like the sharp cheddar goat cheese from Trader Joe's, but feel free to use whatever cheese you'd like)

handful

fresh parsley, chopped
Instructions
Preheat oven to 400 degrees F.

In a food processor, add crackers, flax, 1/4 cup grated goat cheese, oregano & sea salt, and pulse until you get an extra fine texture. Pour in a deep dish bowl and set aside.

In a separate deep dish bowl, whisk one egg. Prepare assembly line with chicken breasts, egg wash, 'breadcrumbs' and a fresh clean plate.

With a fork, take turns dipping chicken in egg wash, then pressing down in breading mixture until fully covered, then transferring to clean plate. Repeat until all chicken is done.

Sear chicken in a large skillet with 3-4 tbsp avocado oil until browned on either side, about 5-7 minutes total. It should be nearly all the way cooked through, and will finish cooking in the oven.

Transfer chicken to baking dish, top with marinara, then sprinkle grated cheese over the top. Bake for 10 minutes, then pop on broil for an additional 2 minutes to brown.

Remove from oven, top with fresh parsley and enjoy! 🙂