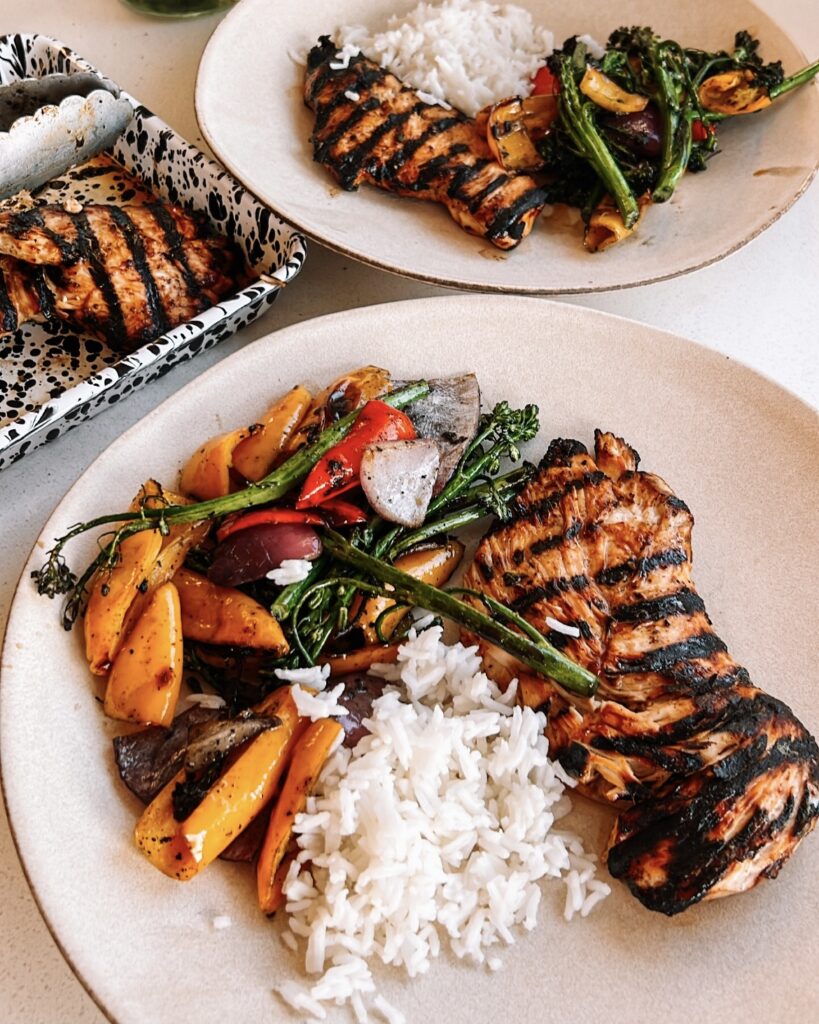 I love summer cooking because I do 90% of it on the grill. I love the deeper flavor, the char, and let's be honest — the easy clean up. Some of my go-to grilled meals this summer are my Creamy Sesame Chicken Skewers and this Honey Dijon Grilled Chicken bowl – you just can't beat the flavor and simplicity.
Grilling can be intimidating, and there's always more to learn! I'm still picking up tips and tricks here and there, so I wanted to share a few of my tips to help you get started.
Learn your way around the grill. I know we all hate reading instruction manuals, but YouTube videos are a great hack for simple tasks like learning how to turn it on and adjust the heat, replacing the propane, proper maintenance, and any unique features your grill might have. You'll get more comfortable every time, I promise!
Heat your grill to 500 degrees F and let it sit for 2-3 minutes with the lid closed before you get started. This will help burn off anything from grilling previously, and will ensure everything, including the grates, are thoroughly heated so that nothing sticks.
Use a meat thermometer. Especially if you're just getting started, it's so helpful to check the internal temperature of whatever you're cooking. I've been using this Yummy Smart Thermometer recently and it helped me get over the fear of cooking steak, it comes out perfectly every time! (You can use my code, Rachael10, for 10% off)
For anything that might fall between the grates or make a mess, use a veggie tray. I just got a new one because grilled veggies take every meal to the next level – this one is $30 on Amazon.
To get those satisfying grill marks and evenly cooked meat, avoid opening the grill and moving whatever you're cooking too often. For the most part, you only want to flip once or twice and keeping the grill closed keeps the temperature consistent for even cooking.
I'd love to share more tips on grilling because it's my favorite way to cook. Let me know what questions you have or meals you want to learn how to cook on the grill in the comments!