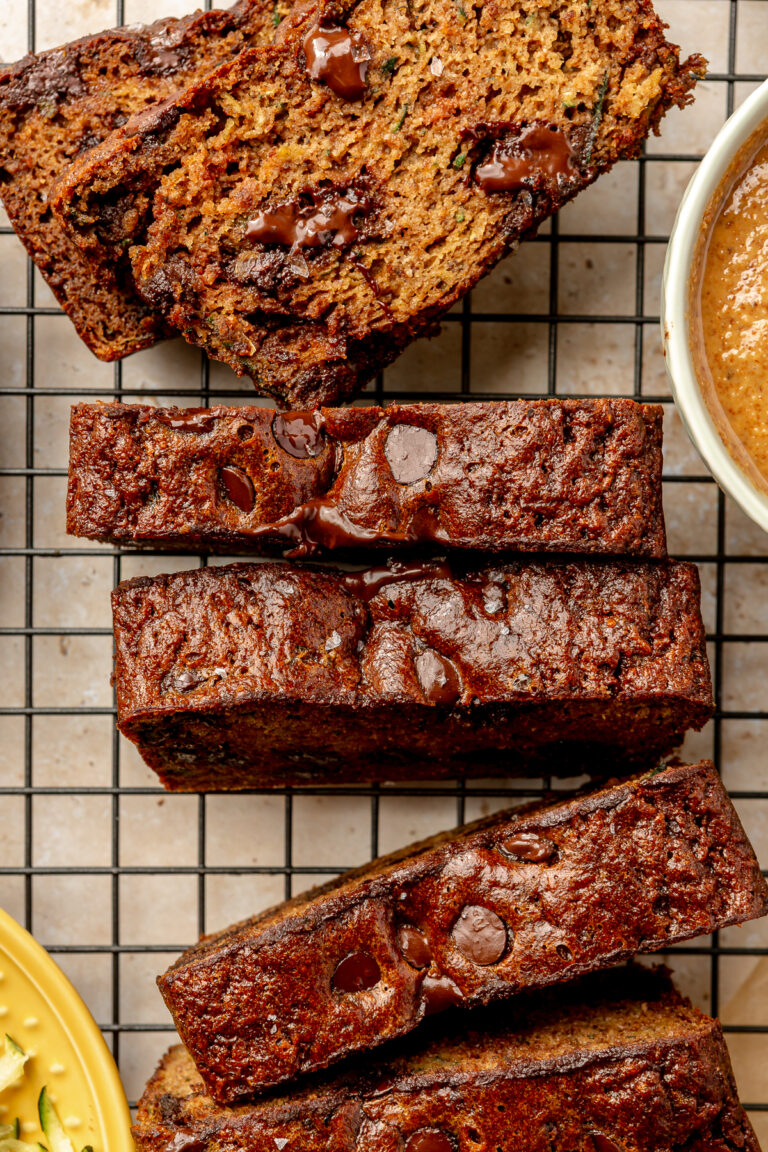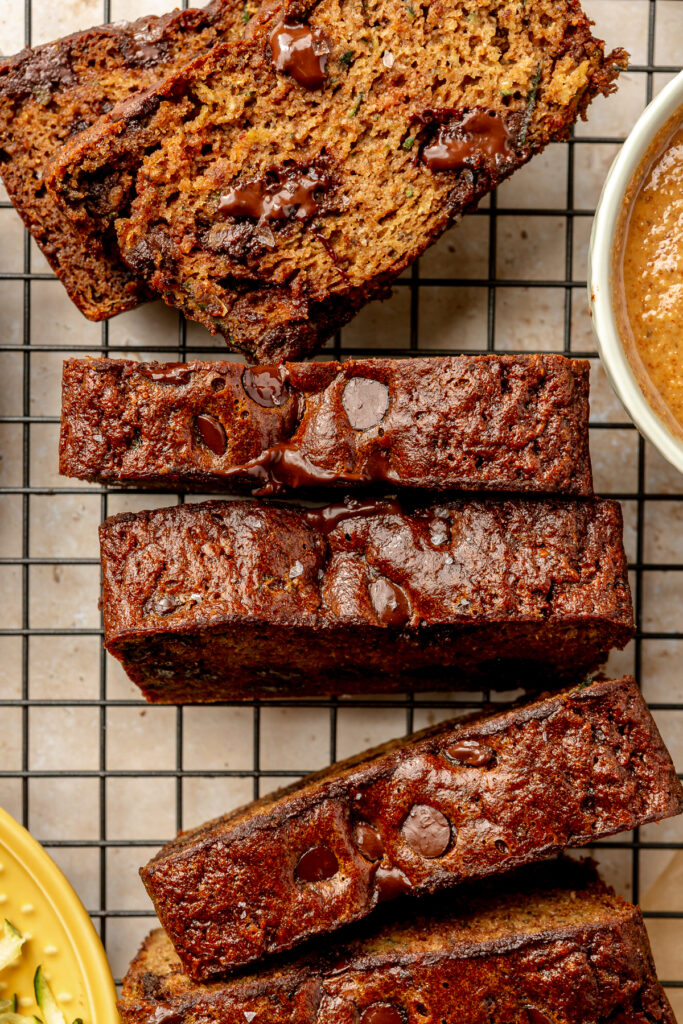 Cooking healthy and approachable meals is kind of my speciality. Nothing really scares me in the kitchen, and I just don't think you can go wrong when you're using simple and high-quality ingredients. Baking, on the other hand, especially gluten-free baking, is not a natural talent of mine. But with all the intricacies of perfecting gluten-free baking, is it anyone's speciality? Regardless, having a delicious baked good every once and a while is just a necessity, so I will never stop trying to become the ultimate gluten-free baker. And I'm not going to lie to you, this gluten-free zucchini bread gives me all the confidence I need to eventually secure that title. 
I tested this recipe 3 times to get it perfect, and now I know all the tips to ensure that this bread doesn't deflate, which is very common with zucchini bread because of the high moisture level. Because baking can be pretty delicate, there are a few extra steps in this recipe to make sure it turns out perfectly every time. Don't be intimidated, I promise you're going to nail it and absolutely love the result: a warm, chocolatey zucchini bread that is gluten-free and dairy-free. Let's dive in!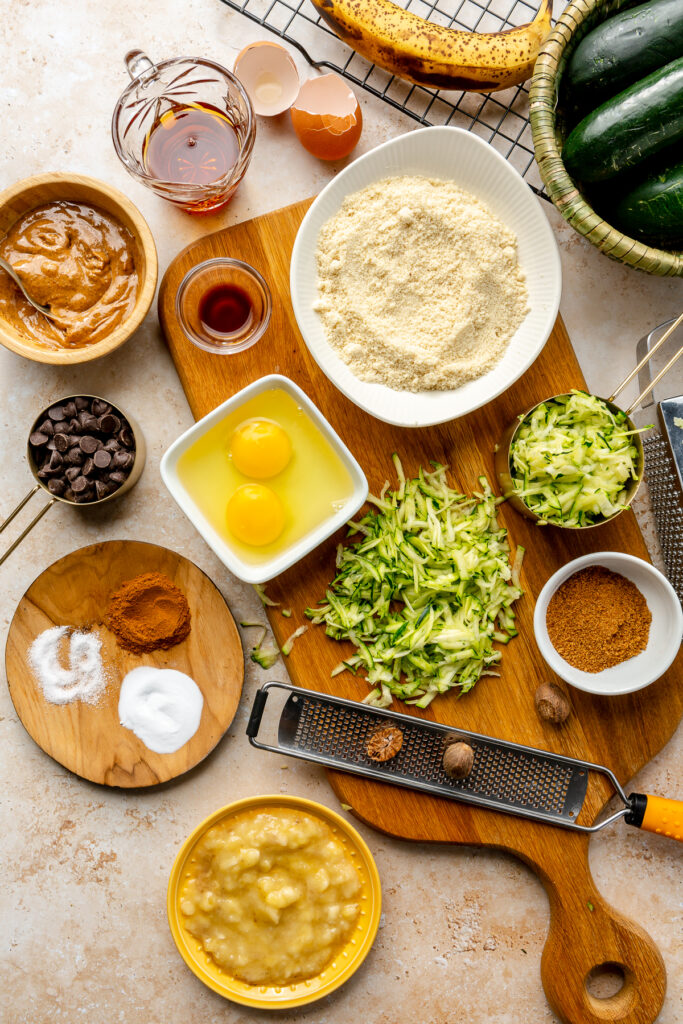 THE BEST WAY TO USE YOUR ZUCCHINI
By sheer luck, I seem to have quite a green thumb. When we moved into our house and finally had enough space for a garden, getting some organic veggies planted was one of the first things I did after we unpacked. I have tomatoes, peppers, and zucchini, and each year they just get bigger and better… especially my zucchini plant! I get tons of zucchinis – more than I could possibly use! Every year when harvesting the garden, I made a loaf of this zucchini bread, some Double Chocolate Zucchini Blender Muffins, Healthy Fried Zucchini Blossoms and the Zucchini Lasagna from my cookbook, Rachael's Good Eats. Then I deliver bags of zucchinis to my neighbors and start the whole process over again the next week. So if you're looking to put your late-summer zucchinis to use, this is the right place to start… trust me.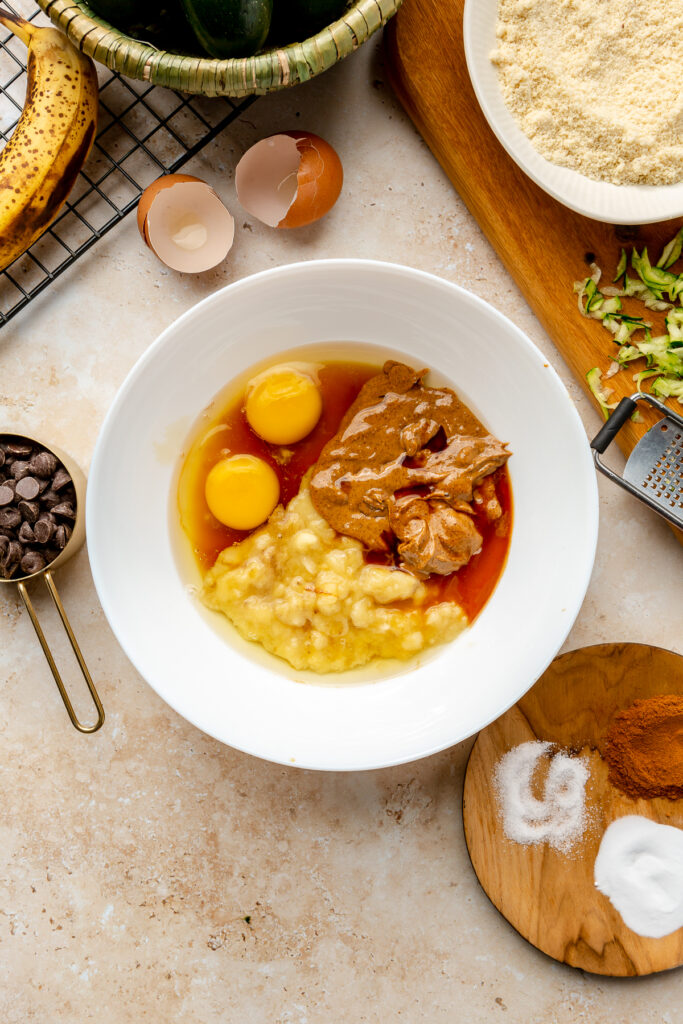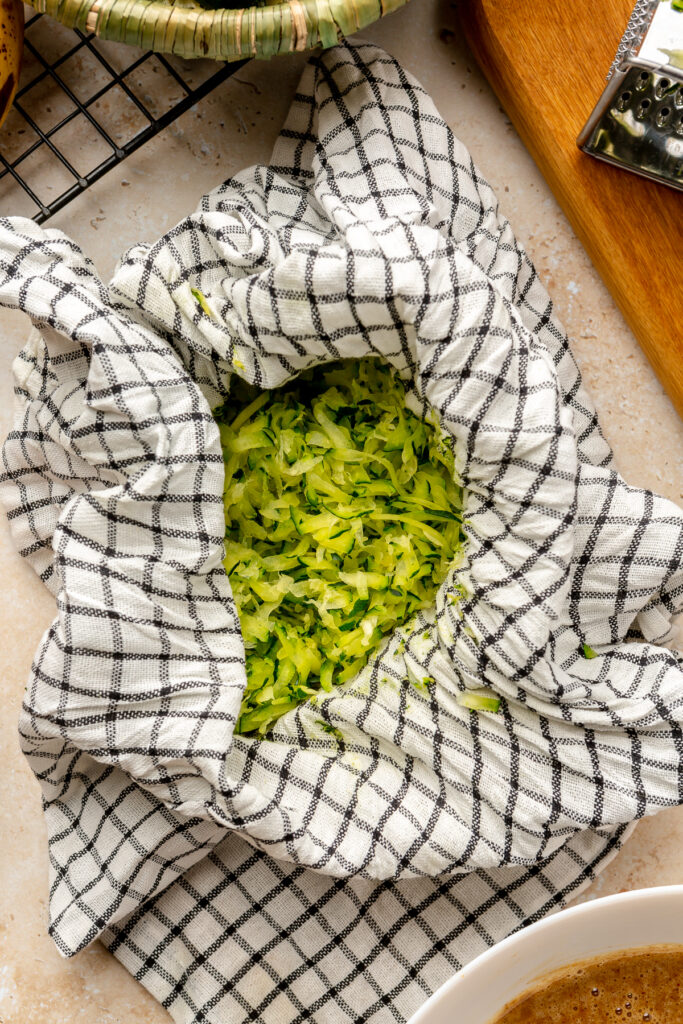 SNEAKING VEGGIES INTO YOUR DIET
I love throwing zucchini on the grill, or sautéing it with other veggies, but because of it's mild flavor, it's a great way to sneak veggies into almost anything. Not only can you add it just about anything without anybody noticing, but you can boast the nutritional benefits of it. Zucchini is naturally high in antioxidants, Vitamin A, and fiber – all important for digestion and overall health.
INGREDIENTS YOU'LL NEED
Zucchini
Banana
Almond Butter (any nut or seed butter will do)
Maple Syrup
Vanilla Extract
Eggs
Almond Flour
Cinnamon
Nutmeg
Coconut Sugar
Baking Soda
Sea Salt
Chocolate Chips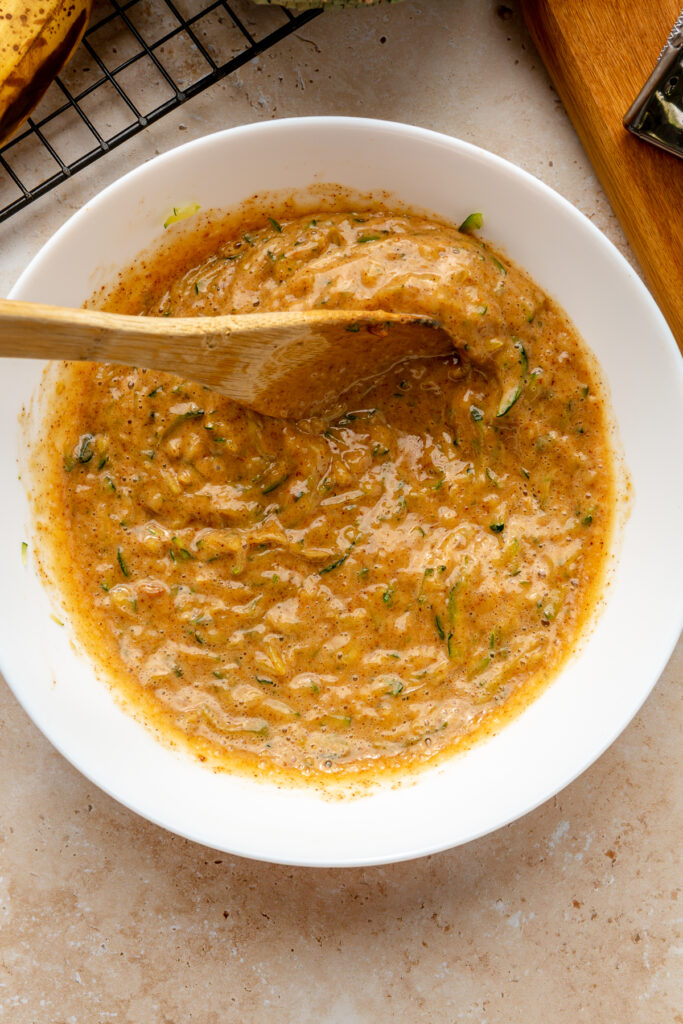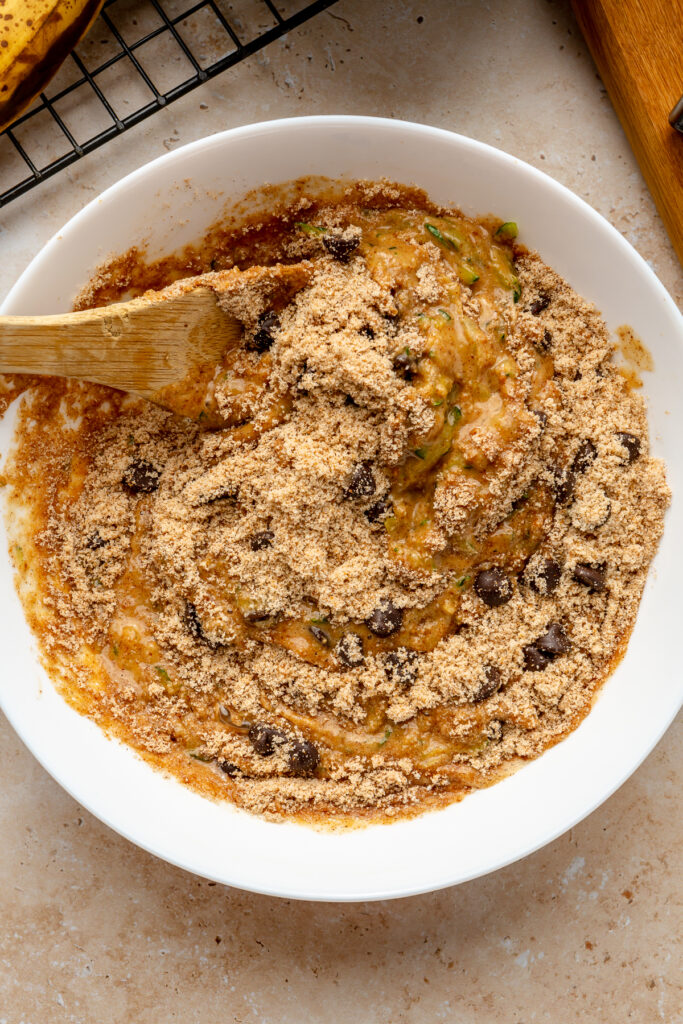 HOW TO MAKE GLUTEN-FREE ZUCCHINI BREAD
Start by preheating your oven to 350 degrees F. Whisk or use an electric mixer to combine all of the wet ingredients: banana, almond butter, egg, maple syrup, vanilla. Then, shred your zucchini and measure out in 2 cups. This next step is crucial – using paper towels, or a kitchen towel, squeeze out all of the liquid from the shredded zucchini before adding it to the mixing bowl of wet ingredients. Add the squeezed zucchini shreds to the mixing bowl, whisking again until thoroughly mixed.
Next, gently fold in the dry ingredients just enough until just combined. Do your best not to over-stir the batter, as it can cause the loaf to deflate upon baking. Top with more chocolate chips then bake for 55 minutes, or until a toothpick comes out clean.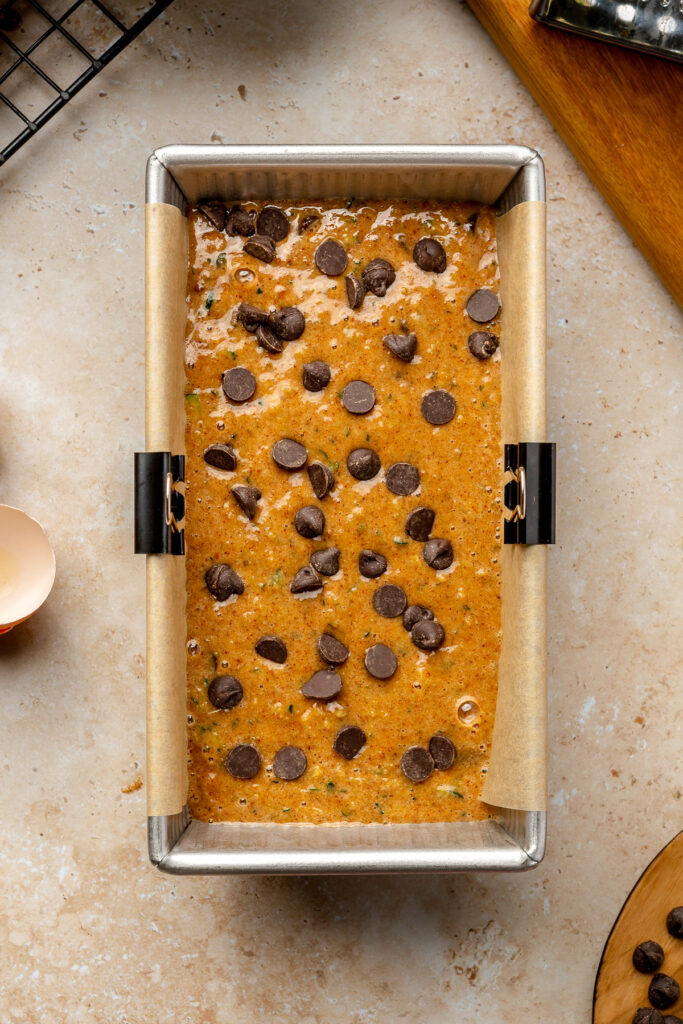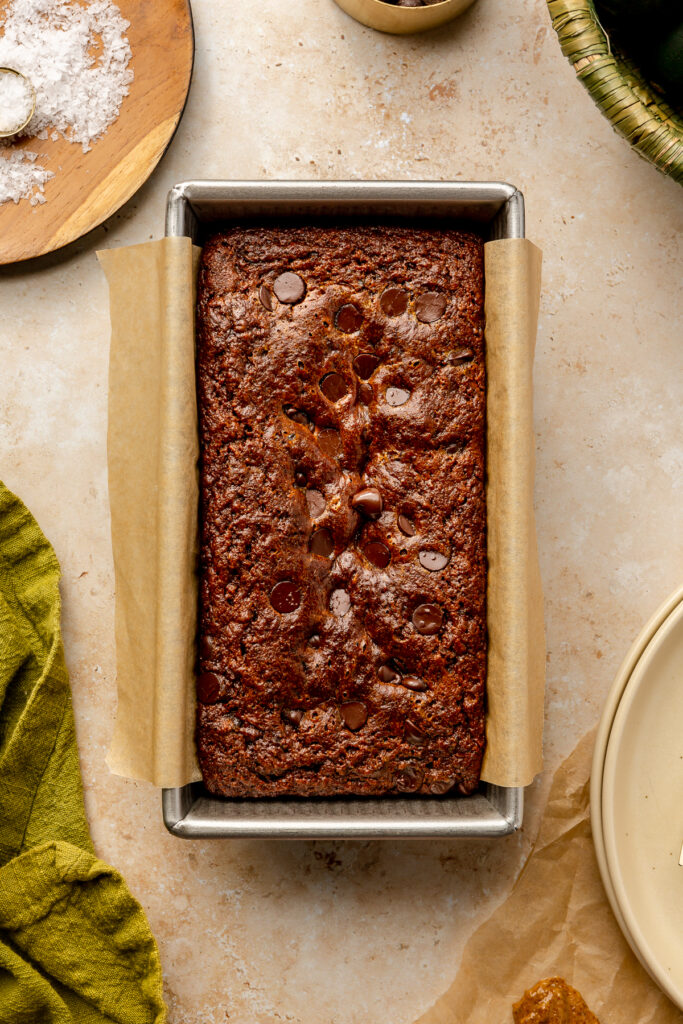 RECIPE SUBSTITUTIONS & QUESTIONS
This recipe calls for almond butter, but any nut or seed butter will work as a substitute.
If you like this recipe, then you'll also have to try out these Double Chocolate Zucchini Blender Muffins. Can't wait to hear what you think!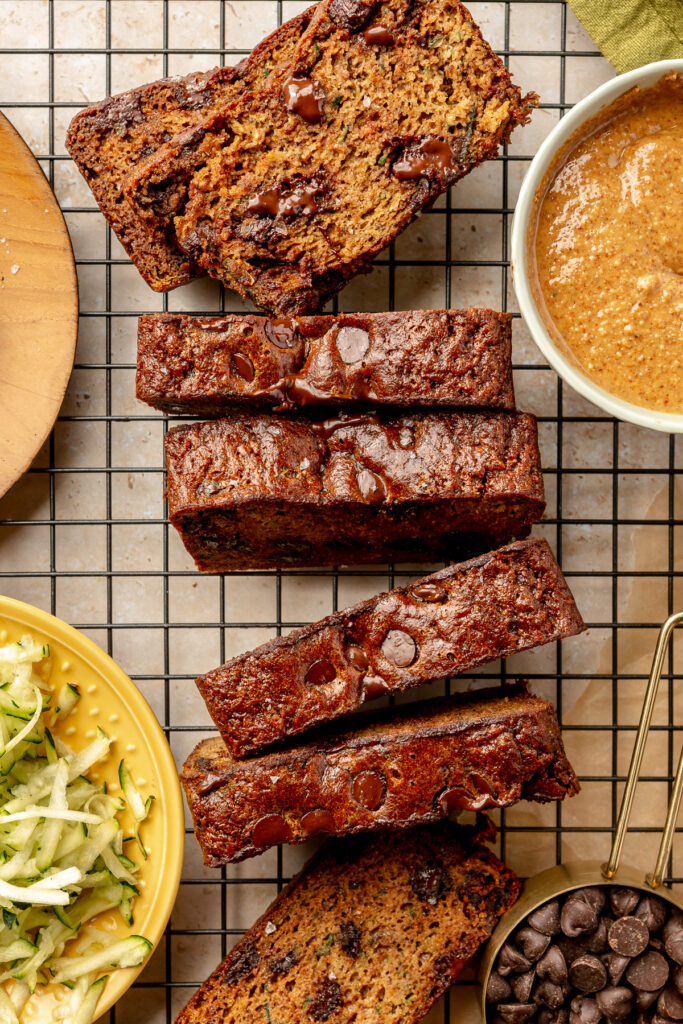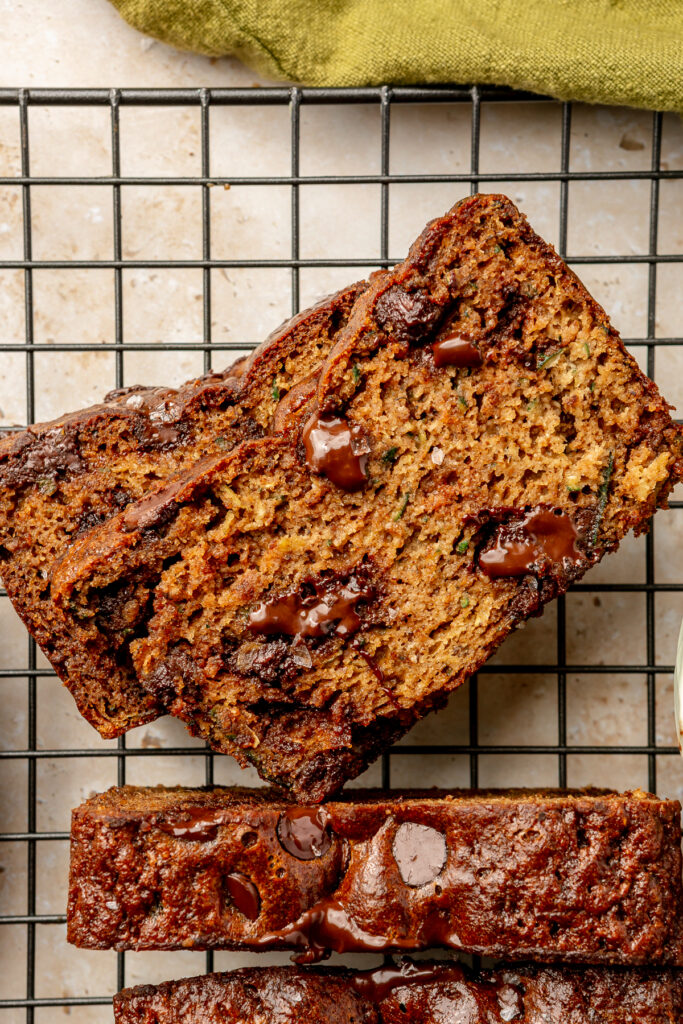 DO YOU LEAVE THE SKIN ON ZUCCHINI WHEN MAKING BREAD?
Yes, you can leave the skin on zucchini when making bread. It won't make a difference in the taste and texture, and there are actually so many nutrients in the skin. Double bonus: less work and added health benefits!
WHY IS MY ZUCCHINI BREAD CRUMBLY?
The most common reason your loaf of zucchini bread is crumbly is that you probably haven't let the bread rest long enough before slicing. Slicing your loaf while it's still warm will cause it to fall apart. I know it's hard to resist diving into when it's fresh out of the oven, but it'll be worth waiting it out so you have slices to enjoy for days. You can always heat it up slightly before you enjoy it, either warmed on a pan or even in the toaster.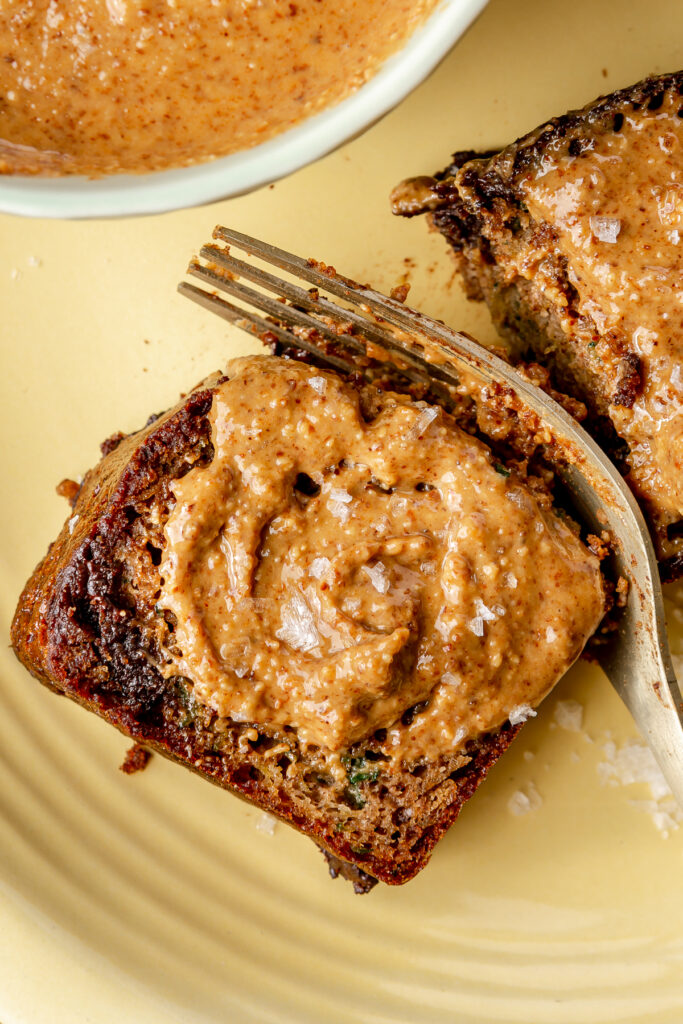 Gluten-Free Zucchini Bread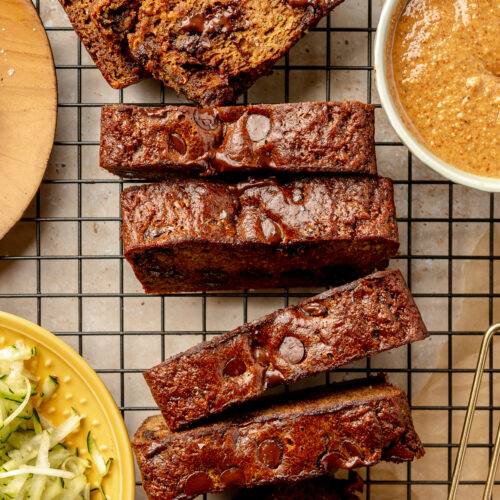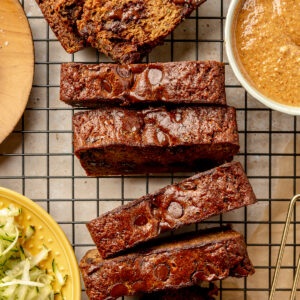 Tested this one multiple times until it came out PERFECT. I know you're going to love it, plus it's gluten-free, refined sugar-free and dairy-free! If you're trying to use up your garden zucchinis like I am, give this a go 🙂
Ingredients
2

pasture-raised eggs

1

mashed ripe banana

1/2

cup

almond butter

,

(any nut or seed butter to substitute)

1/4

cup

maple syrup

1

tsp

vanilla extract

2

cups

shredded zucchini, then drained + squeezed

1

cup

almond flour

1/2

tbsp

cinnamon

2

pinches of nutmeg

2

tbsp

coconut sugar

1/2

tsp

sea salt

1

tsp

baking soda

1/2

cup

dark chocolate dairy-free chips, plus more for the topping
Instructions
Preheat oven to 350 degrees F.

Whisk or use electric mixer for all wet ingredients (everything through vanilla extract).

Shred zucchini and measure out in 2 cups. Fold paper towels about 4x, or use kitchen towel, and squeeze out all the liquid before adding to the mixing bowl. Whisk again until thoroughly mixed.

Next, gently fold in the dry ingredients, just enough until fully combined (don't over stir!! It may not rise).

Prep loaf tin with parchment paper, then pour in batter. Top with chocolate chips then bake for 55 minutes, or until a toothpick comes out clean.

Let cool for AT LEAST 40 minutes before you dive in. Trust me, it's worth the wait! 😉