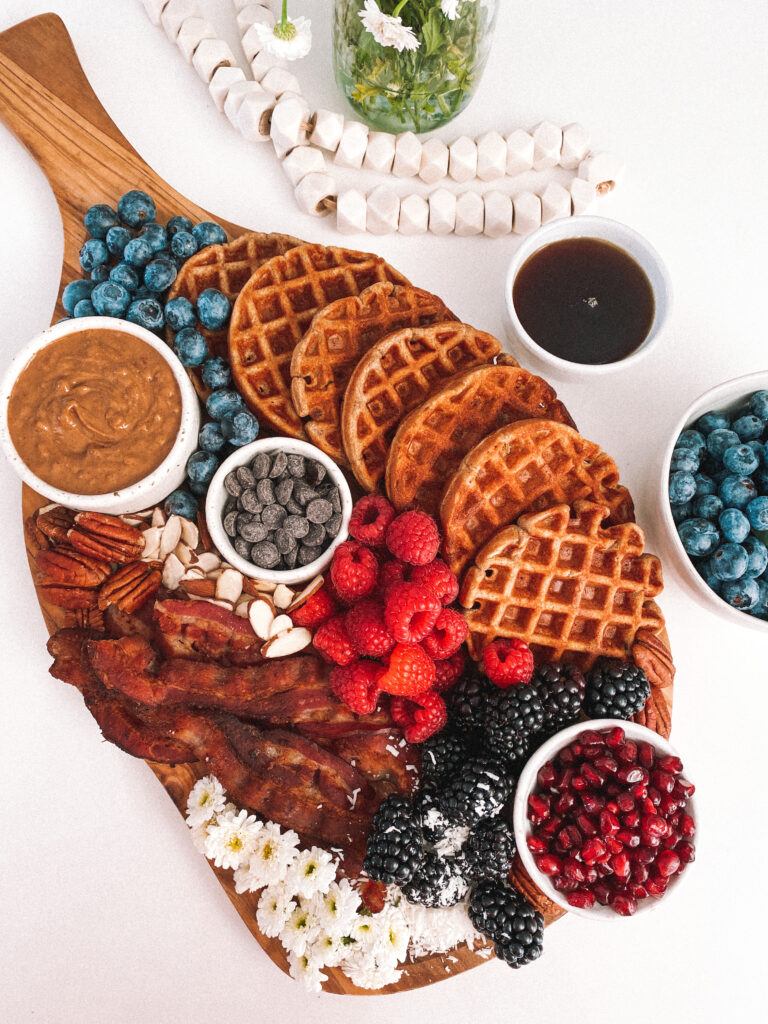 Happy Valentine's Day weekend! If you're anything like Bridge and me, you're probably keeping things pretty low key for the holiday. Honestly, I just need some good food and some couch snuggles with him and the pups and I'm good to go, which is why I decided a charcuterie board was just what we needed. Instead of my more traditional take on a charcuterie board, I thought I'd go for a more brunch vibe theme that's perfect for Valentine's Day morning!
I also included a few at-home date night ideas below the recipe to keep things fun for the holiday in case you're short on ideas. Bridger and I have been trying to be good at date nights in quarantine and I shared even more ideas in this post.
Valentine's Day Charcuterie Board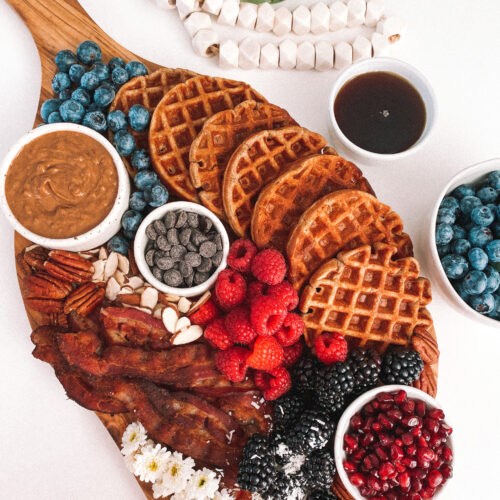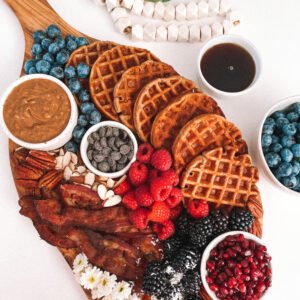 Ingredients
Toppings
peanut butter

maple syrup

manuka honey

sliced almonds

shredded coconut

chocolate chips
Instructions
Make the waffles, bacon, and assemble your board! Easy as that 😉
As for the date night ideas:
Breakfast in Bed: I may be biased, but I mean you'll score major brownie points. My Valentine's Day charcuterie board is perfect for this cute and simple idea. You can even add other sides like fried eggs, avocado, etc. Obviously bonus for hand delivering to your boo!
Cook Dinner Together: Recreate your favorite recipe from your first date or your favorite restaurant! Or, pick a recipe you both have always wanted to try cooking, but never found time for. Maybe my crispy Mexican-inspired flautas inspired by my best friend Jeannette. They won't disappoint! 😉
Movie Marathon: This is part of our plan! Pick out a few of your all-time favorite movies or embrace the Rom Coms and make it a marathon. You can't go wrong with movies like The Wedding Singer, The Notebook or The Proposal.
Virtual Wine or Cocktail Class: You can find so many virtual classes online to learn how to become the ultimate bartender these days. If you want to keep it simple, just search for a fun, fancy cocktail recipe and make it at home together.
Create an At-Home Spa Day: I might have to add this to our V-Day plans after breakfast in bed but before our movie marathon lol. Grab a soothing face mask for each of you and take turns giving each other a relaxing massage.
Game Night: Have you watched The Queen's Gambit? It's probably the only thing that has ever got me thinking I need to get into chess. Maybe followed by some Jenga or Monopoly Deal? If all else fails you can just watch The Queen's Gambit if you haven't already and call it a game night!
Happy Valentine's Day and don't forget the desserts! xx