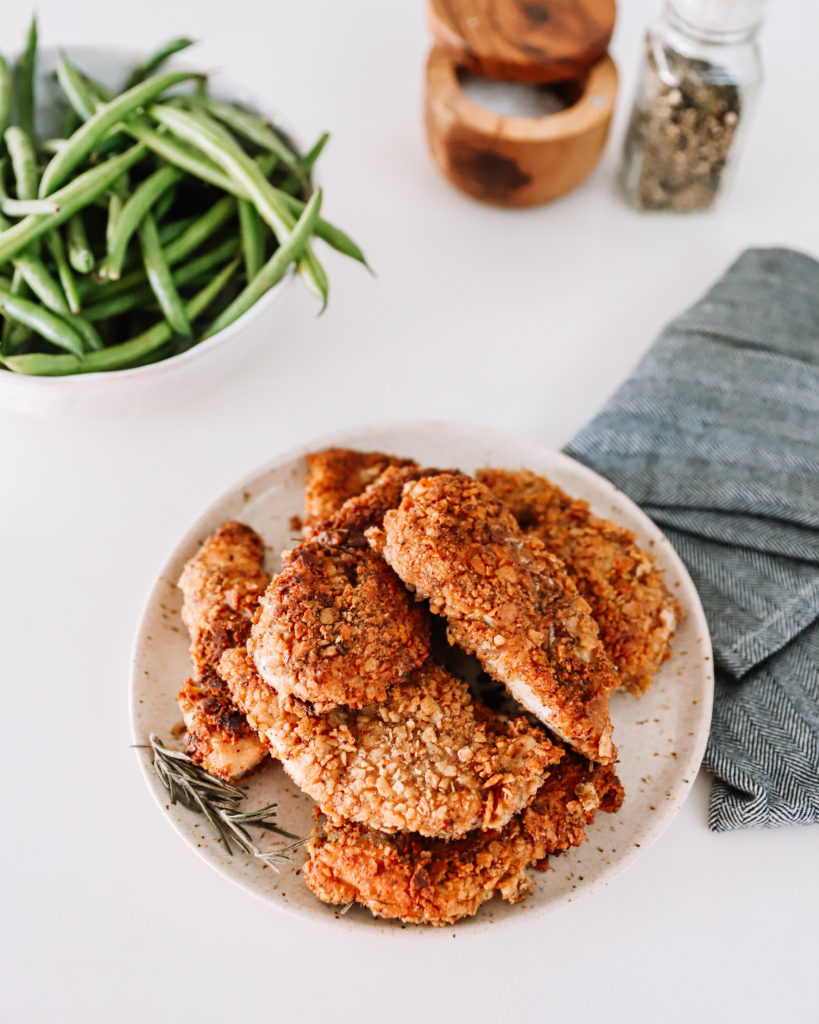 Fiiiiirst of all, you need to put this recipe on your weekly To-Do because it'll potentially be the best dinner you'll have all quarantine. Second of all, it takes just a jiff to make and I'm confident it will wow anyone at the table…. Bridger has already requested we have this at least 1-2 times a week from now on. Win!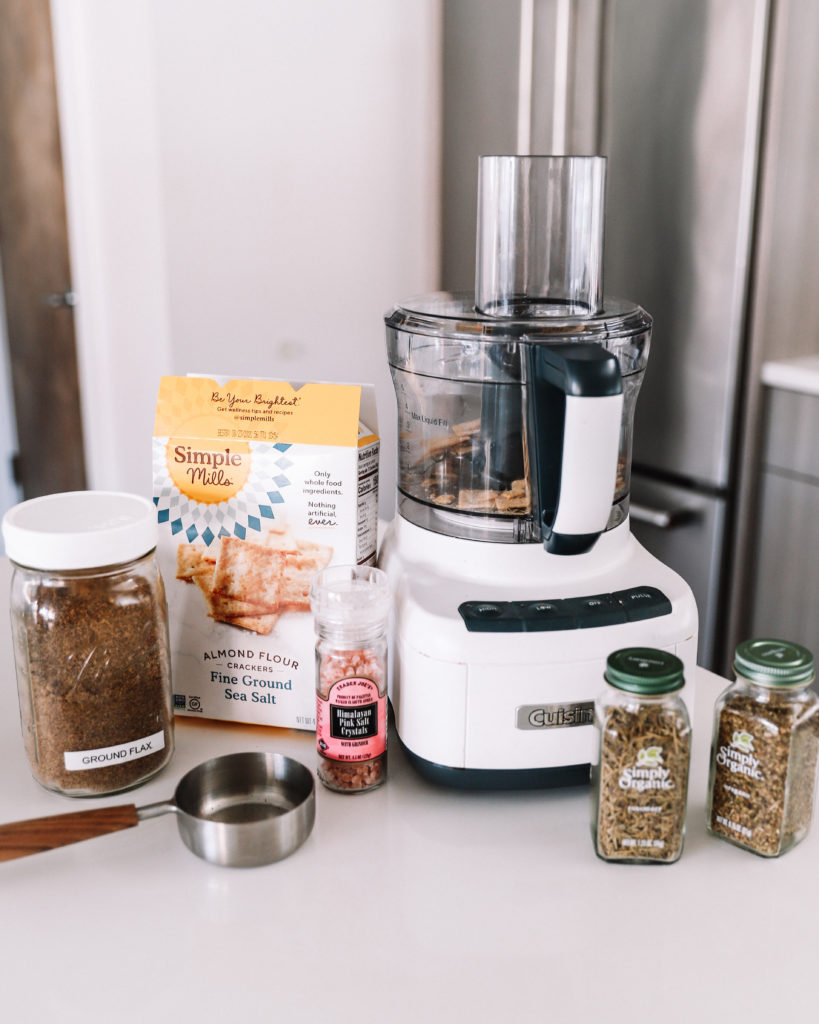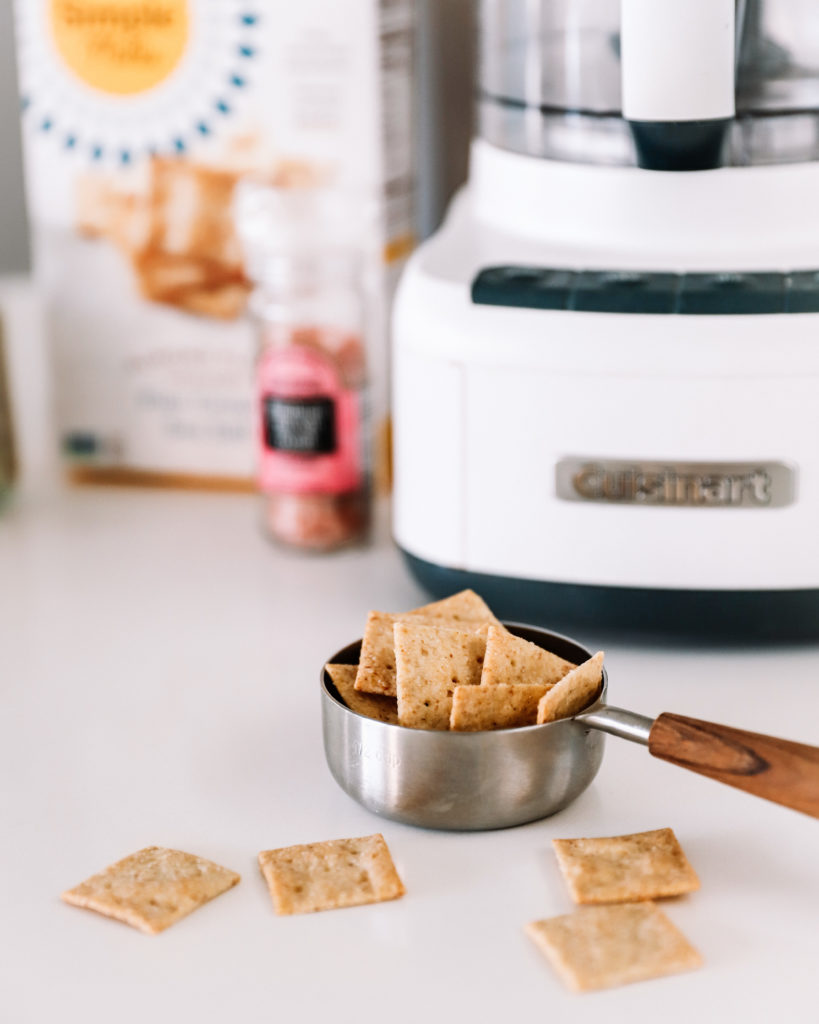 The best part about this recipe is that you can use whatever crackers you have on hand and can season with your favorite herbs. I used Simple Mills sea salt crackers and dried rosemary. These almond flour crackers are gluten-free, grain-free, corn free, paleo-friendly and baked. They're honestly my go-to crackers and I always have a box or 3 in the pantry.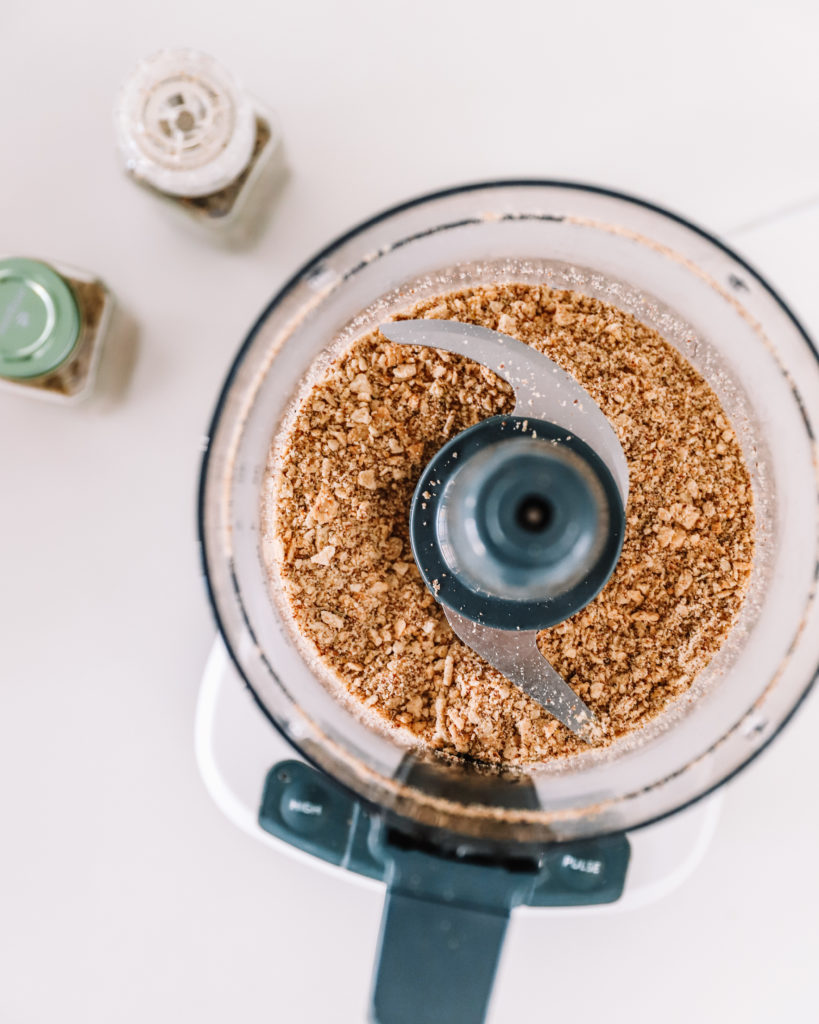 You can use a food processor or blender to grind down the crackers and then add whatever seasonings you'd like. I also threw in 2 tbsp ground flaxseed… to boost the fiber content, ok? 😉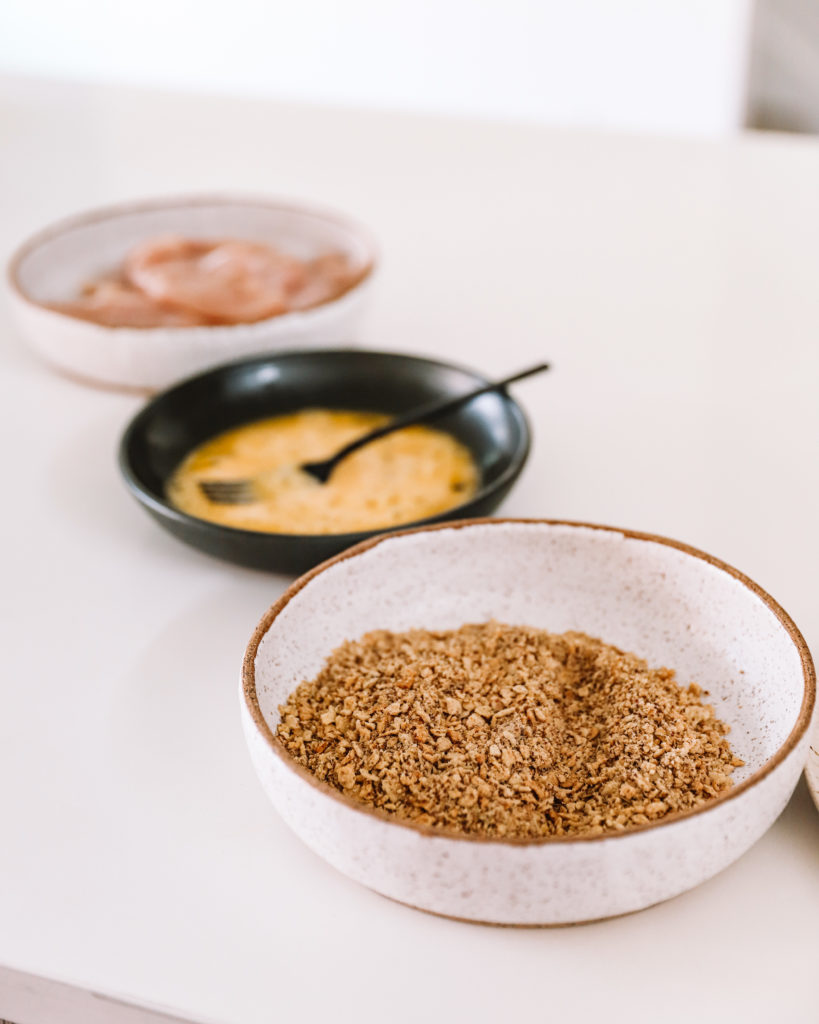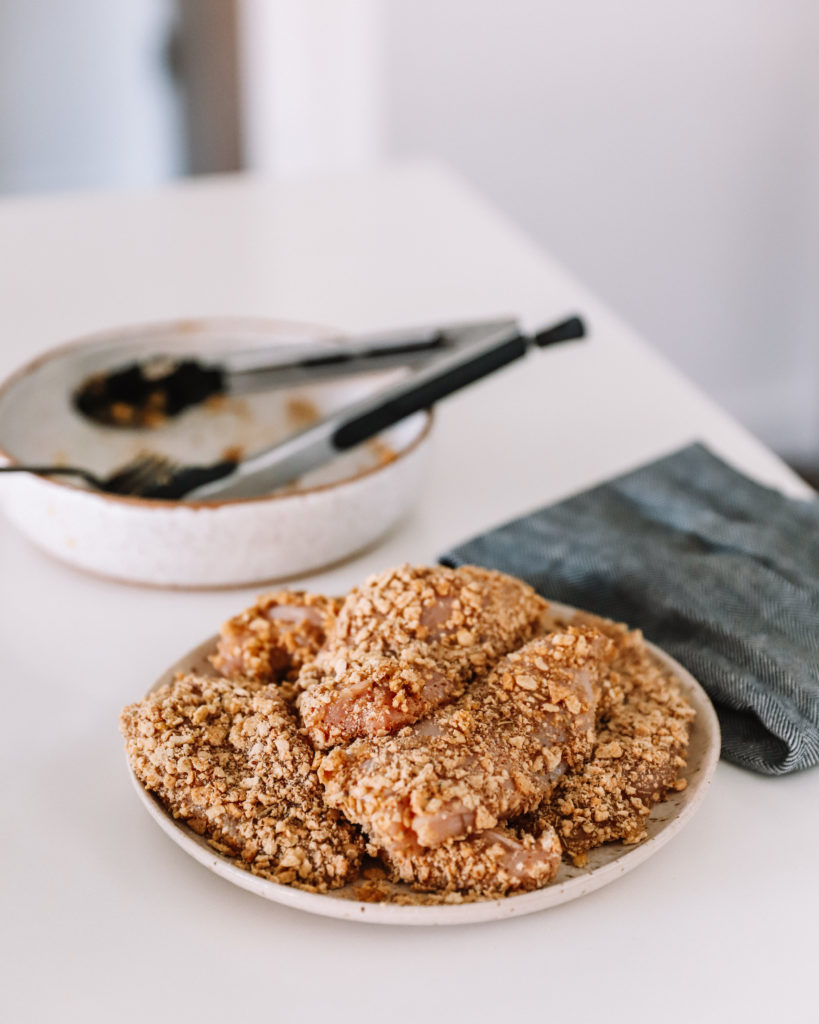 Pounding down/tenderizing the chicken is a key trick to allow all of the chicken to cook the same amount of time + quicker. It's been a game changer for me in the kitchen. Click here for the tenderizer I bought on amazon. And to be honest, now that i'm thinking about it, if you don't have a food processor or blender, just throw the crackers in a ziplock or Stasher bag and use the opposite side of the meat tenderizer (or bottom of a flat glass) to smash the crackers until you get a ground flour-type consistency.
Once your chicken is breaded, toss in the skillet with avocado or coconut oil and pan-fry until golden brown on either side. Feel free to turn on low heat, cover and let the chicken cook all the way through.
It tastes SO not good for you and I cannot believe how healthy it is!!! I love the chicken plain because there's so much flavor, but Bridger loves with ketchup, of course lol. It would also be yum with BBQ! We paired with steamed green beans, a green salad and roasted potatoes 🙂
But yeah, 3 words: Finger. Lickin. GOOD.

15-Min Crispy Chicken (GF, DF)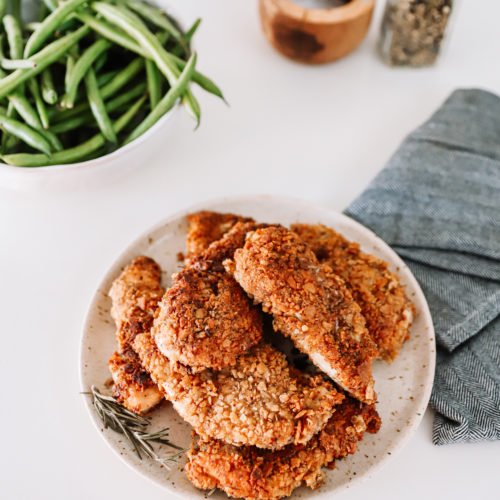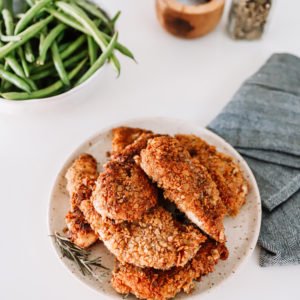 Ingredients
3

large

organic chicken breasts

,

trimmed, tenderized, and sliced in halves

1.5

cups

Simple Mills crackers

2

tbsp

ground flaxseed

1

tsp

dried rosemary

1/4

tsp

pink salt

1

pasture-raised egg

3

tbsp

avocado or coconut oil
Instructions
In a food processor or blender, add crackers, flaxseed and spices. Pulse until it reaches a flour-like consistency. Pour mixture in a deep dish bowl

In a separate deep dish bowl, whisk one egg.

Once chicken has been trimmed + tenderized (pounded down to the same thickness), create your assembly line of chicken, egg, and cracker breading. Using tongs or a fork, dip chicken in egg wash, making sure to cover the entire breast, then let excess egg drip off before transferring to breading mixture. Cover entire breast in cracker mixture, then transfer to clean plate. Once all chicken has been breaded, heat your large skillet with avocado oil on medium.

Transfer chicken to skillet and let cook until golden brown on each side, about 4-6 min. Can turn down the heat and cover to allow center of chicken to fully cook. Once all golden brown, let cool for a few minutes before serving. Enjoy!! 🙂