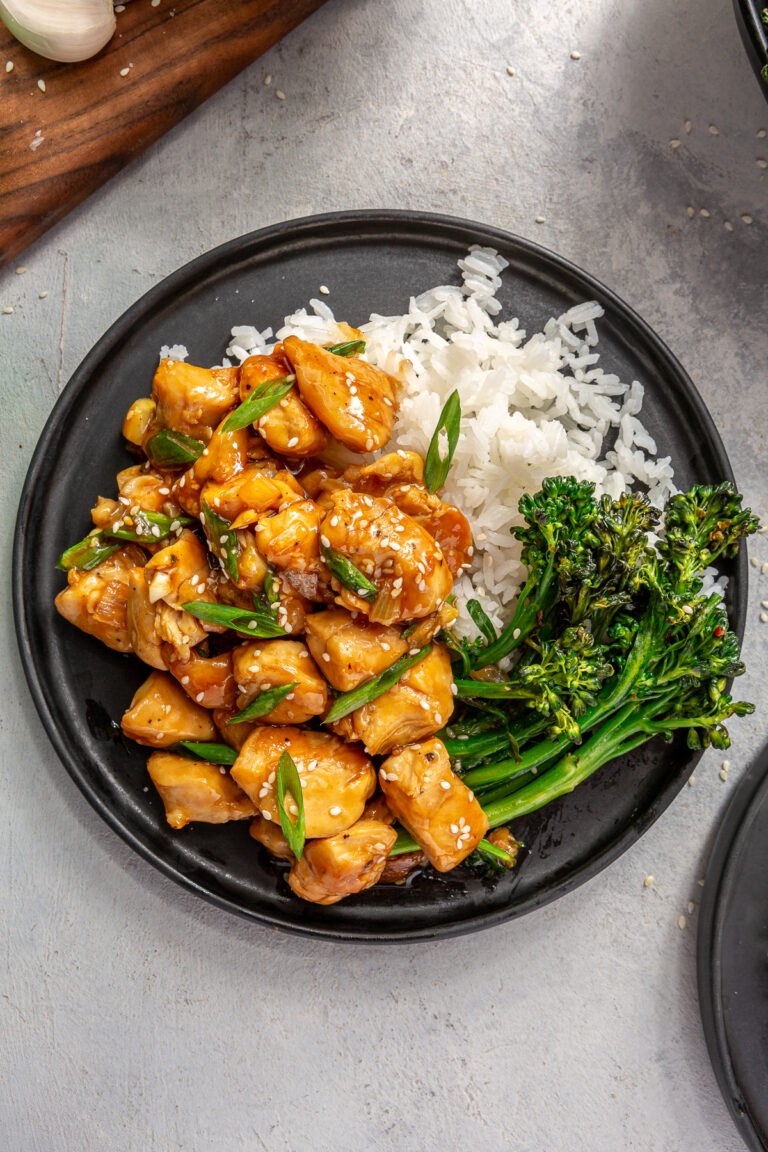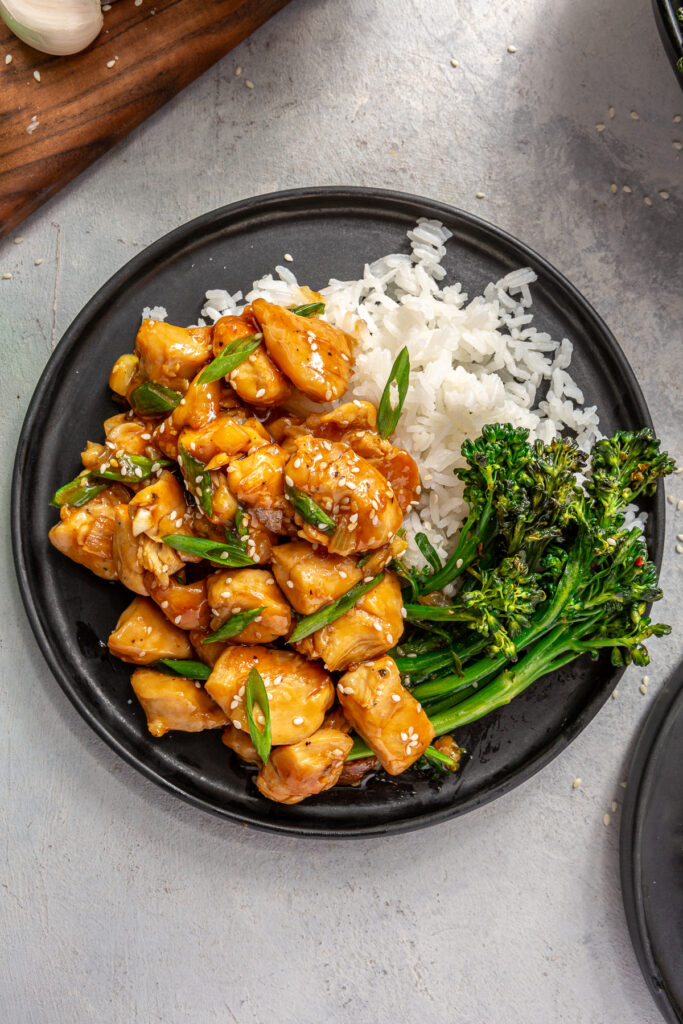 It's been a while since I made a recipe that has left me speechless and finishing the very last drop in the pan. Well my friends, HONEY SESAME CHICKEN. Add it to your list this week because you'll be dying to make it again and again and AGAIN. Promise!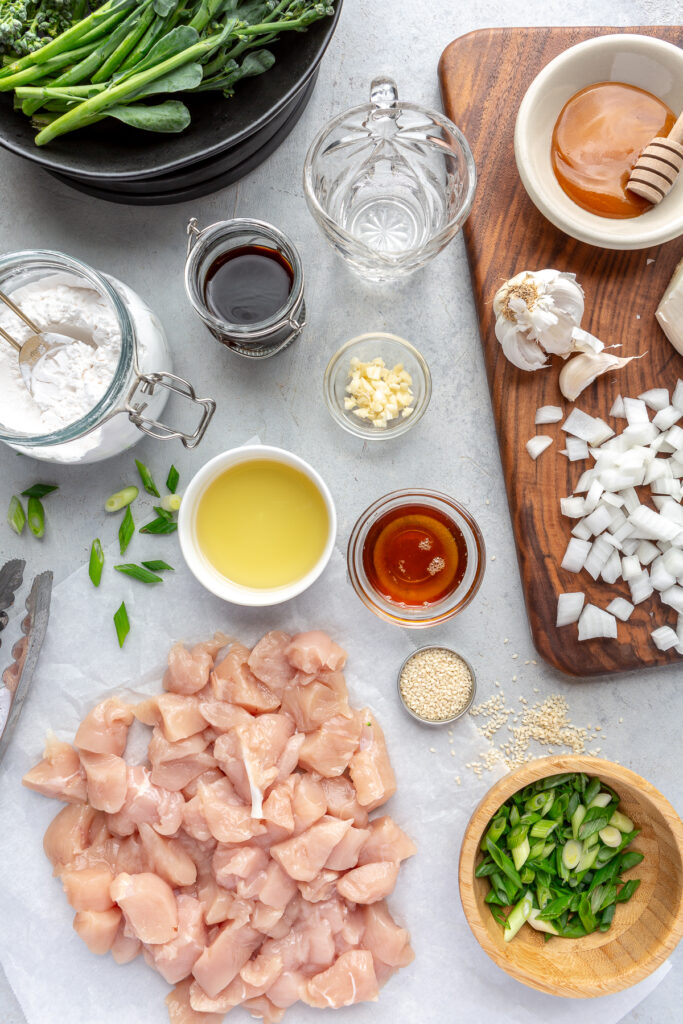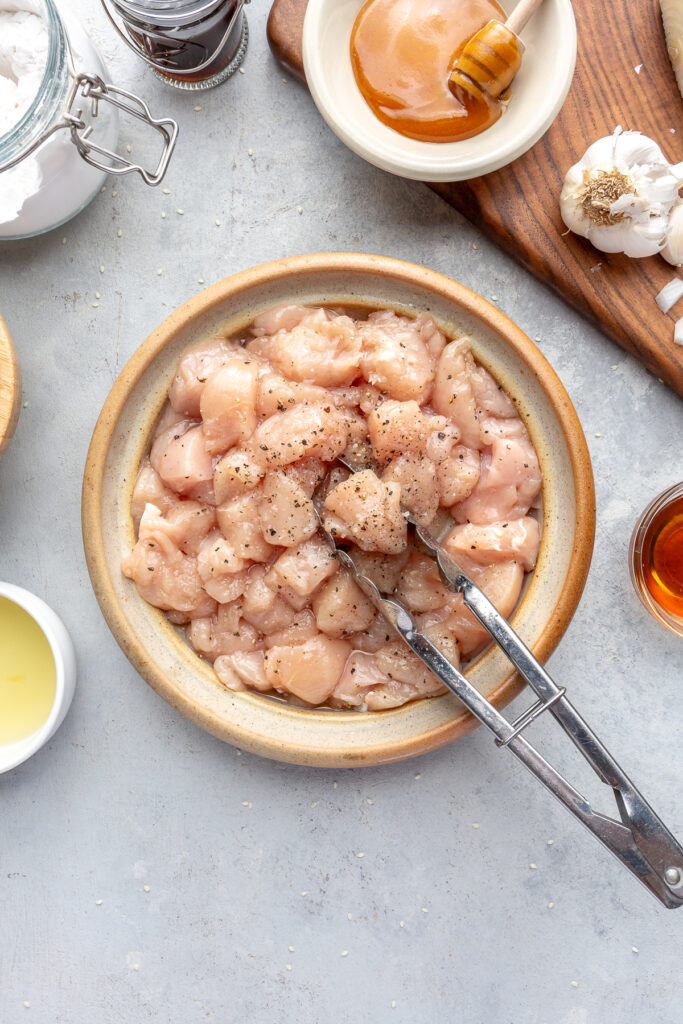 ONE-PAN HIGH-PROTEIN DINNER
We love a good high-protein weeknight meal, and if it's half the mess? There's just nothing better. I love serving chicken for dinner, as it's naturally high in protein and so easy to use as a base for so many good flavors. The sauce for this dish is insane, if I do say so myself, and gives that dependable weeknight chicken a spotlight in your dinner rotation. This meal comes together in a single skillet, which is not only great for cleanup, but allows all the flavors to really come together. And just in case I haven't yet convinced you to make this dish tonight, it shouldn't take you more than 20 minutes from the time you start to cook to the time you sit down to eat. Bon appetite, convenience.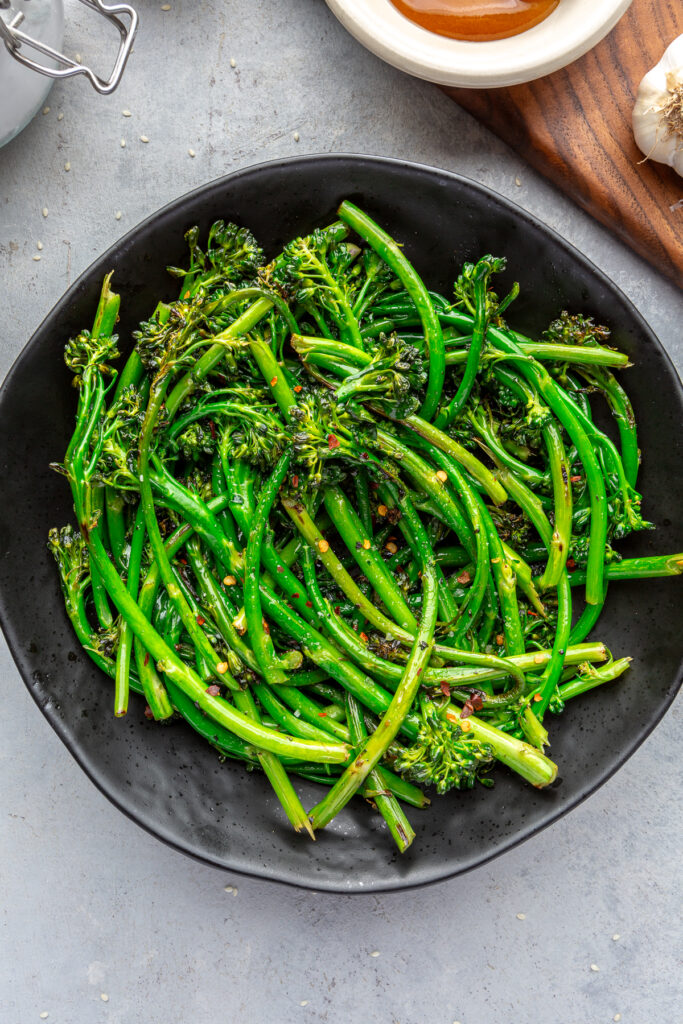 SIMPLE AND HEALTHY MEAL FOR THE WHOLE FAMILY
This recipe is almost too simple for how delicious it is. Made with just a handful of pantry-staple ingredients, you'll be pleasantly surprised to find that you can have all the flavors of your favorite takeout meal for less time, with things you already have on hand. I just know you're going to love this one, so do yourself a favor and double the recipe so that you're set for healthy lunches or leftovers throughout the week. Bridger's official review is that this saucy chicken is better than takeout and tastes like an "unhealthy" treat… I mean, that's just about the highest husband compliment you can get.
Completely gluten-free, dairy-free, refined sugar-free (and low sugar with only 2 tablespoons of honey in the entire recipe), this recipe is not only well balanced nutritionally, but sure to impress any picky eater.
Try pairing this meal with my absolute favorite side, Crispy Buttery Broccolini.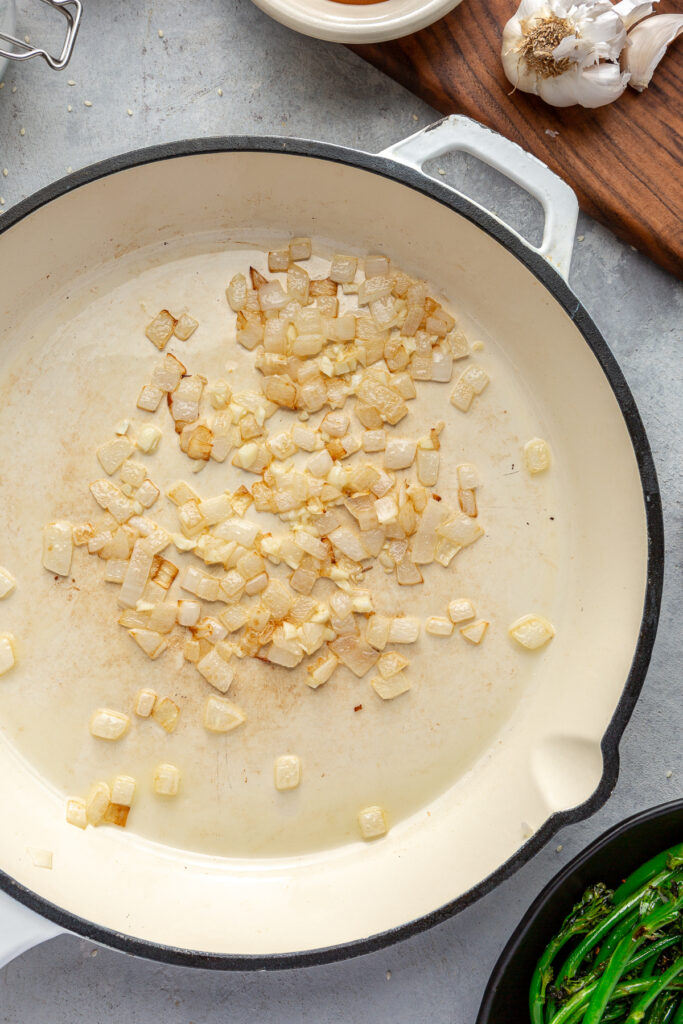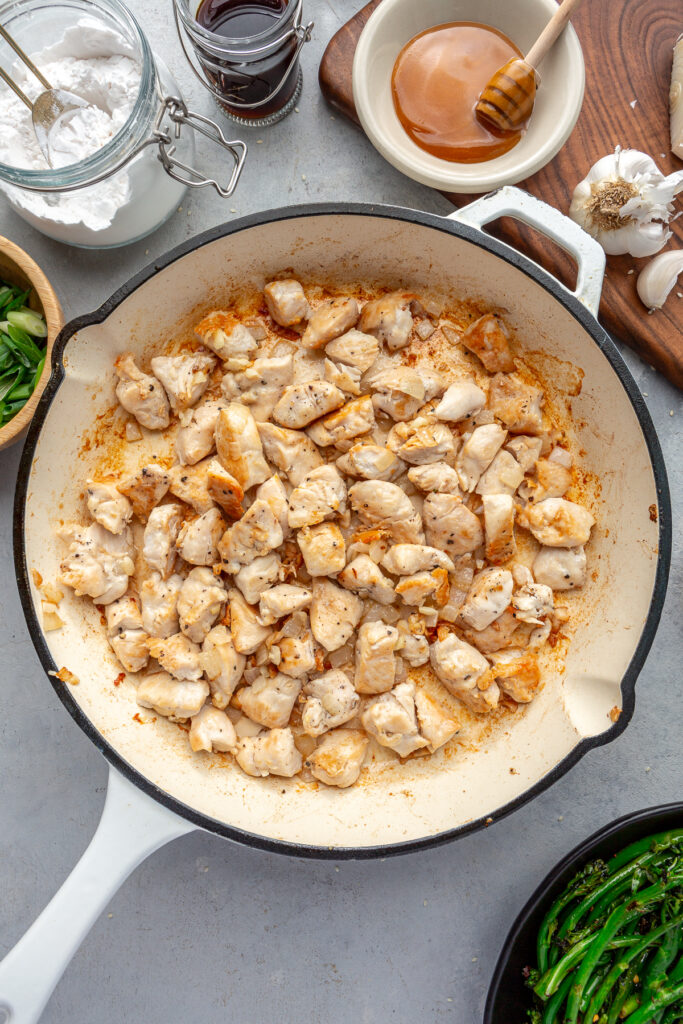 INGREDIENTS YOU'LL NEED
Avocado Oil or Extra Virgin Olive Oil
Onion
Garlic
Organic Chicken Breast
Coconut Aminos
Raw or Manuka Honey
Sesame Oil
Arrowroot Starch or Corn Starch
Green Onion
Sesame Seeds
HOW TO MAKE 20-MIN HONEY SESAME CHICKEN
Before getting started on the chicken, prep your preferred rice and let it cook while you finish making the rest of the meal. I prefer organic basmati rice, but any rice will be delish paired with this chicken and the finger-licking sauce. Prep any other sides that you prefer, and then let's get cooking!
Once you've gotten your rice prepped or started, prep for the rest of the meal by dicing the onion and garlic. Set aside. Then prep the chicken by cutting each breast into bite-size cubes. Once cubed, add to a large bowl with the avocado oil, and a generous pinch of salt and pepper. Mix until well coated, and allow the chicken to marinate while you heat a skillet.
Heat a large skillet or dutch oven over medium heat and add 1-2 tablespoons of avocado oil. Heat the oil until hot but not smoking, then add onion and garlic and sauté until the onions are slightly soft and translucent. Add the chicken to the skillet, doing your best to space it evenly so that it can brown evenly.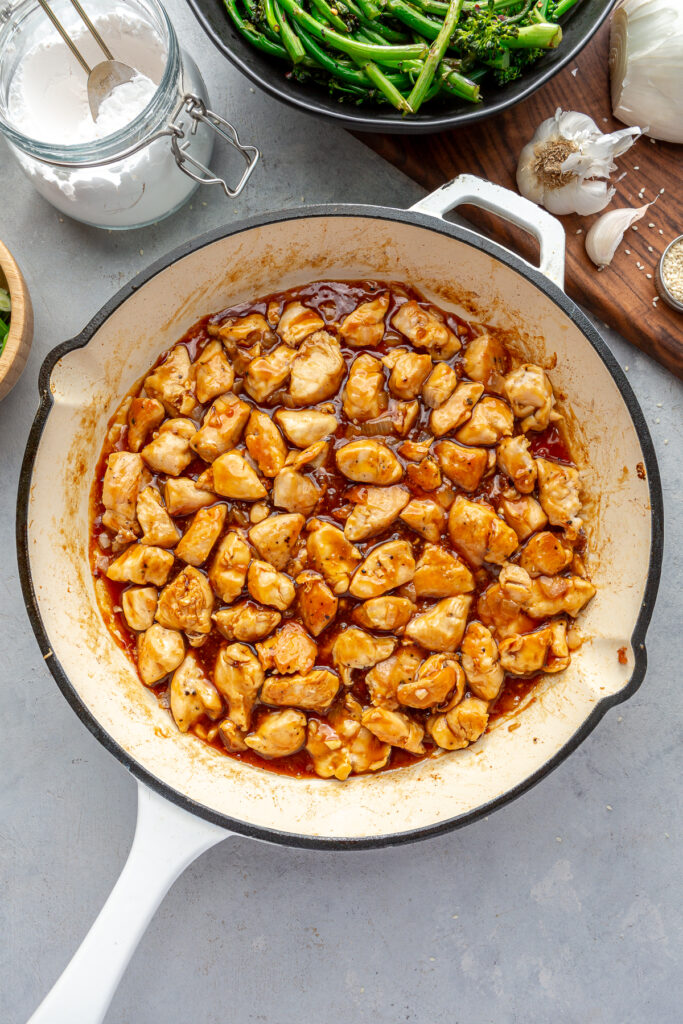 Rotate each piece of chicken after 2 minutes, browning 2-3 sides and cooking it almost all the way through. No worries if it doesn't hit 165 degrees F at this stage, it'll continue to cook as the sauce simmers.
Add coconut aminos, honey, sesame oil, and water to the skillet and stir well. In a separate small bowl, add a few tablespoons of water and 1 tablespoon arrowroot starch. Whisk until completely dissolved, then add to the skillet. Allowing the arrowroot to dissolve in water before adding it to the sauce makes a 'slurry' – which helps ensure that the arrowroot starch will thicken the sauce instead of clumping up and creating grainy pockets of undissolved powder. I know it's an extra step, but it's one you don't want to skip! Stir well, and cover, cooking for 5-7 minutes over medium heat.
Remove from the heat, and add the green onions and sesame seeds as garnish. Serve with rice and your choice of side. Enjoy!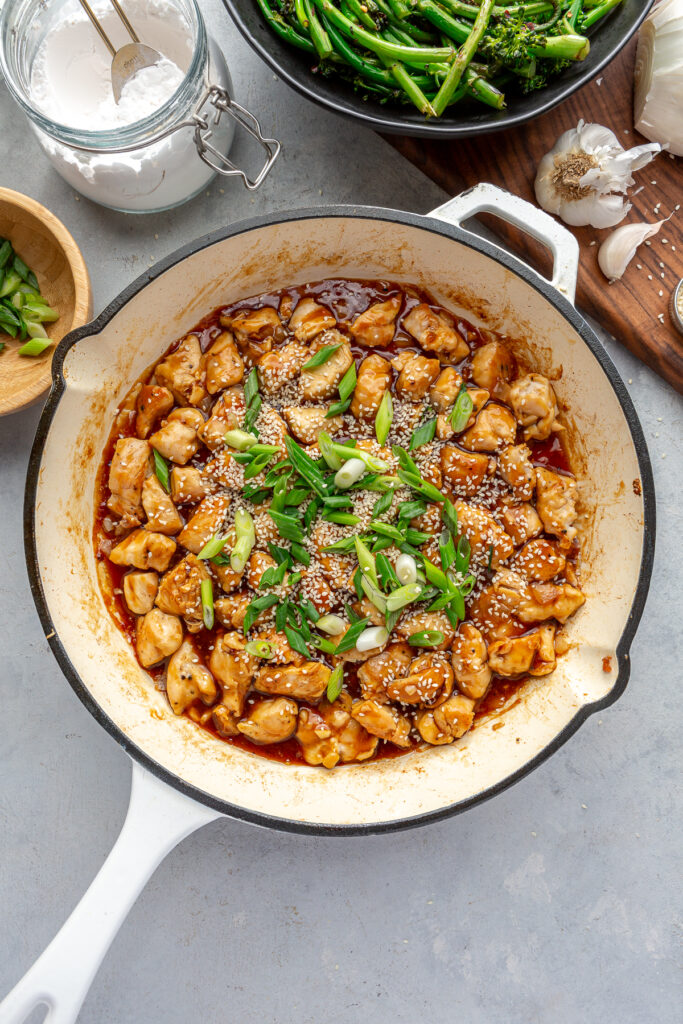 IS HONEY SESAME CHICKEN HEALTHY?
In this case, yes! It's no secret that this dish is a healthified take on a much unhealthier takeout menu item. Recreating your favorite not-so-healthy meals at home is life changing – it turns out dinner doesn't need to be deep fried to be delicious :). In my education as a dietitian, I've learned that 'healthy' isn't black or white. Healthy is a balanced plate made from high-quality ingredients, and this dish hits the mark! Protein-centric, high-quality carbohydrates and fiber for slowed digestion, a variety of colors and spices for micronutrients, and absolutely delicious and satisfying.
CAN I SUBSTITUTE OR SKIP THE ARROWROOT STARCH?
Arrowroot is the thickening agent used in this recipe to give the sauce the slightly sticky texture, and I don't recommend skipping it! If you don't have arrowroot, you can use corn starch as a substitute. Arrowroot is a great alternative for those with corn allergies/intolerances, is gluten-free, grain-free, vegan, and easily digested.
RECIPE SUBSTITUTIONS & QUESTIONS
Feel free to substitute corn starch for arrowroot starch. I haven't tested subbing soy sauce for the coconut aminos, which may give it a stronger, saltier flavor. Feel free to substitute maple syrup for the honey, though it will be a slightly different flavor. This sauce would also be delicious with shrimp, shaved beef, or the protein of your choice.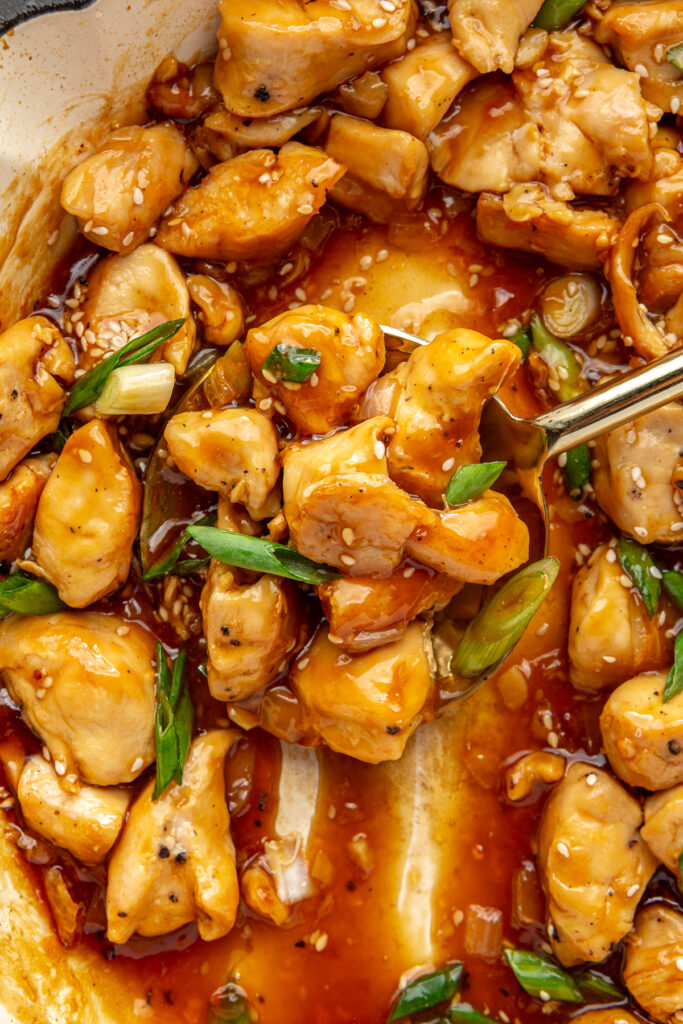 Paired with brown rice and broccolini, you'll be in heaven with this one! Check below for the easy recipe.
WANT MORE HEALTHY RECIPES LIKE THIS?
Spicy Pineapple Chicken Bowl With Veggies
Looking for more healthy recipes? Check out my New York Times Best Selling Cookbook, Rachael's Good Eats. 110+ easy, laid-back, nutrient-rich recipes.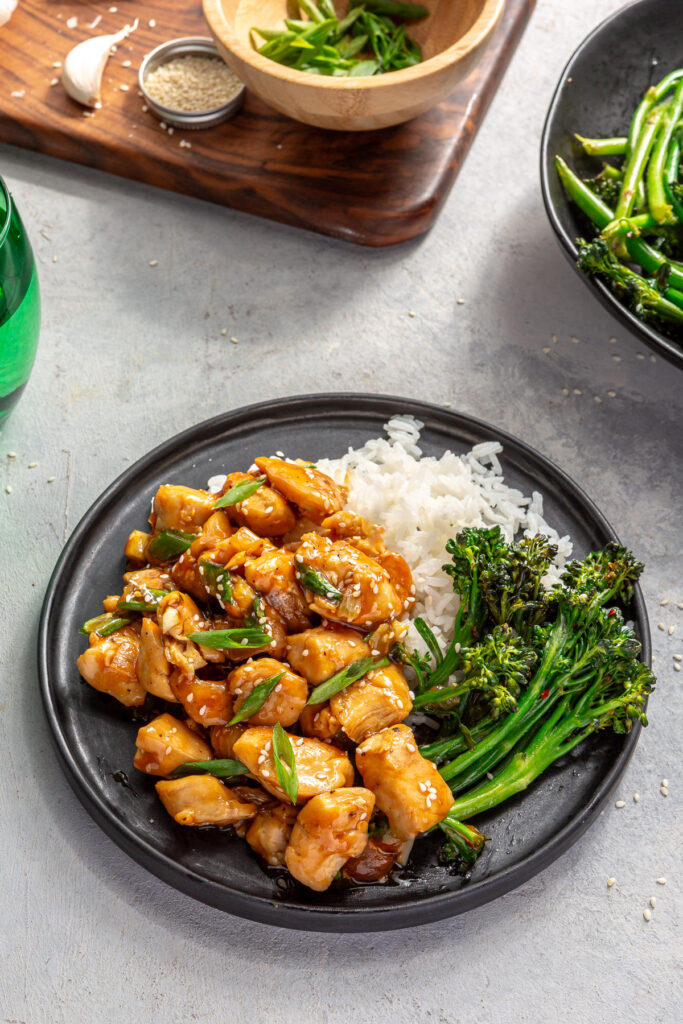 what I used to make this recipe:

20-Min Honey Sesame Chicken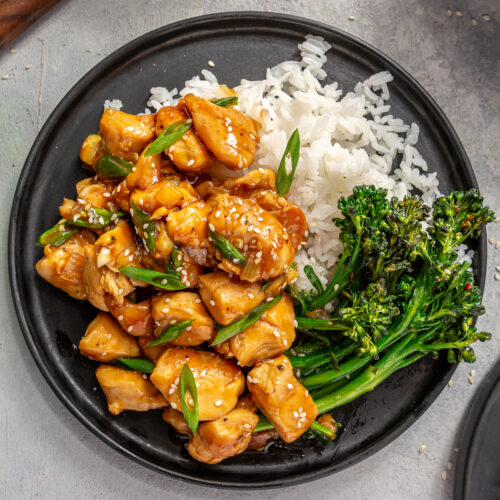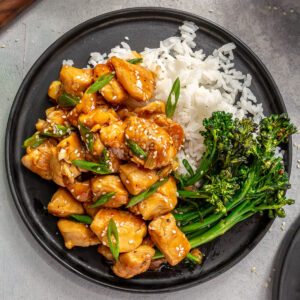 Ingredients
2

tbsp

avocado or extra virgin olive oil

1/2

cup

onion, diced

1/2

tbsp

minced garlic

3

large

organic chicken breasts, trimmed and cubed

1/3

cup

coconut aminos

,

(soy-free alternative to soy sauce)

2

tbsp

raw or manuka honey

2

tbsp

sesame oil

1/4

cup

water

1

tbsp

arrowroot starch

,

(or sub cornstarch)

1/2

cup

chopped green onion

2

tbsp

sesame seeds
Instructions
In a large bowl, let cubed chicken marinate with 1-2 tbsp oil, salt and pepper until your skillet is ready.

In a large pot or skillet, heat oil until hot, but not smoking. Add diced onion and garlic, and cook until onions are translucent, stirring every few minutes. Add your chicken and spread out evenly so it can brown.

Once almost fully cooked, add your other ingredients: coconut aminos, honey, sesame oil and water, and stir. Separately in a small bowl, add a few tablespoons of water and 1 tbsp arrowroot or cornstarch (to thicken the sauce). Stir until completely dissolved before adding to your skillet. Give everything another good stir and let heat on medium for 5-7 minutes, covered.

Remove from heat, add 1/4 cup chopped green onion and 1 tbsp sesame seeds to skillet and stir. Serve over rice with sauteed broccolini and another sprinkle of green onion and sesame seeds. Enjoy! 🙂