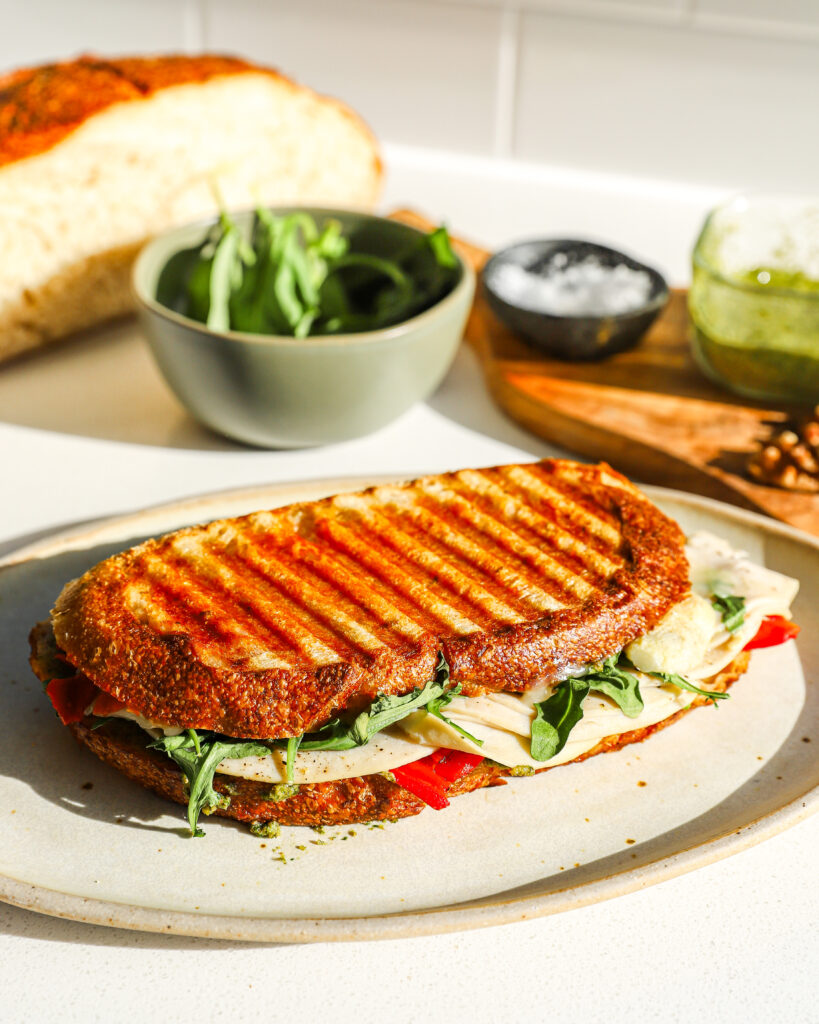 I love letting my random cravings dictate what we eat on a weekly basis. I'd say most of the time, it'll be no-fuss, like my One Pan Enchilada Skillet or burgers, but sometimes I'll get a craving for something I haven't had in years, like this loaded chicken pesto panini. My panini press has quite literally been collecting dust over the years– I think it was in constant use during college– so it was time to bring it out of the cupboard for this one. There's something about toasting the bread, and having a melty layer of cheese with all the fixings that really take a sandwich to the next level. Don't skip out on this one, it's way too easy (and fast!) and will quickly make it into your weekly rotation… or a fun weekend treat. I made one for Bridge and I and we inhaled them. A win!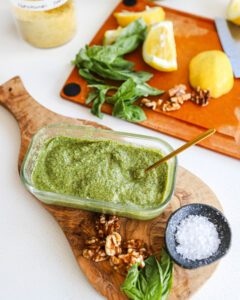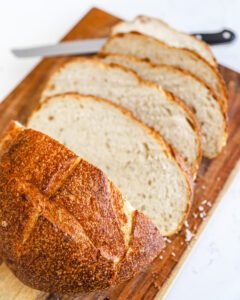 A SIMPLE SANDWICH, BUT MAKE IT A MEAL
Is it just me, or do you sometimes forget about sandwiches? I tend to make sandwiches for road trips, or days when I'm on-the-go, but not for dinner. I'll let you in on a little secret – the trick to elevating a sandwich is making it a panini. The way that the flavors come together is unreal, it's just the most satisfying way to enjoy a sandwich. This is the start of my panini era.. you heard it here first!
As a disclaimer, this isn't your standard on-the-go sandwich that only keeps you full for an hour. I'm always optimizing my recipes to make sure they're really giving me the fuel I need to get through the day, and this panini is no exception. Each sandwich comes in with 25-30 g of protein, healthy fat to keep you full, and carbs and fiber for energy and digestion.
This loaded chicken pesto panini makes for a great dinner or an elevated lunch experience. Pair it with a side salad and a few Siete chips (these are my fav) to really round out your meal in the best way.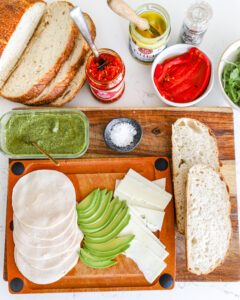 INGREDIENTS YOU'LL NEED:
Dairy-free Pesto (recipe included below)

Extra Virgin Olive Oil
Walnuts
Pine Nuts
Lemon
Nutritional Yeast
Fresh Basil Leaves
Garlic
Sea Salt
Ground Pepper

Rosemary Sourdough
Ghee
Calabrian Peppers
Avocado
Roasted Sweet Peppers
Goat Cheese
Artichokes
Organic Deli Chicken
Arugula
Sea Salt
Ground Pepper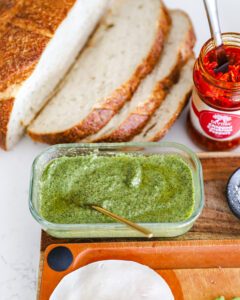 ALL THE DETAILS ON THIS LOADED PANINI
We all know that a good sandwich starts with good bread. I picked up the organic rosemary sourdough loaf from Whole Foods, and while it's not gluten-free, it was the perfect bread for the job. I have a gluten-sensitivity and try to eliminate it from my diet 90% of the time, but sometimes I can do fine with sourdough. I lathered the outside of the bread with ghee and just love how sourdough gets crispy on the outside while still having the fluffy center.
Then, by layering in the pesto, Calabrian peppers (if you enjoy spice!), avocado, and marinated roasted sweet red peppers, you get the most insane flavor combo. The deli chicken (or turkey if you prefer) and cheese get warm and melty, and adding the artichokes and arugula make this panini so perfectly loaded and fresh.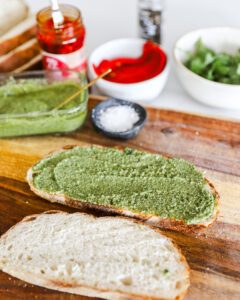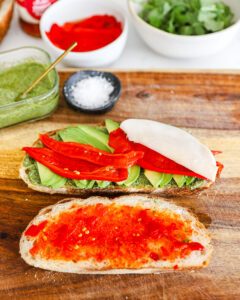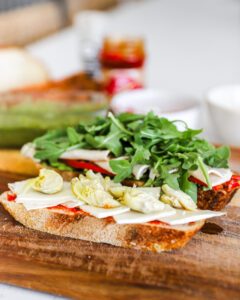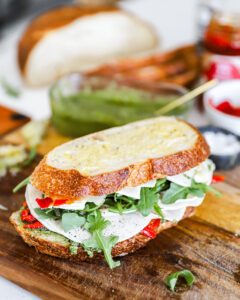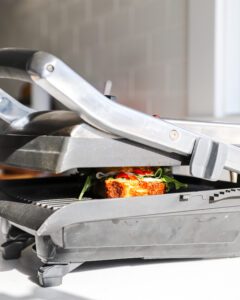 HOW TO MAKE A PANINI WITHOUT A PANINI MAKER?
While the panini press is the ultimate experience (the grill marks really get the crispiness to the next level), don't stress if you don't have one! You can skip the panini press and toast your sandwich in a hot skillet. I'd recommend heating your skillet over medium heat, and toasting the sandwich for ~2 minutes per side. Add a lid to help steam and melt the cheese.
ARE SANDWICHES A GOOD SOURCE OF PROTEIN?
The beautiful thing about making a sandwich is that you can add as many fixings as you want, and you can totally control the protein, fats, and carbs while doing so. While I don't count calories or macros (macronutrients), I do focus on my protein intake and aim to eat 20-35 grams of protein per main meal, and this panini is no exception. I'd recommend investigating your deli meat of choice– turn over the package and read the label. Check out what's in the ingredients and how much protein you're actually packing between the toasty slices of bread. I love using organic chicken (or turkey) deli meat as a high-quality protein source.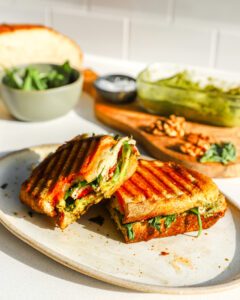 HOW TO MAKE THIS LOADED CHICKEN PESTO PANINI
You'll start by prepping the pesto. The great thing about this pesto is it's dairy-free, and you can swap in your preferred nuts as the base – I usually use walnuts, pine nuts, or both! Add extra virgin olive oil, nuts, sea salt, lemon, fresh basil leaves, nutritional yeast, minced garlic and ground pepper. Blend all together in a food processor and add a tablespoon or two of water to help consistency, if needed. Store in the refrigerator for up to 5 days, or freeze in an ice cube tray to use up to 3 months.
Once the pesto is made, heat up your panini press and lather the outsides of each piece of bread with ghee. Then you'll layer the pesto, Calabrian peppers, avocado, roasted peppers, deli chicken, artichokes, and cheese. Give both sides of the sandwich a fresh crack of black pepper and a sprinkle of sea salt. Add arugula, and add the sandwich to a hot panini press. Toast until the bread is golden and crispy and the cheese has started to melt, about 5 minutes.
RECIPE SUBSTITUTIONS & QUESTIONS
Feel free to sub in your preferred protein and cheese. Omit any of the toppings based on preference.
LOVE THIS LOADED CHICKEN PESTO PANINI? HERE'S MORE RECIPES YOU'LL LOVE:
High-Protein White Bean & Tuna Salad
High-Protein Chicken Caesar Wrap
Avo Chimichurri Breakfast Tacos
Loaded Chicken Pesto Panini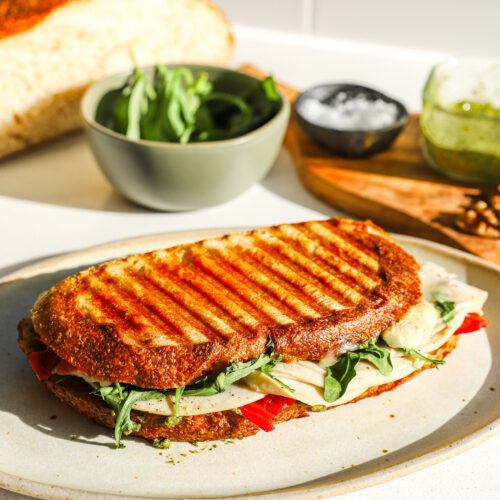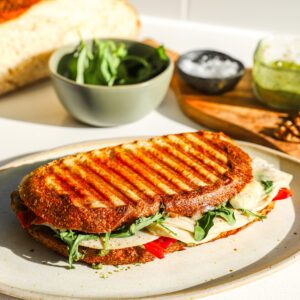 Ingredients
Homemade Basil Pesto
1/4

cup

extra virgin olive oil

1/3

cup

nuts

,

(I did a mix of walnuts and pine nuts)

1/2

tsp

sea salt

1

lemon

squeezed

2

handfuls fresh basil leaves

1

tbsp

nutritional yeast

1/2

tsp

minced garlic

1/4

tsp

ground pepper

2

tbsp

water
Panini
2

slices

bread of choice

,

(I used Organic Rosemary Sourdough)

1

tbsp

ghee

,

(I used Fourth And Heart)

3

tbsp

pesto

Calabrian peppers

,

(omit if you don't like spice)

1/2

avocado, thinly sliced

1

jar

marinated roasted sweet red peppers

2-4

slices

cheese

,

(I used goat cheese)

4

artichokes, quartered

6

slices

organic deli chicken

1

cup

arugula

fresh cracked pepper

sea salt
Instructions
Homemade Basil Pesto
*Combine all ingredients in a food processor and pulse until smooth. Store extra in an airtight container in the fridge, or divide and add to an ice cube tray in the freezer to store for up to 3 months.
Panini
Spread ghee on the outer pieces of bread. Add pesto to the inside of one of the slices of bread, and calabrian peppers to the other. Layer in avocado, red peppers, sliced deli chicken, cracked pepper, cheese, arugula, sea salt and artichokes.

Add to heated panini grill and press down. Let cook until golden and the cheese has melted.
Notes
*This pesto recipe will make extras. I recommend storing in an airtight container in the fridge for up to 5 days, or divide up into a silicone ice cube tray and freeze for up to 3 months.