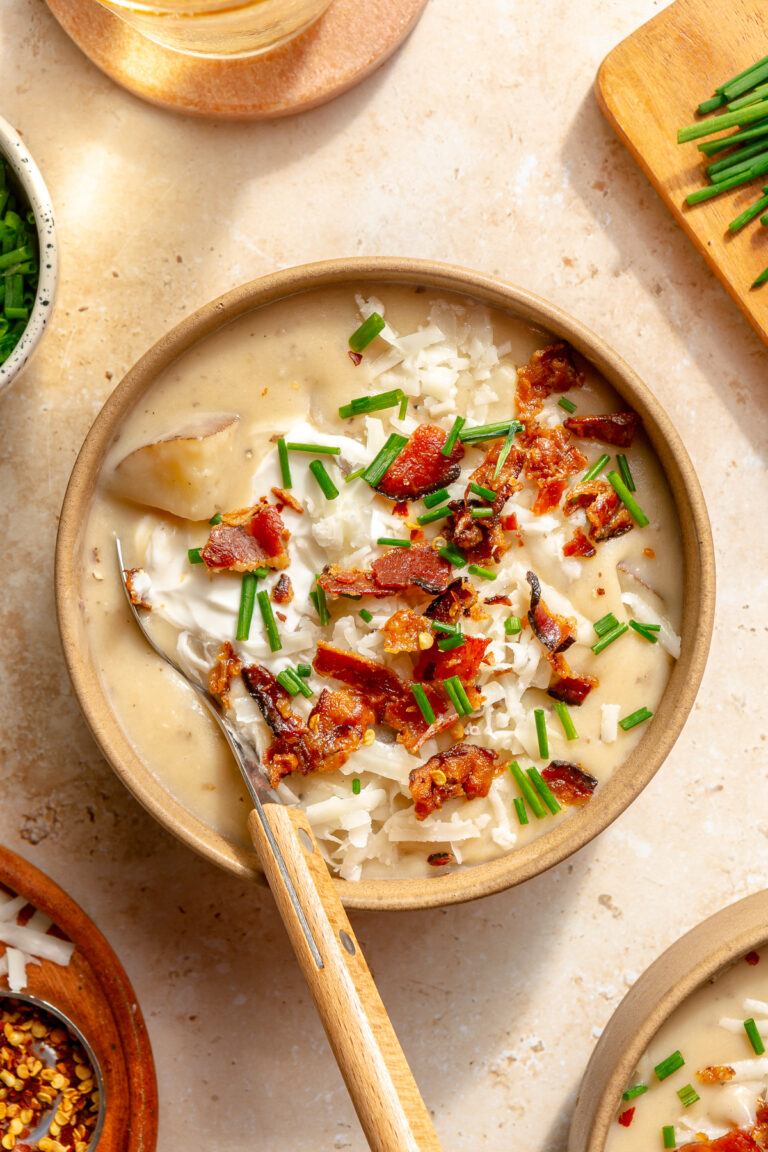 I can't be the only one whose veggie of choice as a kid was potatoes. Baked, roasted, mashed – there's no wrong way to prepare them. But loaded baked potatoes I was (and still am) especially a big fan of. Between the buttery, baked potato base and the endless topping options, it's the kind of comfort food that always hit the spot. So when I recently started my cozy seasonal soup series on Instagram, it was a no-brainer to turn one of my favorite childhood apps into a nutritious soup. Let's hear it for Loaded Baked Potato soup!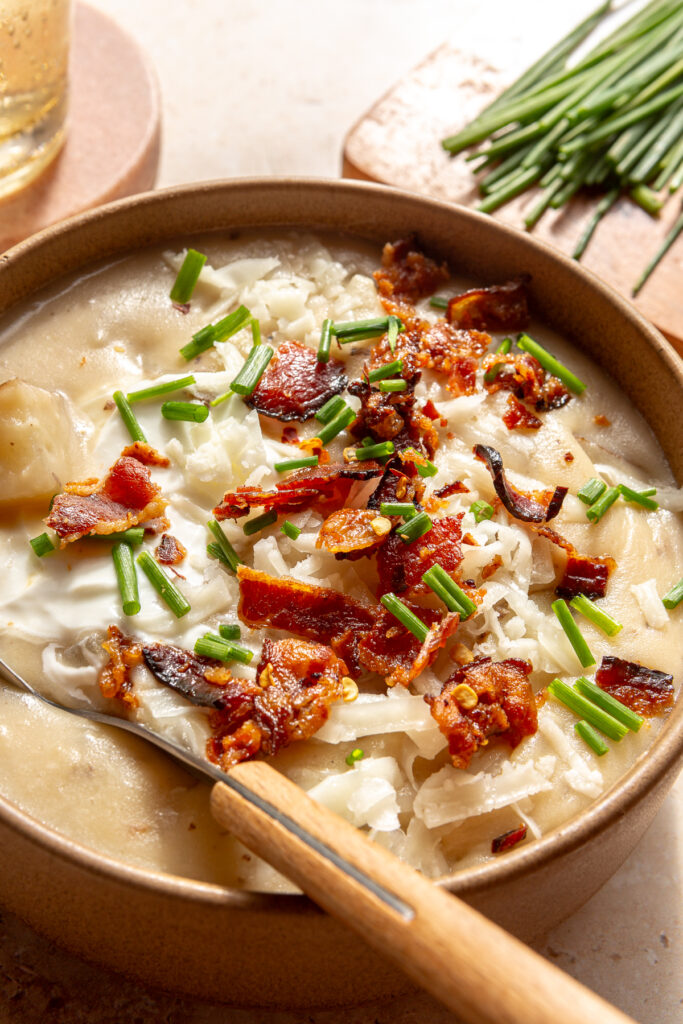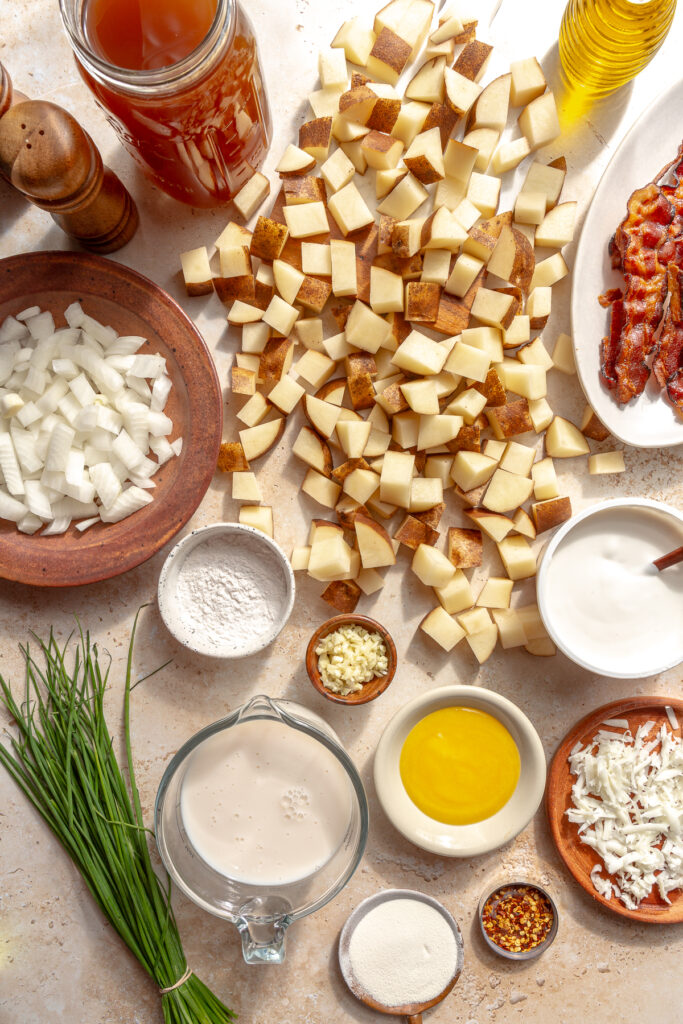 SUPERFOOD SOUP
We're getting deep into soup season, but I feel like I'm just starting to hit my soup stride. I was determined to perfect that velvety, baked potato soup texture, but keep it lactose-free and filled with all the nourishing flavor. I knew I nailed it when Bridger and I were basically speechless after the first bite – just look at our faces in the reel I made for this recipe. Husband-approved, flavor-filled and packed with health benefits – what's not to love? I'm pretty confident this will become a household favorite for everyone as soon as you make it.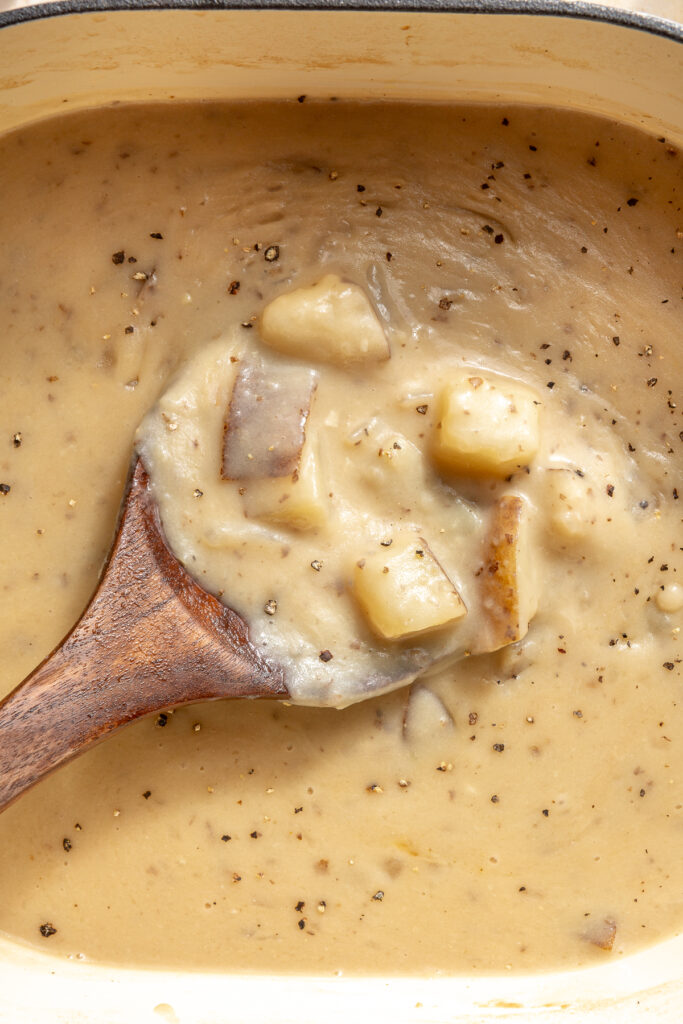 Potatoes are filled with nutrients like vitamin C, B6 and potassium, and they contain resistant starch (which can be helpful for blood sugar control). We're also using bone broth as our base in this recipe, which is high in collagen protein and great for our hair, nails, and skin. Potatoes and broth make for a creamy, delicious soup broth, let me tell you. The key is to only blend in about half of the potatoes, leaving the rest in cubes so you can really design your bite with each spoonful once you've added all the toppings.
Before we get into toppings though, I want to let you in on my favorite soup hack: collagen peptides. To boost the protein amount in any soup recipe (especially ones that don't contain meat as a main ingredient), I love blending in collagen because it's unflavored, dissolves right in (promise you won't taste it!), and it supports healthy hair, nails, skin, bones and joints. I might consider this a beauty hack too.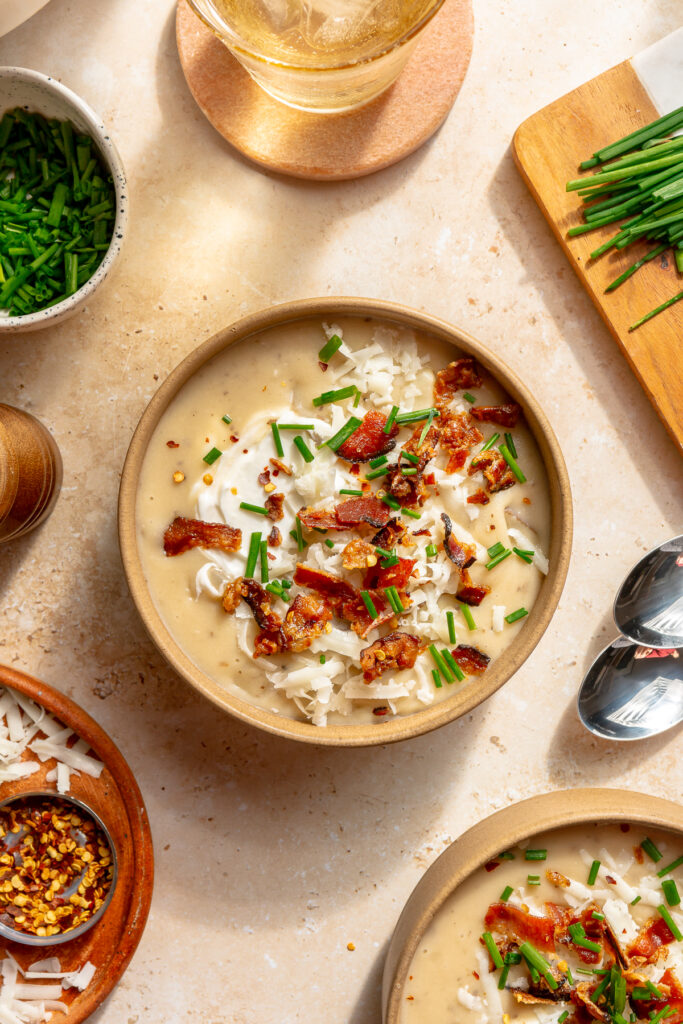 TOP IT OFF
OK, now this wouldn't be a loaded baked potato soup without all the toppings, amiright? Another way this recipe packs in the protein is with the deliciously crisp bacon slices. I also love to chop up some chives, shred a bit of goat cheese on top and of course add a dollop of the leftover dairy-free sour cream. To bring it all together and add one last dash of flavor, I'll sprinkle some black pepper and red chili flakes on top.
This one will have you coming back for seconds in no time, it's too good!
INGREDIENTS YOU'LL NEED:
White onion, diced
Avocado oil
Russet or yellow potatoes, washed and cubed
Ghee
Chicken bone broth
Milk (I used unsweetened almond)
Minced garlic
Arrowroot starch
Sour cream (I prefer @kitehillfoods dairy free)
Sea salt
Ground pepper, to taste
Optional: Collagen Peptides (I used @vitalproteins. It dissolves right in and is unflavored, but a great addition for protein!)
Toppings:
4-6 slices pasture-raised bacon
Chives
Sour cream
Shredded cheese (I used goat cheese)
Ground pepper
Red chili flakes
HOW TO MAKE LOADED BAKED POTATO SOUP
Add avocado oil to a large pot, along with diced onions, and sauté on medium to high heat for 3-4 minutes. Next, add in the garlic, stir, then add the ghee. Sauté for 2 minutes, then add the washed and cubed potatoes and bone broth. Cover and boil for 10-12 minutes, or until the potatoes are fork tender, then reduce the heat. Whisk together milk and arrowroot starch, then add the mixture to the pot and stir.
Next, mix in sour cream, sea salt, ground pepper and collagen, if using. Using an immersion blender, blend about half of the potatoes, leaving the rest in cubes. Now your soup is ready to serve!
Top with shredded cheese, green onion, bacon, sour cream, pepper and red chili flakes. Enjoy!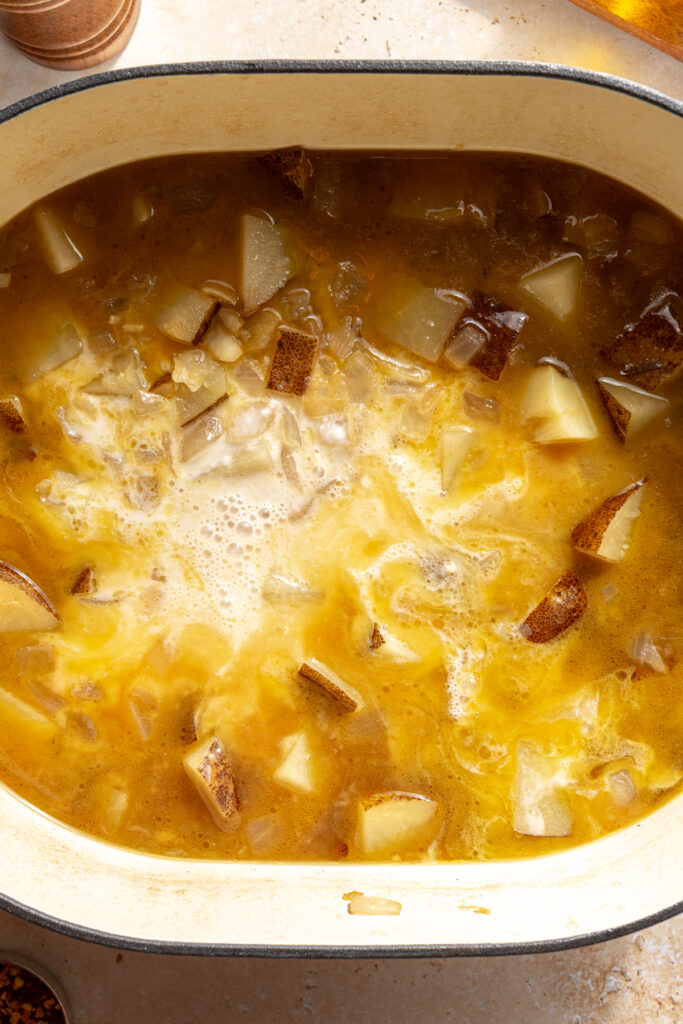 RECIPE SUBSTITUTIONS & QUESTIONS
My goal was to keep this soup lactose-free, so you'll notice I used all the lactose/dairy-free alternatives like ghee, dairy-free sour cream, unsweetened almond milk, and shredded goat cheese, but if you prefer and/or do not have any dairy sensitivities, then feel free to replace with the regular dairy options (i.e. butter, sour cream, any kind of regular milk and cheddar cheese for the topping).
If you decide to add collagen, my go-to is the Vital Proteins unflavored collagen peptides, but there are plenty of other options out there too. I'd recommend keeping it unflavored so it doesn't alter the flavor of the soup.
As for the bone broth, I usually buy store-bought organic (Kettle & Fire is one of my favorites), but this can be homemade ahead of time as well (typically, by simmering marrow-rich animal bones – like chicken, beef, or turkey – for hours).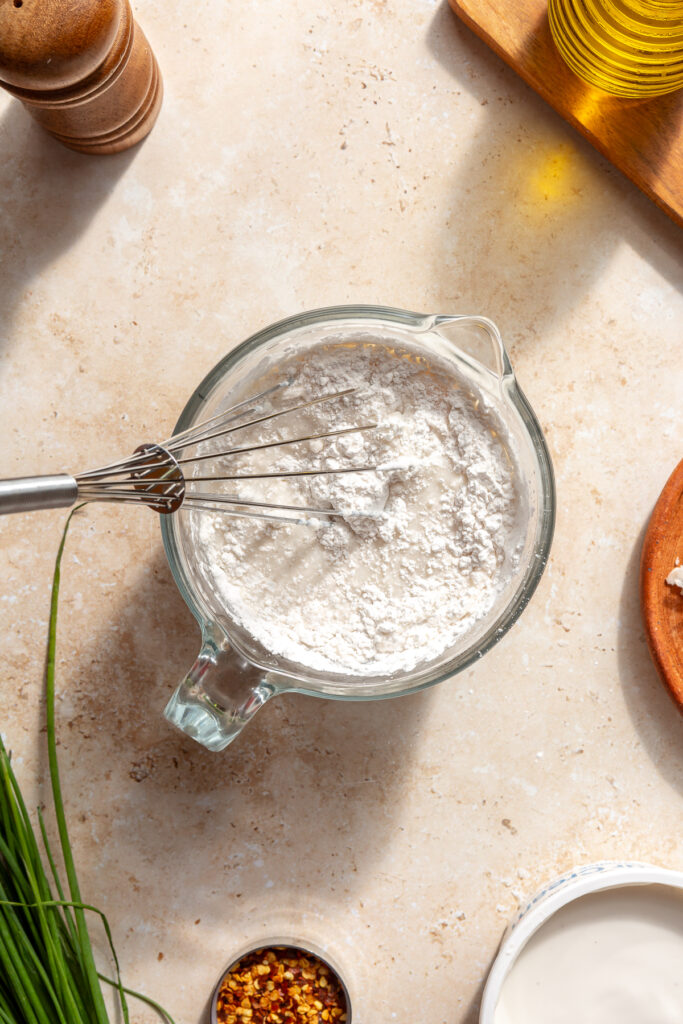 WHAT TYPE OF POTATO IS BEST FOR POTATO SOUP?
I recommend using russet or yellow potatoes (also known as all-purpose baking potatoes) because they are low- to medium-starch potatoes. Aka, when used in soups, they have enough starch to become creamy when heated up, yet waxy enough to maintain their shape – which is ideal since this recipe calls for blending half into the base, leaving the other half cubed to get that chunky, baked potato soup texture.
WHAT IS THE BEST THICKENING AGENT FOR POTATO SOUP?
Soup can be thickened by adding flour, cornstarch, or any kind of starchy substitute. I prefer to use arrowroot starch as a gluten-free alternative. Arrowroot is a root vegetable that is ground into powder form which can then be used as a thickening agent and GF flour. The trick is to never add your flour/cornstarch/thickening agent directly to your soup, to avoid clumps. Instead, you'll want to first make a slurry (thickening agent of choice + water or milk) before adding to your pot.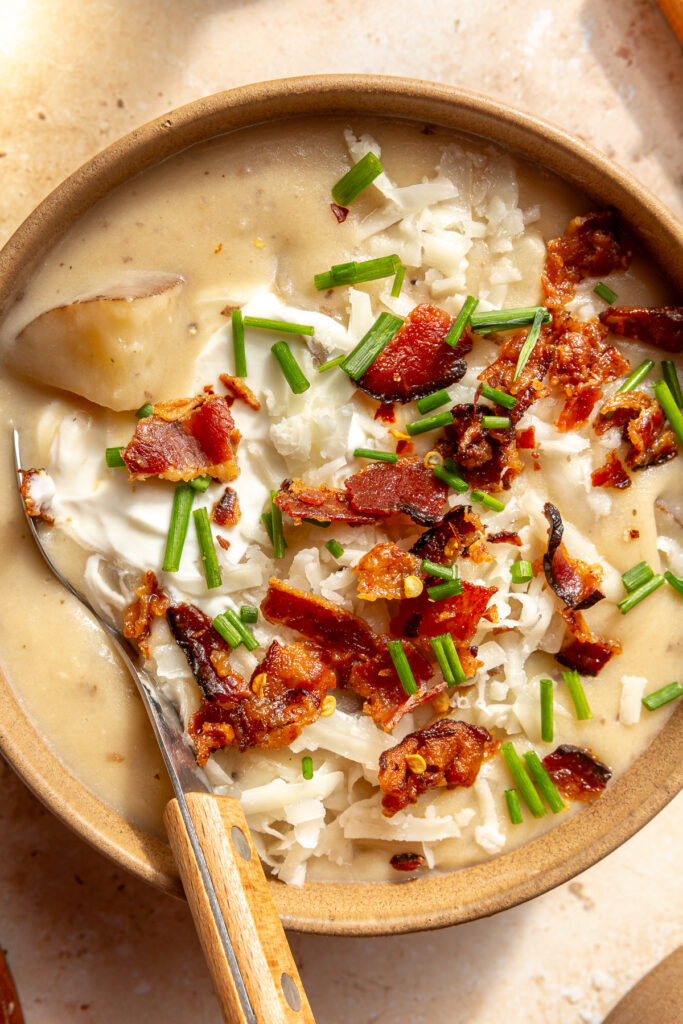 LOOKING FOR MORE COZY SOUP RECIPES?
Sausage, White Bean & Kale Soup
Roasted Tomato Basil Soup & Grilled Cheese
Shredded Chicken Verde Bone Broth Soup
Looking for more healthy recipes? Check out my New York Times Best Selling Cookbook, Rachael's Good Eats. 110+ easy, laid-back, nutrient-rich recipes.
Click here to watch the reel I made of this recipe 🙂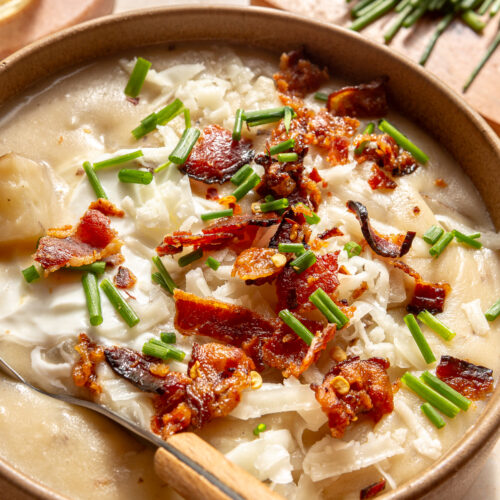 Ingredients
1

white onion

,

diced

2

tbsp

avocado oil

3

lbs

russet or yellow potatoes

,

washed and cubed

3

tbsp

ghee

4

cups

chicken bone broth

2

cups

milk

,

I used unsweetened almond and you can't taste it

1

tbsp

minced garlic

3

tbsp

arrowroot starch

1/2

cup

sour cream

,

I used @kitehillfoods dairy free

1

tsp

sea salt

Ground pepper

,

to taste

Optional: 1/4 cup collagen peptides

,

I used @vitalproteins. It dissolves right in and is unflavored, but a great addition for protein!
Toppings
4-6

slices

pasture-raised bacon

Chives

Sour cream

Shredded cheese

,

I used goat cheese

Ground pepper

Red chili flakes
Instructions
Add oil to a large pot, along with diced onions to sauté on medium to high heat for 3-4 minutes. Add in garlic, stir, then add ghee. Sauté for 2 minutes, then add washed & cubed potatoes and bone broth.

Cover and boil for 10-12 minutes, or until potatoes are fork tender. Reduce heat.

Whisk together milk and arrowroot starch, then add to the pot & stir. Mix in sour cream, sea salt, ground pepper and collagen, if using.

Use an immersion blender to blend about half of the potatoes, leaving the rest in cubes. Ready to serve!

Top with shredded cheese, green onion, bacon, sour cream, pepper & red chili flakes 🤌