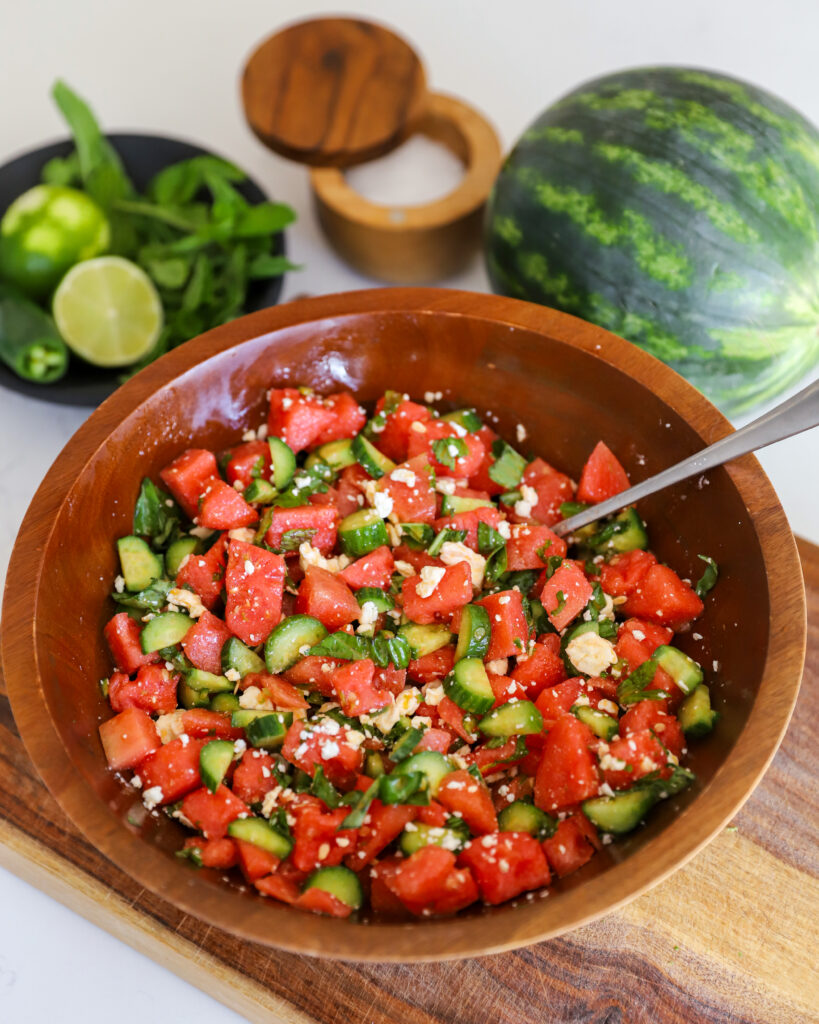 If you need a good refreshing salad, this one is it! I don't know about you, but I am the biggest sucker for chilled seedless watermelon, so this definitely hits all my cravings here. This salad is a perfect (and super quick) side to any grilled meal, and will blow away any party/gathering you bring it to. It's made with watermelon, plenty of fresh summer herbs like mint and basil, cucumber, crumbled feta and a little citrus from some lime. After seeing it all over my Reels and TikTok the past few weeks, I finally gave in and I know you'll love it too!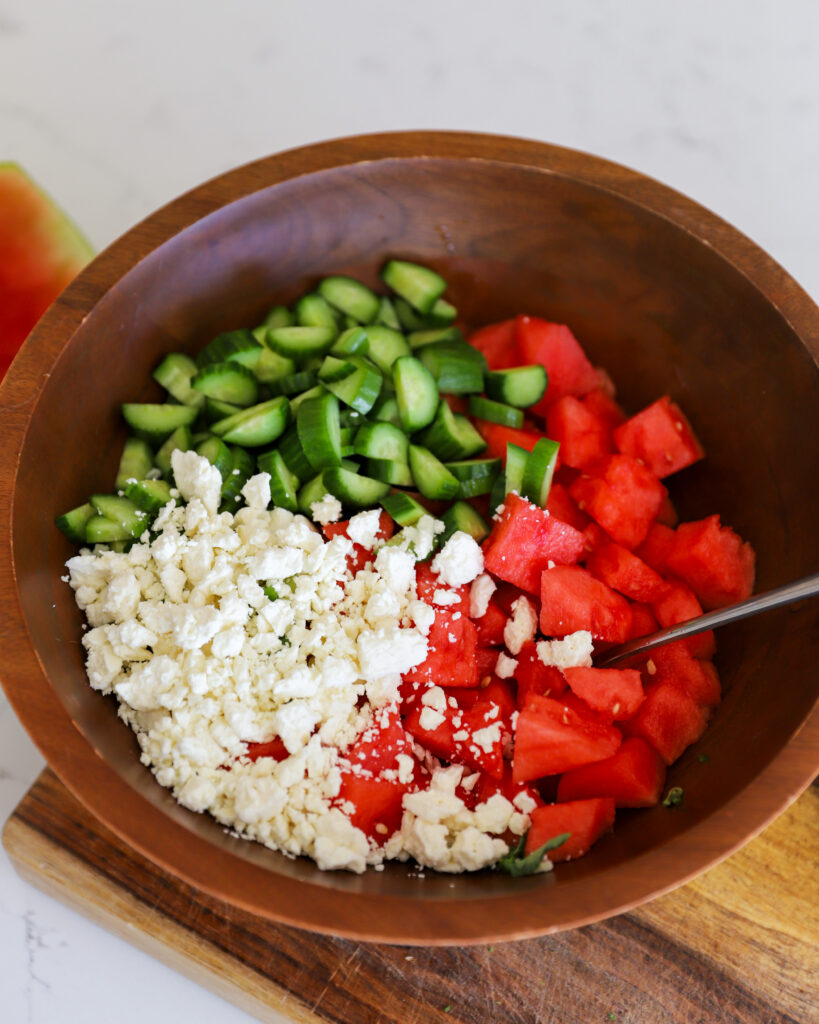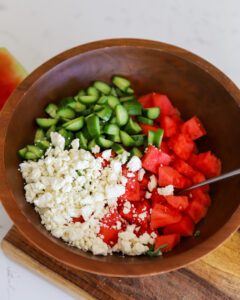 A Quick, Simple and Delicious Summer Side
This salad is going to be a side-dish staple this summer. I love being able to use watermelon in a dish, especially when it's in season. Feel free to use a mini watermelon or half of a large watermelon, and store the other half for snacks throughout the week.
WHAT TO SERVE WITH WATERMELON SALAD?
This dish would pair well with your favorite summer dinner – grilled chicken, veggies, corn on the cob are all drool-worthy combinations. But as far as I'm concerned, I have no shame in taking a fork straight to the bowl and enjoying this salad as a refreshing snack!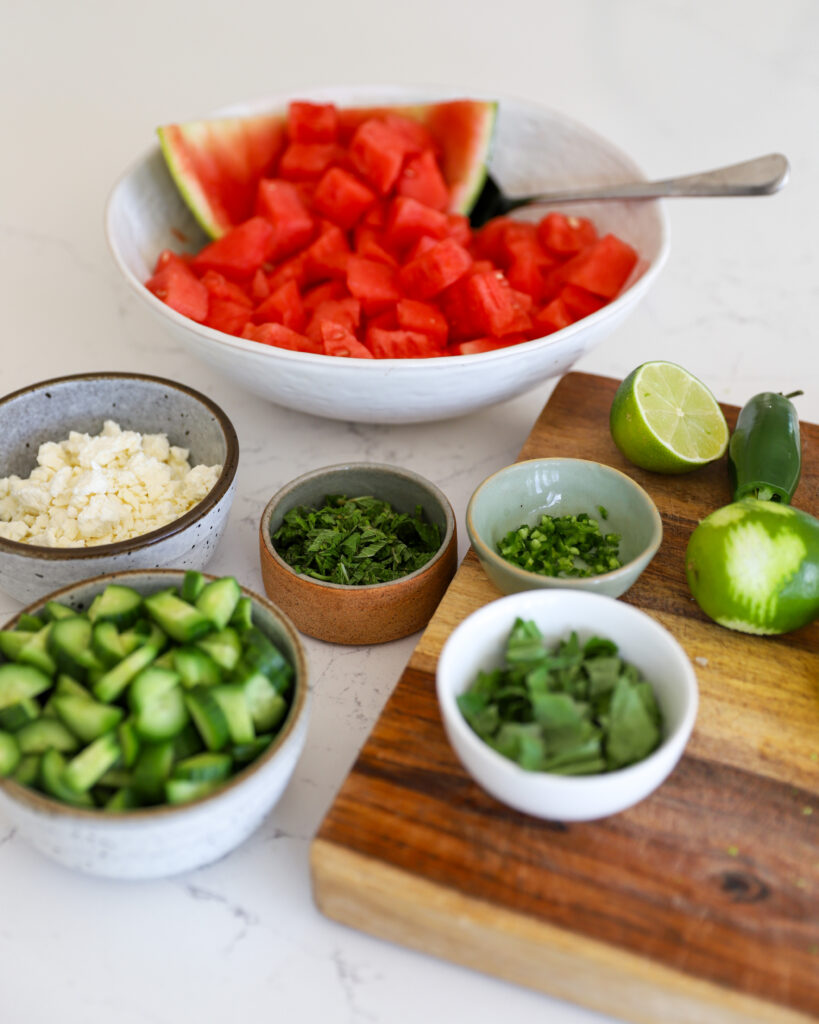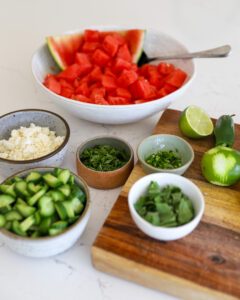 I recommend enjoying this salad right away as the textures and flavors are best when super fresh. You can easily cut and prep all the ingredients and store them separately until you're ready to serve it to ensure it's not sitting too long when it's time to eat.
What Pairs Well With Watermelon?
Ok, I think social media has nailed the simple summer flavors in this salad, but there are so many ways to customize it to your diet and flavor preference. The cucumber is a must because it adds the best crunch to the salad, the feta adds a salty creamy flavor, and the herbs and watermelon keep it bright. If you're not a fan of either mint or basil, you can just choose one instead.
Finally, if you want some spice (I always do!) you can add finely chopped jalapeño, which I did to my variation.
The dressing is so simple and delicious. It's just 3 ingredients, all of which are fridge and pantry staples in the summer. In my opinion, extra virgin olive oil is a necessity for a good salad dressing, not to mention it's full of heart-healthy fats and antioxidants, and is a powerful brain super-food.
Ingredients Y0u'll Need:
Watermelon
Cucumber
Crumbled Feta
Mint
Basil
Feta
Jalapeño (optional)
Lime juice and zest
Extra Virgin Olive Oil
Sea Salt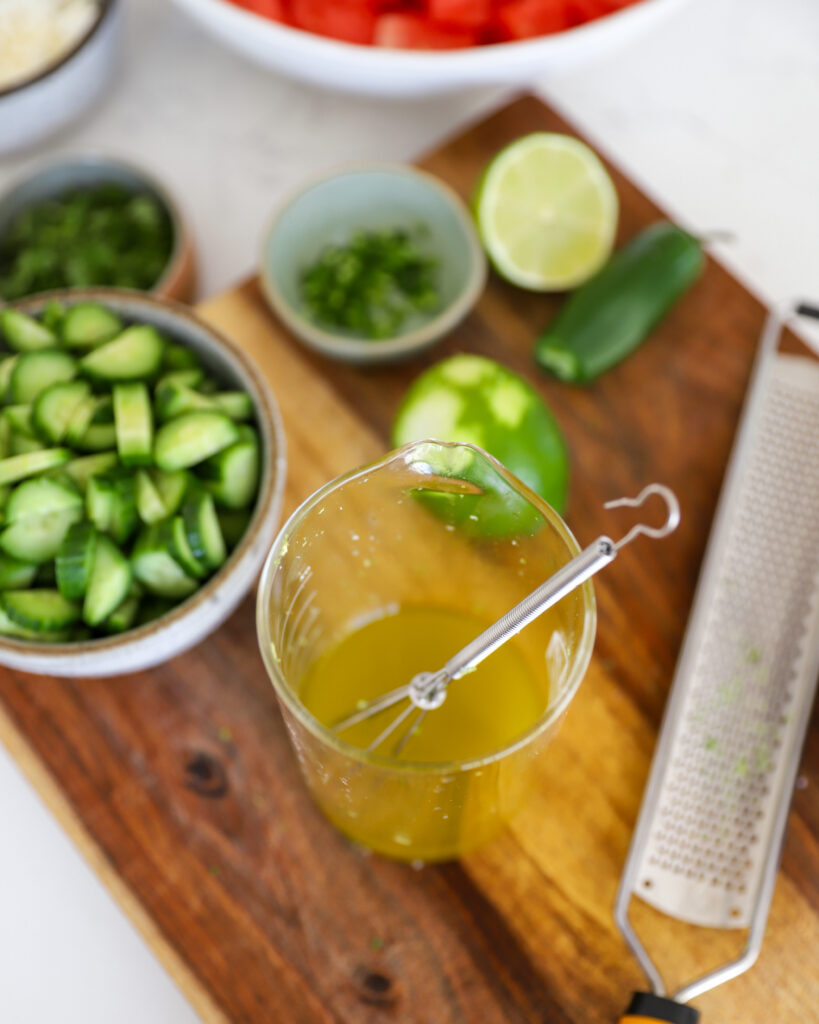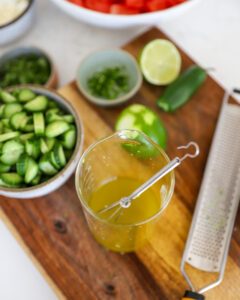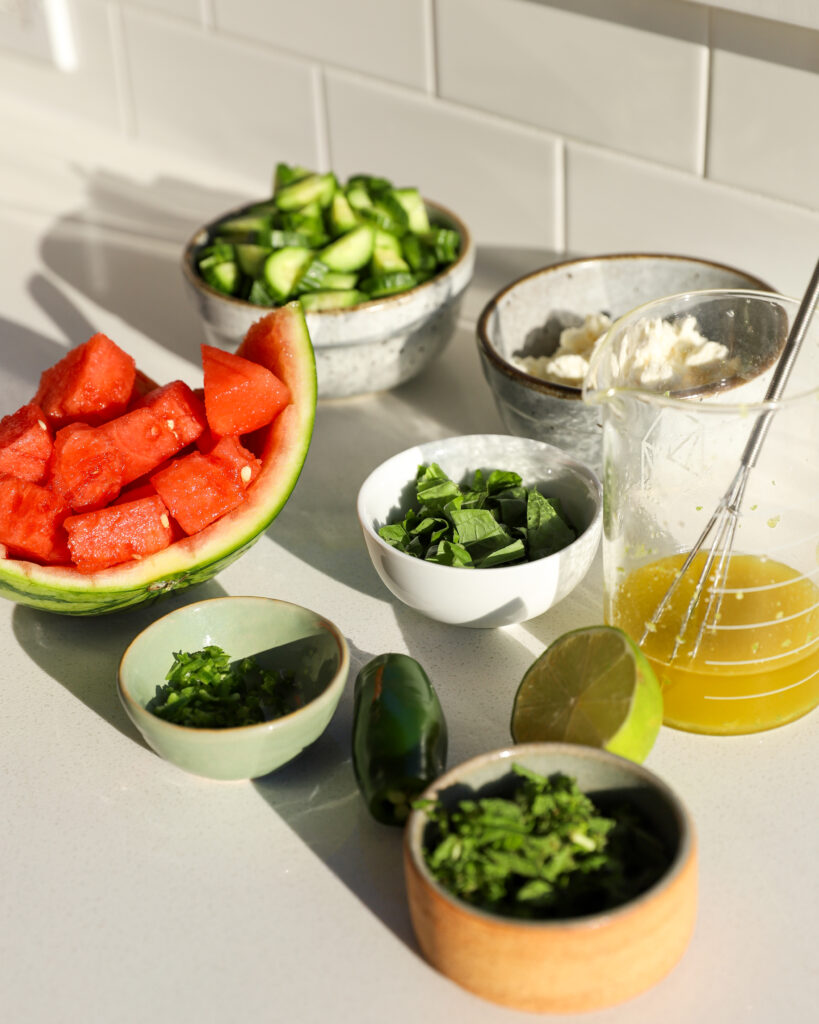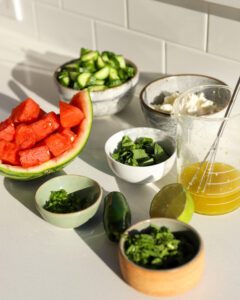 How To Make The Viral Watermelon Salad
In a large salad bowl, whisk together the extra virgin olive oil, lime juice, lime zest, and sea salt. Set that aside while you prep the rest of the salad ingredients.
Start by peeling the watermelon and cutting it into bite-sized cubes. If you're using a large cucumber, slice from top to bottom, then again on each half. From there, make cuts width-wise into quarter-size pieces. If you're using Persian cucumbers (my preference), cut them in half the long way and chop into half moon shapes. Finely chop the jalapeño (if using) and the herbs. Keep the ingredients separate until you're ready to serve to preserve freshness and texture.
To assemble the salad, add all the prepped ingredients to the bowl with the dressing. Gently mix until everything is well coated.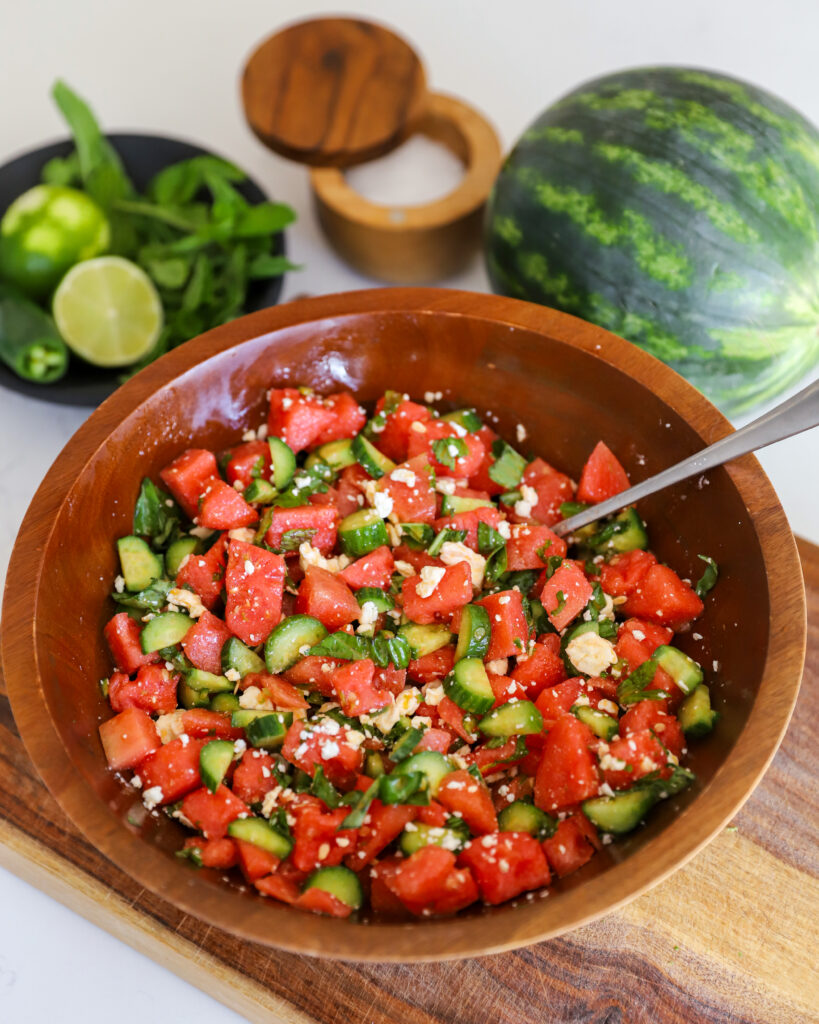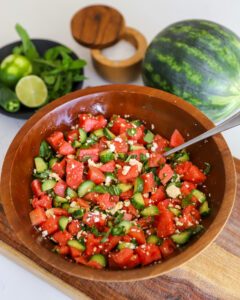 Recipe Substitutions & Questions
Feel free to replace feta with goat cheese, or the crumbled cheese of your choice. If you like spice, you can swap the jalapeño for your favorite pepper.
Love This Watermelon Summer Salad? Here's More Sides & Salads You'll Love:
High-Protein White Bean & Tuna Salad
Healthy Fried Zucchini Blossoms
Click here for the Reel I made of this recipe 🙂
The Viral Watermelon Summer Salad You Need To Make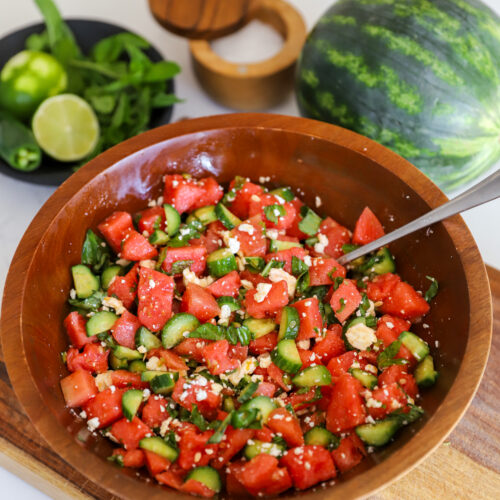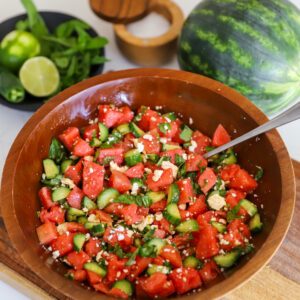 Ingredients
Dressing
1/2

lime,

juice & zest

3-4

tbsp

extra virgin olive oil

1/2

tsp

sea salt
Watermelon Salad
1

tsp

jalapeño, finely chopped

,

(optional)

1/4

cup

fresh basil, chopped

1/4

cup

fresh mint, chopped

1

mini watermelon, cubed

3

Persian cucumber, cut into half moons

3/4

cup

crumbled feta
Instructions
Dressing
Whisk together the dressing ingredients in a large bowl.
Watermelon Salad
In the same bowl as the dressing, add the jalapeño (if using) and the herbs and mix well.

Add the remaining ingredients and toss together. Enjoy within 24 hours!