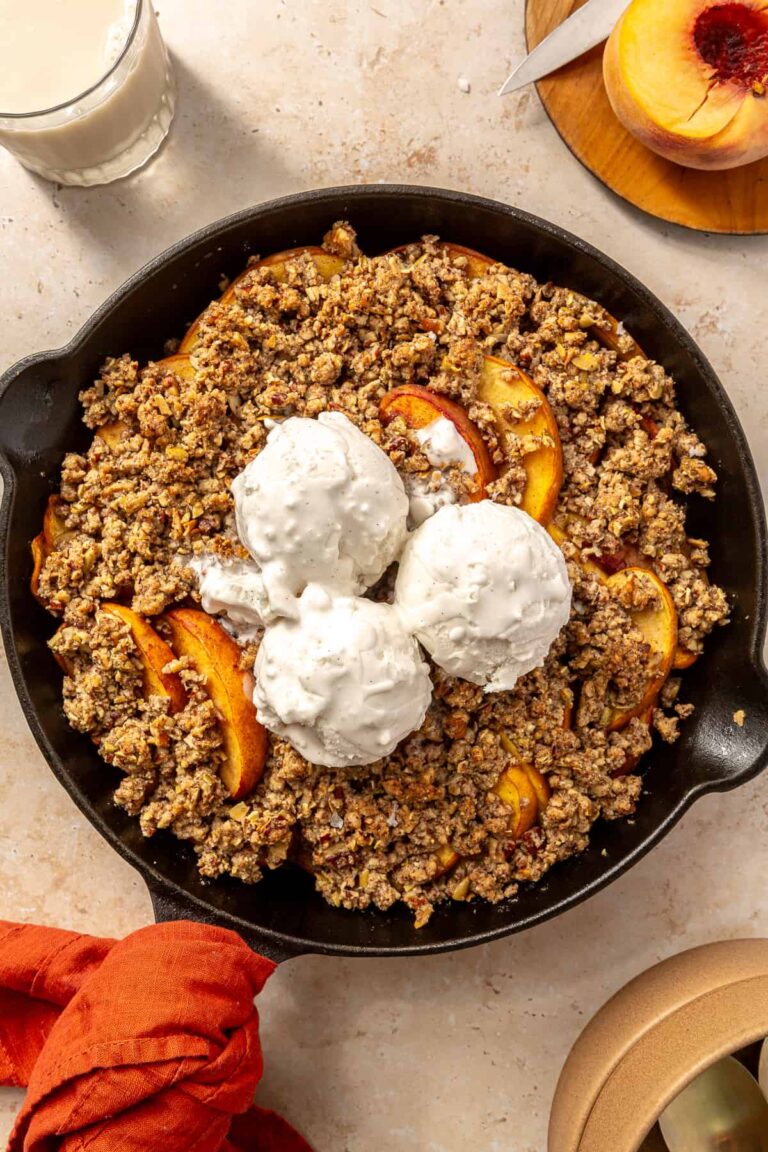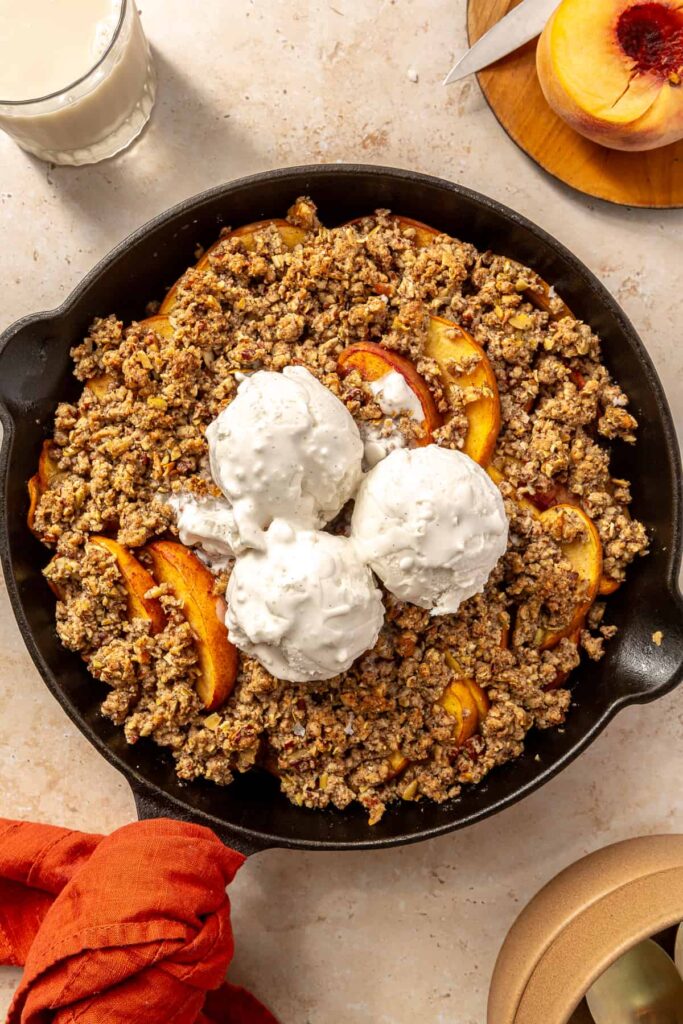 One thing you should know about me, is I'm a die hard for anything with a crunchy, crumbly top. While I love pie, the time and effort that it takes always makes it a second choice to a cobbler for me. The ease, speed, and omg… the crumbles of this Paleo Peach Cobbler are going to blow your mind. If baking isn't your forte, then this recipe has your name all over it. So grab your peaches and your favorite oven-safe skillet and let's make peach cobbler, RGE style.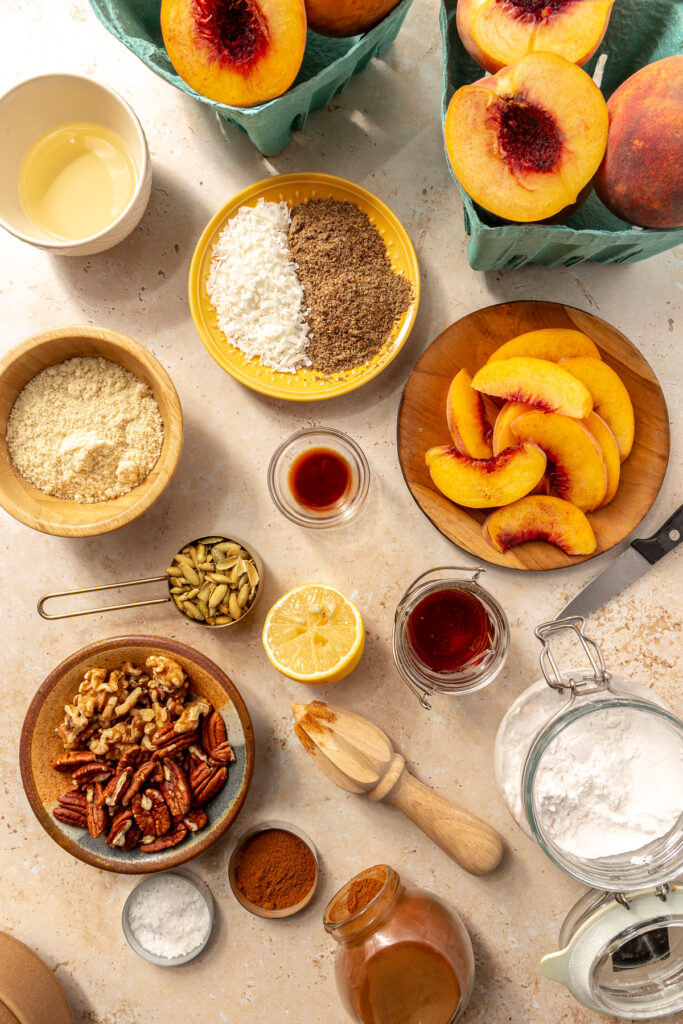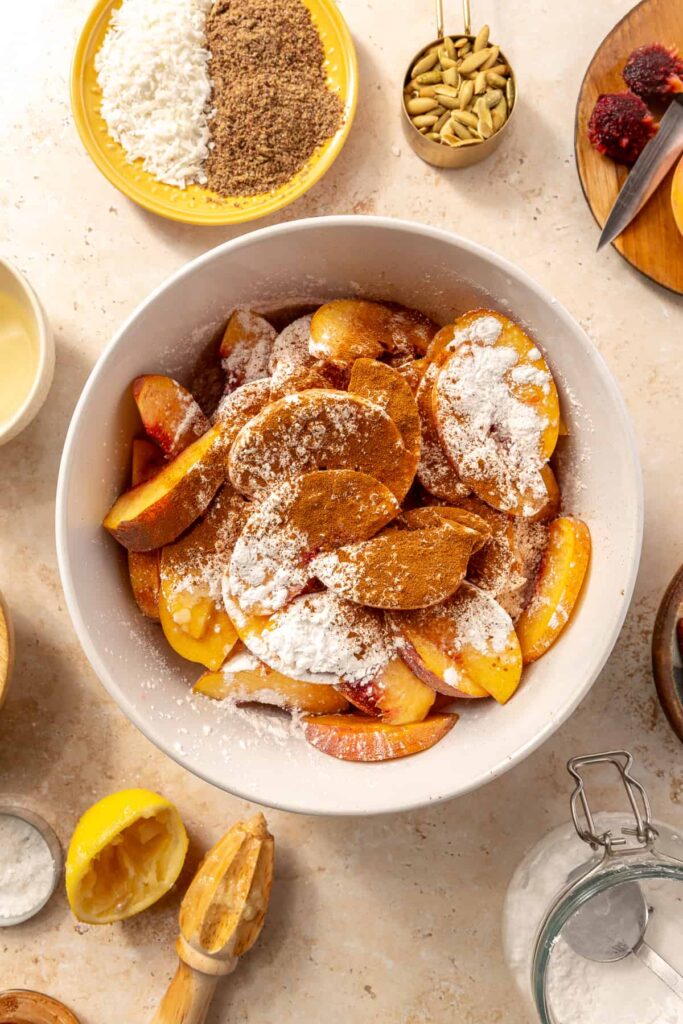 A LIGHT & DELICIOUS TREAT, ANY TIME OF YEAR
Fruit-based desserts are such a nice treat because they feel so light. Don't get me wrong, I love a good Cookie Skillet and Twix Bar, but something about a fruit dessert, maybe with a scoop of dairy-free ice cream for added indulgence, is just as delicious but leaves me feeling fresh.
Peaches are the star of this dish, which are *technically* in season from May – September, but if you're stumbling across this recipe in the depth of winter looking for a light and fruity dessert, have no fear! Frozen peaches work just as well.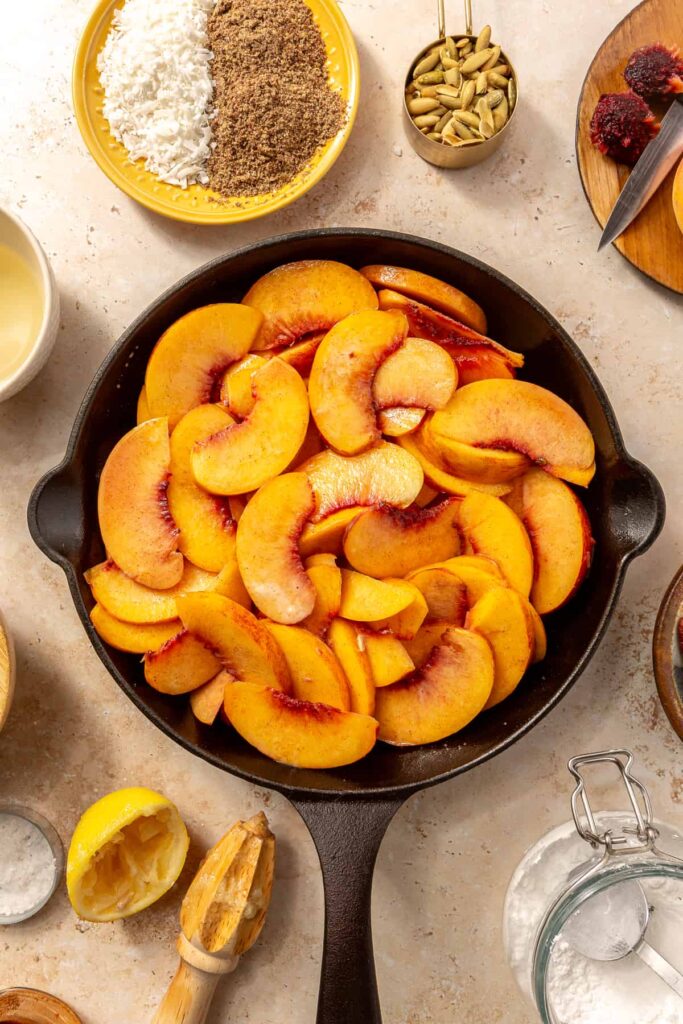 A DIETITIAN'S TAKE ON DESSERT
Here's my hot take: I love a good sweet treat. Dessert gets put into a different category of food, and too often it's seen as a bad choice. What I've learned about a balanced diet is that having treats in moderation, when you crave them, is actually part of a healthy and balanced diet. Now don't get me wrong, there is a big difference between a homemade treat and a refined-sugar filled indulgence. I love recreating my childhood favorite treats with better ingredients: I prefer to eat gluten-free, dairy-free, refined-sugar free and low-sugar in general. All of my recipes, and the treats are not an exception, are based around real, whole foods. This Paleo Peach Cobbler for example, is sweetened only with maple syrup, and the nut and seed-based crumble is full of healthy fats, which is a secret to creating a blood-sugar balancing treat.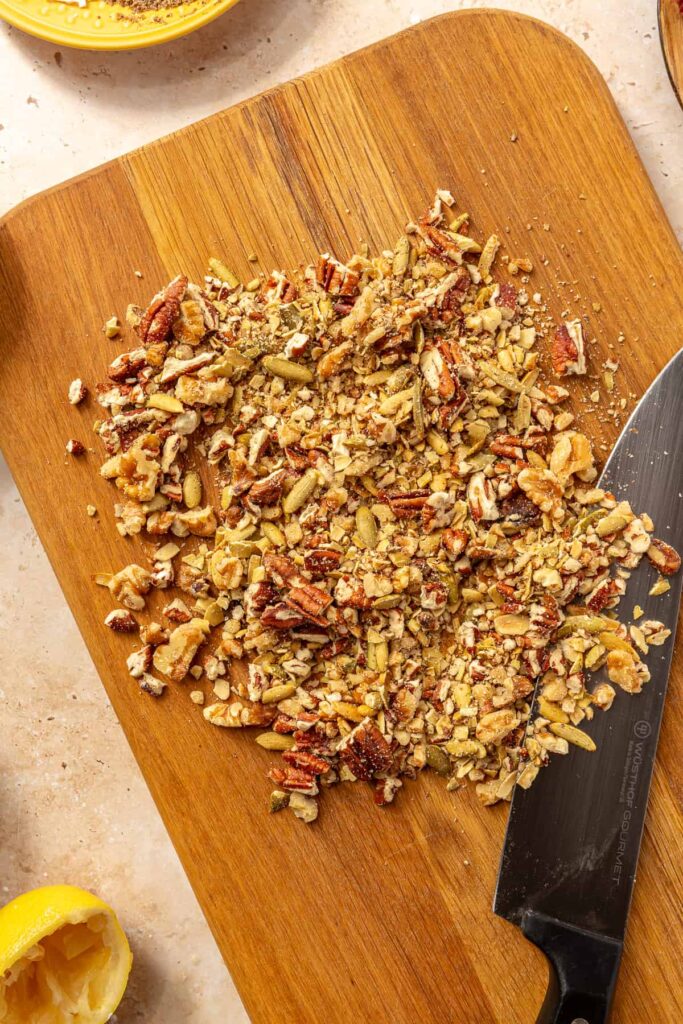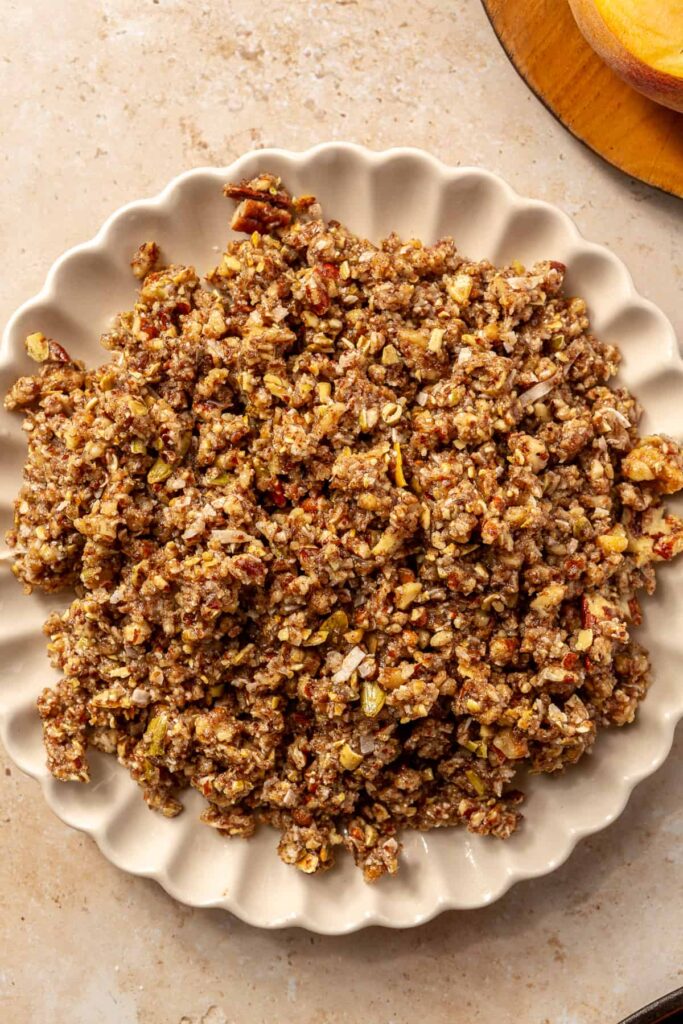 INGREDIENTS YOU'LL NEED
Peach Cobbler Filling:
Peaches, Fresh Or Frozen
Maple Syrup
Vanilla Extract
Lemon
Arrowroot Starch
Cinnamon
Pumpkin Seeds
Peach Cobbler Crumble:
Pumpkin Seeds
Walnuts
Pecans
Almond Flour
Flaxseed
Coconut Flakes (Optional)
Coconut Oil
Arrowroot Starch
Maple Syrup
Vanilla Extract
Cinnamon
Sea Salt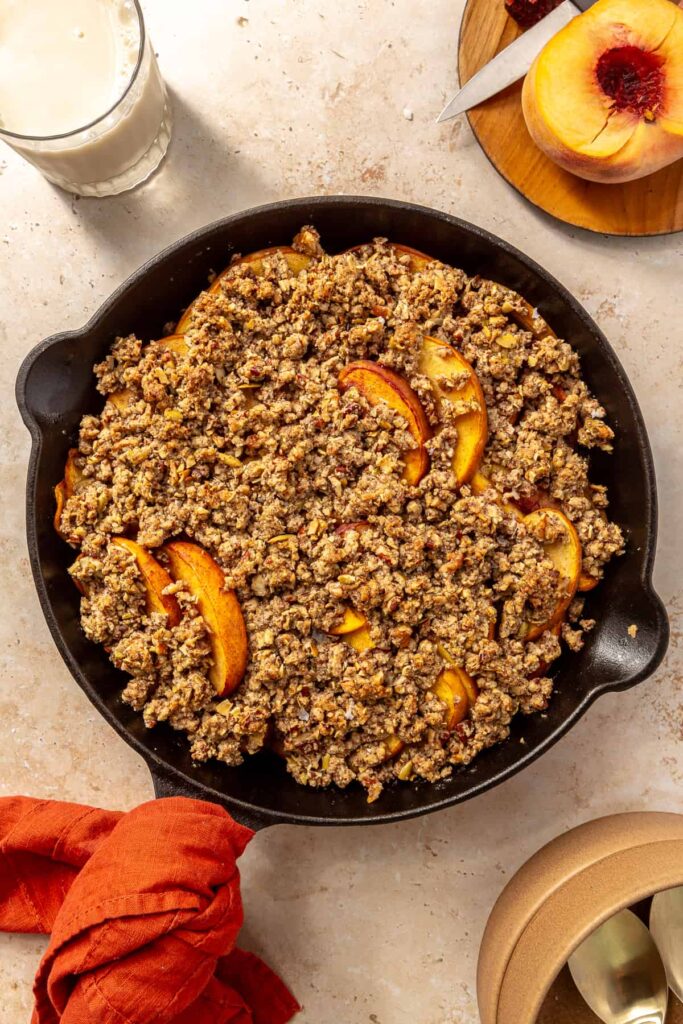 HOW TO MAKE PALEO PEACH COBBLER
Preheat the oven to 350 degrees F and prepare an 8″ or 9″ cast iron skillet or baking dish by coating it well with a layer of coconut oil.
If your peaches are fresh, slice them into 1/4 inch slices to get them prepped. If your peaches are frozen, leave them out to thaw to room temperature before getting started. Melt the coconut oil, and then we're ready to go.
In a large bowl, mix together the peaches, maple syrup, vanilla extract, juice of 1/2 lemon, arrowroot starch, and cinnamon. Mix until everything is well coated, then transfer to the skillet and spread it evenly across the bottom.
Using a food processor, pulse the pumpkin seeds, walnuts and pecans until they've reached a semi-fine texture. Add the almond flour, flaxseed, coconut flakes (if using), melted coconut oil, arrowroot starch, maple syrup, vanilla extract, cinnamon and salt. Pulse until it's well mixed and reaches a fine, crumbly texture. (If you don't have a food processor, finely chop the nuts and seeds, then mix well with remaining ingredients.) Once the crumble reaches the desired texture, sprinkle it evenly over the top of the peaches in the skillet.
Bake for 40-45 minutes, or until the peaches are bubbling and the crumble is golden brown. Let it cool for at least 5 minutes before diving in. Serve with vanilla ice cream or whipped cream. Enjoy!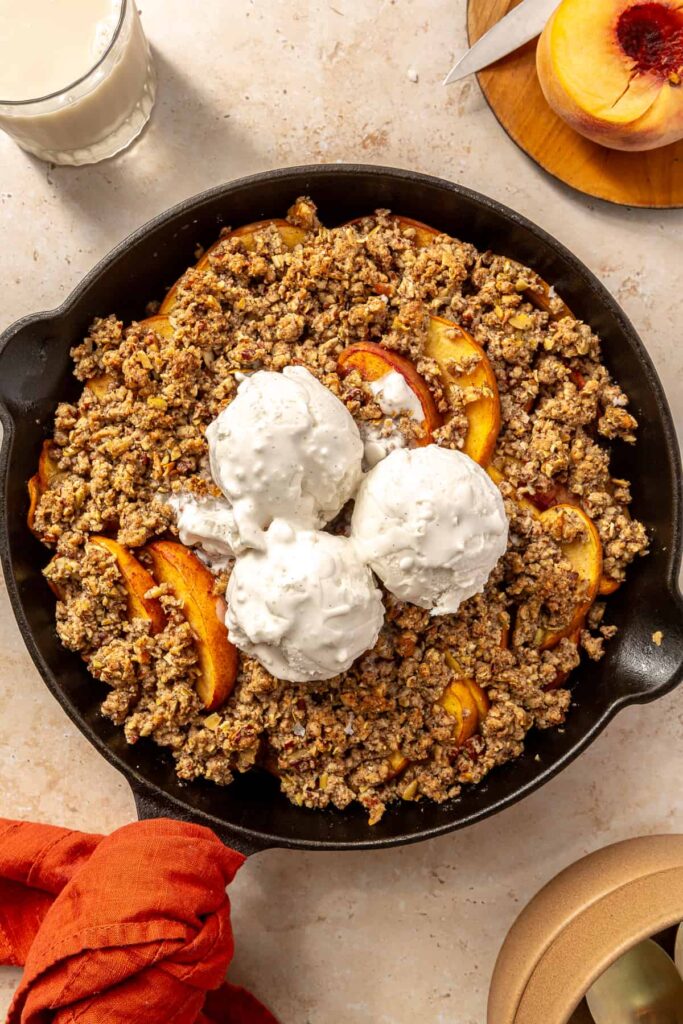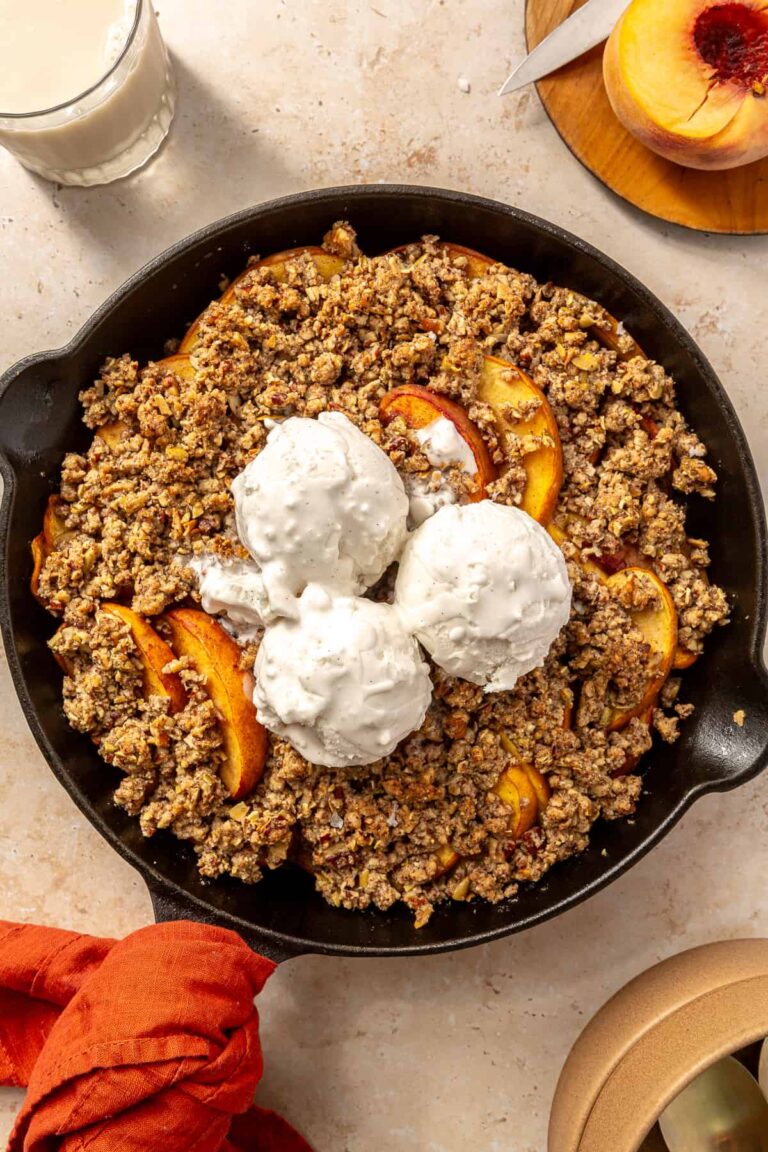 WHAT IS PEACH COBBLER CRUST MADE OF?
A traditional cobbler has a crumble in place of a crust. Where a traditional cobbler crumble may be made of sugar and butter, this crumble is made with nuts and seeds, a bit of maple syrup, and coconut oil.
IS IT BETTER TO PEEL PEACHES FOR COBBLER?
It is perfectly ok to peel your peaches if that is what you prefer, but it will save you quite a bit of work to leave the skin on – plus, you won't really be able to tell! The peach skin will soften while the cobbler bakes, so they'll be tender and go unnoticed in this delicious dessert.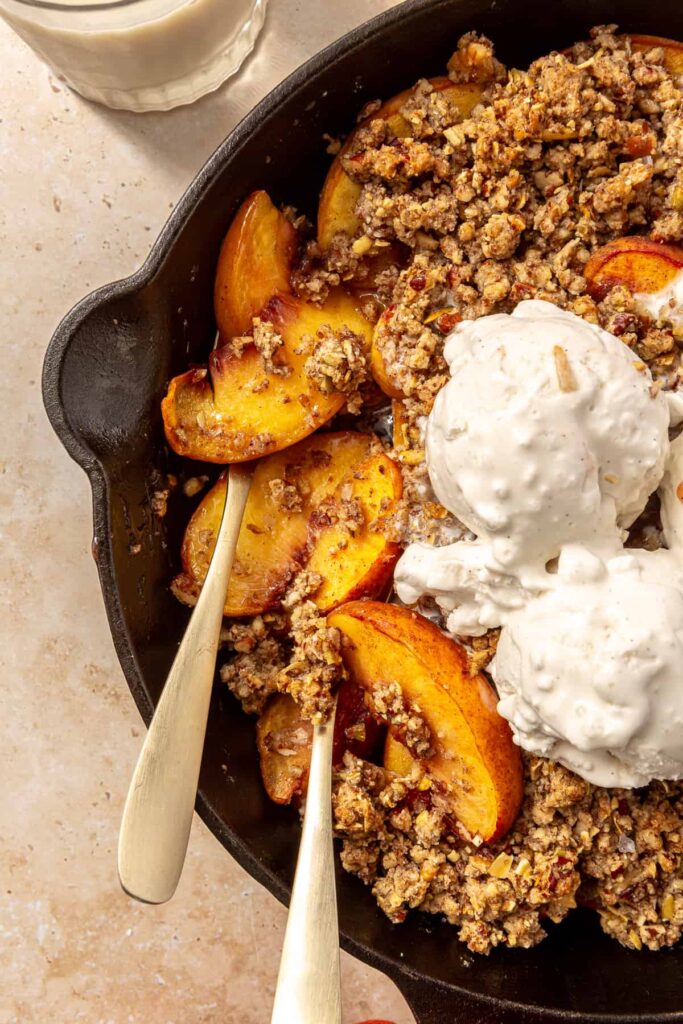 RECIPE SUBSTITUTIONS & QUESTIONS
Feel free to substitute the arrowroot starch with corn starch. You can replace the maple syrup with honey, but it may change the flavor slightly. The best substitute for almond flour is 1:1 gluten-free all purpose flour, but I have not tested the recipe with it, so it may change the flavor and consistency of the dessert.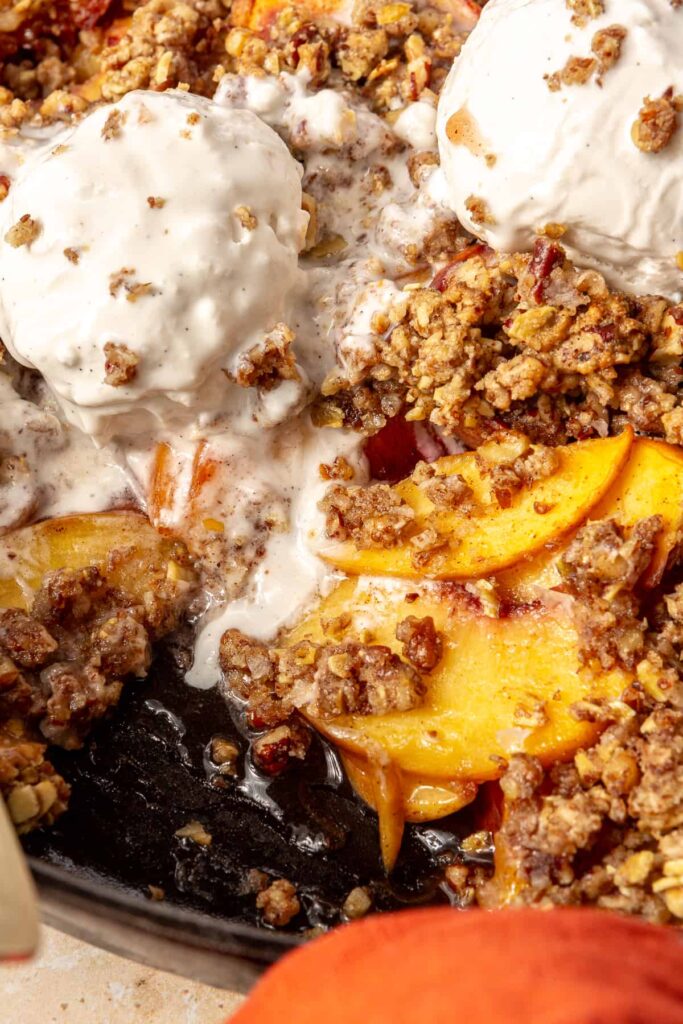 WANT MORE HEALTHY DESSERT RECIPES?
5-Ingredient Healthy Caramel Sauce
Cashew Chocolate Chip Cookie Skillet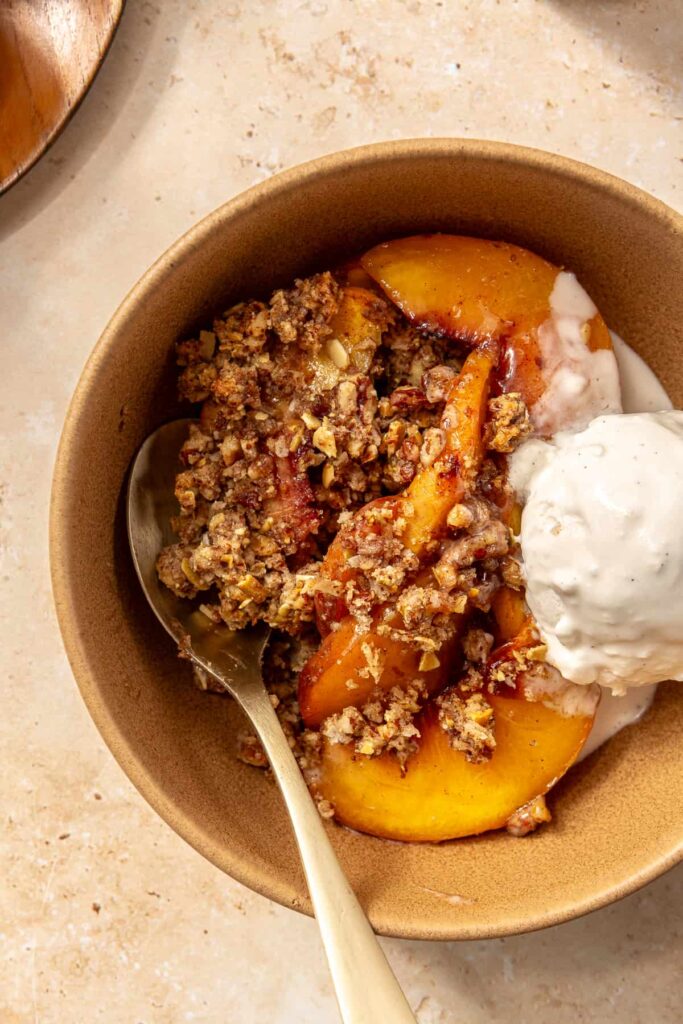 what I used to make this recipe:

Paleo Peach Cobbler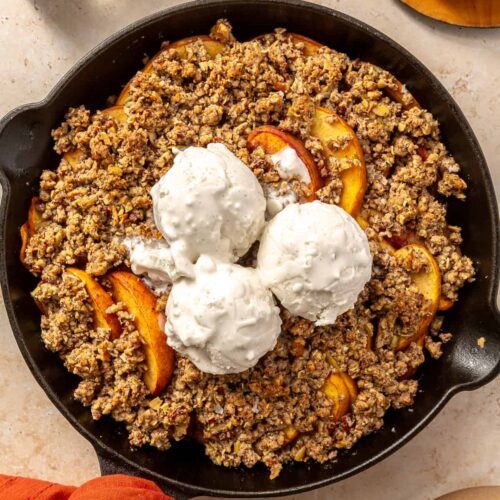 Ingredients
Filling
5-6

peaches

,

cut into 1/4 inch slices

3

tbsp

maple syrup

1

tsp

vanilla extract

1/2

lemon, squeezed

3

tbsp

arrowroot starch

1/2

tsp

cinnamon
Crumble
1/4

cup

pumpkin seeds

1/3

cup

walnuts

1/3

cup

pecans

1/3

cup

almond flour

3

tbsp

ground flaxseed

2-3

tbsp

coconut flakes

,

(optional)

1/4

cup

coconut oil, melted

2

tbsp

arrowroot starch

2

tbsp

maple syrup

1

tsp

vanilla extract

1/2

tsp

cinnamon

pinch

sea salt
Instructions
Preheat the oven to 350 degrees F.

Prepare an 8 or 9-inch cast iron skillet or baking dish by coating with a thin layer of coconut oil.

Mix all filling ingredients together in a large bowl, then pour mixture into skillet, spreading out evenly.

Using a food processor, prepare the crumble. Pulse the pumpkin seeds, walnuts, and pecans to break down into smaller pieces. *You can also do this step by hand, roughly chopping all nuts and seeds, leaving a finer texture.

Add remaining ingredients and pulse several more times until you get a crumbly texture.

Sprinkle the crumble over the top of the peaches in the skillet.

Put in the oven and bake until the filling is bubbling, about 40-45 minutes.

Let cool for 5 minutes and serve with vanilla ice cream or eat plain. Enjoy! 🙂