If you know me you know I love Mexican food more than anything. I mean, you could give me a taco for breakfast, lunch and dinner and I'm the happiest girl in the world! Put me right in Mexico– even better. Speaking of Cabo, countdown is officially almost at two months until our destination wedding! This place really celebrates fresh, amazing food so I tend to get a lot of inspiration from there.
I get lots of questions about my favorite Mexican food/what recipes I make the most, so I thought a little round-up of my top five would be helpful. It was hard to narrow it down, but if I had to choose, the below five (plus margs) are probably my top choices! They're all great weeknight meals that can be whipped up pretty quickly, so if you need to mix things up a bit I can't recommend them enough! Hope you love them as much as I do 🙂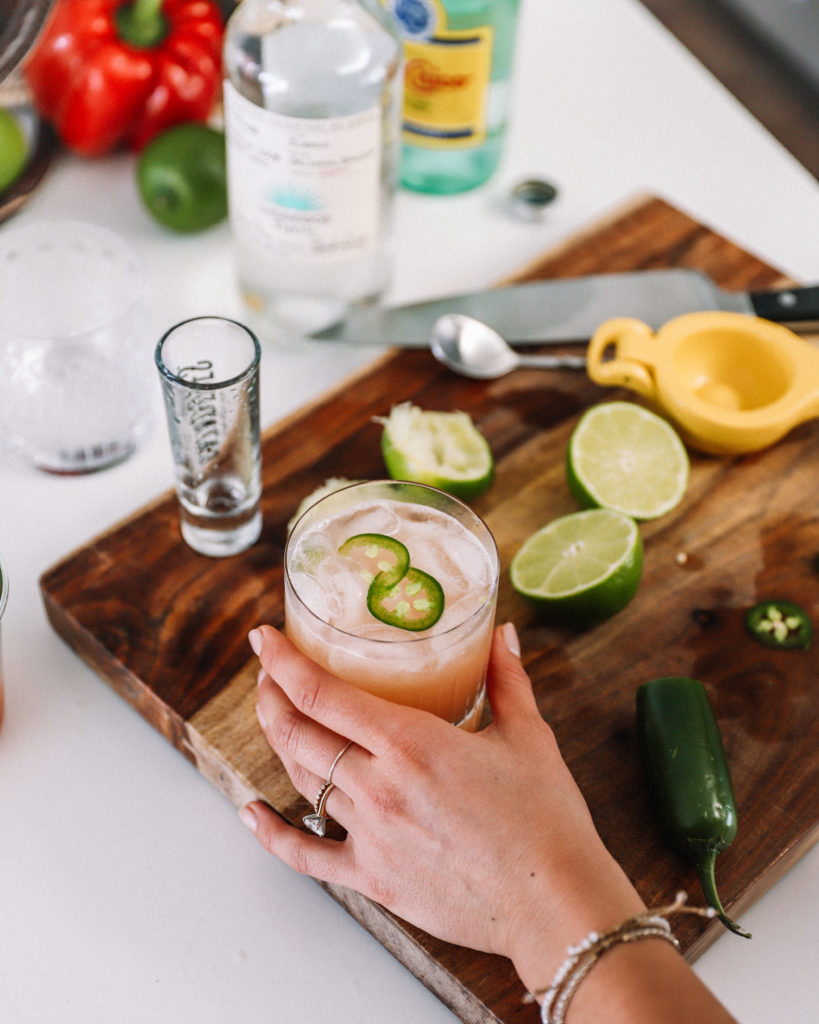 OK, but before we get into the food, let's make some spicy skinny margs to have while you make your recipe. It's a hybrid between a paloma and a margarita, so feel free to call it whatever your heart desires. I don't drink often, but this is typically what I prefer when I do! Love the spicy kick and splash of grapefruit juice. Click here for the full recipe.

The absolute perfect pico, if you ask me. I know mango isn't for everyone, but guys, this recipe is SO good. I got inspo for it after having our wedding menu tasting and we've been making it with tacos ever since. Plus, you can top so many meals with it, super versatile. In fact, you'll probably notice I eat it with pretty much every single recipe in this post lol. It also makes a great snack with tortilla chips (Siete are my favorite) or freshly chopped veggies like carrots, cucumber and/or bell peppers. Gotta make it!

I can honestly say I have this recipe at least twice a week because it's basically your "lazy," but gourmet meal. Super quick to make and doesn't skimp on the flavor. It's a great healthy recipe to have in your weekly rotation. Add some veggies, refried beans and that mango pico… you'll never go back!

OK, this recipe takes me straight to Cabo (or just anywhere tropical)! Nothing screams sunshine and vacation more than crispy fish tacos if you ask me. The best part is that my version is completely gluten-free, sneaks in a few greens and is made using avocado or extra virgin olive oil to keep the fats anti-inflammatory and healthy. I'm telling you, it'll feel like summertime in your kitchen when you make these.

Flautas AKA the frozen taquitos I grew up eating were probably what I first fell in love with lol. I made them for our backyard Covid wedding last year (we're still having our Cabo wedding in a couple months, just decided to keep our original date and tie the knot at home last year too) and keep them in our regular rotation as well. This specific recipe is actually from my best friend, Jeannette of @shutthekaleup and is stuffed with my yummy shredded chicken verde, along with roasted chipotle beans… SO GOOD.

This recipe is kind of a Rachael's Good Eats OG. It's been around for a while and is a go-to healthier spin on one of my favorite Mexican dishes – enchiladas. 2 things I love about it: you can sneak a lot of veggies in here without really being able to tell, and it's one skillet-only, not a bunch of different steps! It calls for bell peppers and zucchini but you can easily add/swap in spinach or power greens. Lots of options here and it's so fast to make.
Time to make dinner and I don't mean to pick favorites, but I think I'm going with flautas tonight. If you make any of these recipes be sure to tag me on Instagram so I can see your recipes!! xx