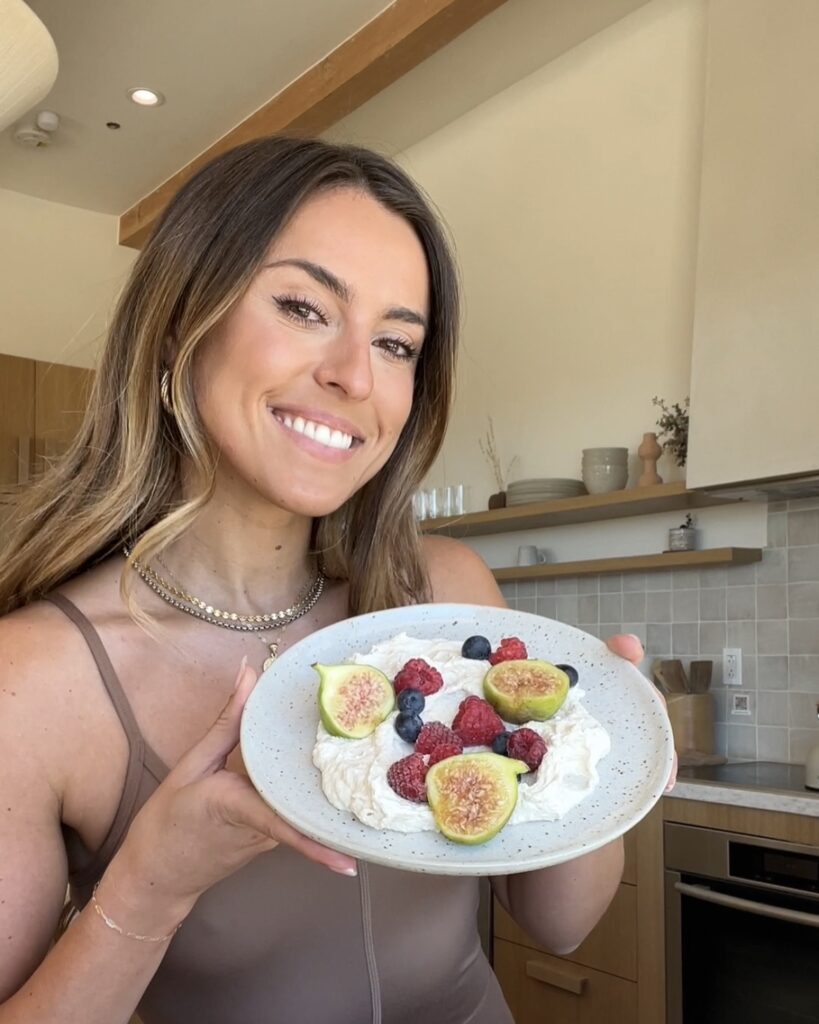 I love getting ideas from you guys when it comes to creating recipes, new workouts, blog topics, etc. so when I notice a lot of the girls in our private GOOD // SWEAT Facebook group are in school or work in the office outside of the house, I thought this post could be helpful! Working or studying full time is a LOT to manage. I used to work the craziest shifts at the hospital during my dietetic internship and on the road traveling to other rotations. Long days, a long commute, and very few breaks forced me into planning ahead so that I still had access to healthy snacks and lunches to keep me going. I packed my lunch everyday (if you scroll back on my Instagram far enough, you'll see lol) and I can honestly say that because I spent just a little bit of time prepping ahead, it saved me when it came to keeping me fueled and awake throughout the day. I didn't allow my busy schedule at the time let me fall into a trap of letting convenience take over, which is so easy to do.
I work from home majority of these days, so no more prepping for being out of the house 10+ hours, but I do still prep and snack on so many of the same things that I did back in the day. Here to share a few ideas below:
A few general tips to kick this off:
BALANCED snacks / meals are key when you don't have many opportunities to eat. Look towards high protein, healthy fats, and a good amount of fiber. This is clean fuel that will keep you full for longer and focused (brain food!). This tip has been helping me out so much this year, especially as I'm wanting to see change in the gym. Making sure I eat enough protein has been a game changer in seeing results, in addition to keeping me satiated from one meal to the next.

Quality tupperware / storage goes a long way. A good thermos that can keep your smoothie cold or your soup hot until lunch is major I prefer glass tupperware to easily warm up leftovers (glass vs. plastic HERE). Make sure you find a brand that doesn't leak (I have these glass tupps and we love them). And last but not least, various sizes so you don't have to waste precious backpack/bag space or you're not left carrying 10+ of food in containers lol.
Time. Though it can feel like an eternity thinking about how long it'll take you, especially when you're busy, I promise, the fact that you're setting yourself up for success and making yourself a priority is huge. Set your timer and give yourself one hour after the grocery store to prep 1-3 snacks. You'll thank yourself later! Better yet, catch up on your favorite show while you prep or put together your snacks. P.s. If you're making decisions still half asleep at 5am, they'll probably be what's easiest and not what's healthiest or ideal. Worse yet, if you happen to be running late and don't pack anything, you're left with ordering out, cafeteria/cafe food, or vending machines. This is why a little time in the beginning will help you go a long way!
A water bottle. You need a water bottle that YOU like! Find a water bottle with your ideal top, whether it's a cap, a straw (me), a sipping lid, and bring it with you literally everywhere. Throughout the day you can swap between plain water, tea, sparkling water, electrolytes, etc. to keep things interesting while staying hydrated. Hydration is so important for so many reasons and I know for busy people it can be the first thing to go! I linked my favorite electrolytes here and here.
Here is my ultimate list of snacks & lunches for my on-the-go busy bees:
SNACKS
We're talking snacks that are 2 minutes or less to eat, travel well, no refrigeration required (but nice if available!), and so satisfying. These small bites will get you through!!!
Bliss balls. Throw a few in a stasher bag and take them with you. Bliss balls make a great snack because they taste like a treat, but they're loaded with healthy fats and protein to keep you full in between meals. Plus, you can eat them in like… 2 bites. Try my most recent recipe, pumpkin spice bliss balls or the classic all-time favorite chocolate peanut butter bliss balls (try adding these in place of chocolate chips). 
Bars. We almost always have these peanut butter protein bars on hand because they basically taste like a candy bar or similar to a Perfect Bar! Perfect to take on-the-go, or just sneak a bite to hold you over through meetings or until your next meal. Another classic are raw AB&J bars. If you haven't made these yet, you must! They're also added sugar-free, so if you're wanting to watch your sweets intake, these are for you (but trust me, they're delicious either way!).
Snack mix. I like making my own mix of dried fruit and nuts, because store-bought options are usually made with inflammatory oils and added sugar. Grab a variety of raw or dry roasted nuts, I love almonds, cashews, brazil nuts and macadamia nuts, and your fav dried fruit (quick check for added sugar). My favorite is organic dried mango. If you have the time, I also have a recipe for a homemade sweet and a savory version of roasted nuts in my 7-Day Added Sugar Detox ebook. Mix it up at the beginning of the week and bring a bigger tub of it with you to keep at your desk, or pack single portions in a small bag or tupperware container daily. Great to snack on throughout the day!
Fruit. Fruit is great because it's quick energy and full of micronutrients. Bananas, apples, and oranges travel the best because of their peels, but I love fresh grapes and berries (antioxidants) the most. A small container works great and if you have access to a fridge, store them there for optimum freshness.
Veggies. If veggies weren't on the list, would I even be a dietitian? Vegetables are really the foods I recommend getting with every meal, if you can, and I'll tell you why. Not only do they have the power to reduce inflammation in the body (they're naturally high in antioxidants and polyphenols, which provide protective compounds), they can also improve the health of our gut microbiome, lower blood pressure, decrease insulin resistance, and decrease our risk of heart disease and stroke. Have carrots ready in the fridge, organic bell peppers (more info on The Dirty Dozen HERE), persian cucumbers, snap peas, and pair with a hummus, romesco, guac, or any favorite dip for a more substantial snack with more nutrients.
Hard-boiled eggs. Eggs are one of my favorite (and quickest) complete proteins you can grab and take anywhere with you. Keep some salt & pepper at your desk or pick up the Vital Proteins pre-hard boiled egg packs with s + p already packed and ready for you. I also love slicing them in half and topping with some Siete hot sauce. Game changer.
Meat Sticks. Ok we go through an aggressive amount of these at our house. We love Chomps and Archer Farms grass-fed meat sticks. They usually pack 9-10g of protein per stick and sometimes I eat two if I'm really hungry. Buy in bulk!
MEALS
Sharing a handful or more substantial meals that will get you through! Again, my suggestion is to try and focus on protein throughout your day for every meal and snack.
Smoothies. This is where a GOOD thermos or tumbler comes into play. You can blend everything the night before, pour into your thermos, store in the fridge, and it will still be cold by breakfast OR lunch the next day. This is a great option for busy people because you can sip on it as you work. I have lots of smoothie recipes that you can rotate through too. My favorite at the moment is PB&J. It never gets old, really. But I also love a good snickerdoodle, Peachy Green from my Sugar Detox ebook, my classic Glow-to smoothie, or my brand new smoothie flavors in my cookbook.
Chia Pudding. This recipe is a great base to prep in advance, for days at a time, or for a more velvety and rich flavor, try my brand new Coconut Mango Chia Parfait recipe HERE. She will blow your mind! Make a big batch at the beginning of the week, and pack up a portion for each day. Keep things interesting by changing your toppings/flavors every day. Berries are always great, or nuts and seeds, maybe cinnamon, cacao nibs, my paleo granola, or even matcha powder mixed into the pudding.
Sandwiches. Make this 2-ingredient jam (Instagram Reel here) and enjoy a peanut-butter and jelly sandwich on quality bread (I love Base Culture. It's gluten-free and dairy-free). Or make a famous RGE loaded sammy (minus the egg of course!). Try making this Avocado Egg-Salad as a sandwich, or bring crackers to dip.
Salad. I'm telling you, salad doesn't have to be boring! One great tip that I like to use when storing your salad: add the heavier ingredients first, so any protein, vegetables, fruit, or nuts/seeds, then any toppings like cheese or herbs, then your greens. That way the greens don't get crushed or soggy under the weight of the rest of the salad. You can store your dressing separately and then combine and shake it up! Make my RGE Cobb for the week (sans dressing until you're ready to eat), get crazy and make some crispy chicken nuggets to throw into your salad of choice, or grab more flavorful ideas in my cookbook, Rachael's Good Eats.
Guys.. I know I'm not the only one here, but how good and easy are leftovers for lunch?? Here are some of my recipes that make the best leftovers:
What are some of your favorite snacks and meals to take on the go, or eat at your desk? I'm always learning from you guys, so comment below! 🙂